Arizona Immigration Law Hurts Ties With Mexico, Federal Suit Argues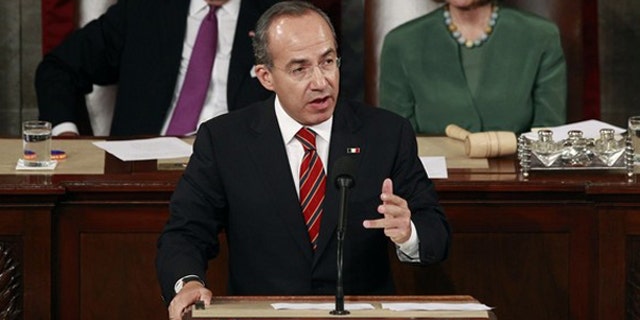 The Justice Department, in its lawsuit filed Tuesday against the Arizona immigration law, repeatedly cited concerns that the policy has undermined and interfered with its relationship with Mexico -- raising questions about whether foreign policy has any place in the domestic case.
The lawsuit generally argues that the federal government has the primary responsibility for immigration policy and should be able to preempt -- and nullify -- the Arizona law.
But as part of the complaint, the Obama administration warns the Arizona law could damage ties with Mexico and other countries and has already had "foreign policy implications for U.S. diplomatic relations."
The suit cites Mexican President Felipe Calderon's May address to Congress where he blasted the Arizona immigration law and a travel alert Mexico's Foreign Ministry issued in late April for Mexicans visiting Arizona. The Mexican government also played a role in getting the Department of Education to move a conference out of Arizona.
"S.B. 1070 has subjected the United States to direct criticism by other countries and international organizations and has resulted in a breakdown in certain planned bilateral and multilateral arrangements on issues such as border security and disaster management," the suit claims. "S.B. 1070 has in these ways undermined several aspects of U.S. foreign policy related to immigration issues and other national concerns that are unrelated to immigration."
The federal government argues that Arizona is acting with the sole aim of getting rid of illegal immigrants, whereas the federal government's responsibilities are much broader and more complex.
But state Sen. Russell Pearce, the bill's sponsor, called the foreign policy argument bogus and said Mexico's hurt feelings should not be a factor in deciding whether Arizona can enforce immigration law.
"There's no basis in law for that," he told FoxNews.com. "This is crazy stuff. ... We're a sovereign nation."
Arizona officials are expressing confidence about their chances as the case moves into U.S. District Court in Arizona. Gov. Jan Brewer on Tuesday accused the Obama administration of a "massive waste of taxpayer funds."
Pearce predicted the case would eventually end up at the Supreme Court.
"If there was ever a case that the United States Supreme Court needed to reach down and take, it's this one. That's where it's going to end up," he told Fox News. "I think we'll win on a 6-3 or 5-4 decision."
But the Department of Justice claims the "Arizona-specific" law is designed to "rival or supplant" the federal government, challenging it on those grounds. It accuses the state of creating "an unprecedented, independent immigration scheme that exceeds constitutional boundaries."
Arizona could run into trouble in defending any part of the law that deviates from federal law. Barry McDonald, law professor at Pepperdine University, said it could be an uphill climb for the Arizona defense.
"I think the problem for the state of Arizona is that federal law gives the immigration enforcement agencies in the federal government substantial discretion in deciding what laws to enforce and how to enforce them," he said.
One concern the lawsuit does not claim in its argument is racial profiling. Though officials frequently warned that the law could lead to profiling, the only mention of that in the 25-page court document was to note that Arizona amended its earlier law to address profiling concerns.
The Arizona law makes illegal immigration a state crime. It requires local law enforcement to question anyone they suspect of being an illegal immigrant on their residency status provided they don't stop them on that basis alone.