Arizona Governor Gets Few Results From Meeting With Obama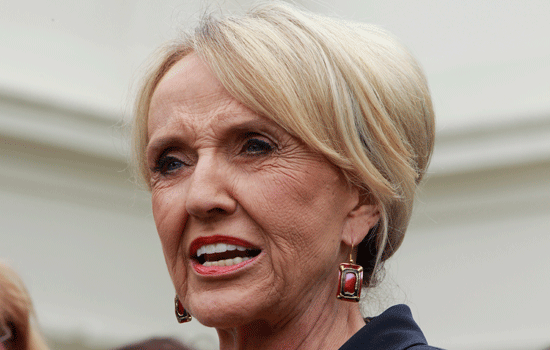 President Obama will dispatch an official to sit down with Jan Brewer in the next month but the Arizona governor said Thursday she got few other results from her meeting with the commander-in-chief, including any details about where 1,200 National Guard troops will be deployed along the U.S.-Mexico border.
Brewer met with Obama to discuss the state's new law clamping down on illegal immigrants that the White House opposes. The meeting comes as Justice Department officials consider suing the state in a bid to block the law, which makes it a state crime to be in the country illegally.
Obama has blasted the law, which takes effect July 29, as "misguided" and warned that it could violate civil rights and lead to racial profiling.
During a brief news conference on the White House driveway following her meeting with the president, Brewer described the meeting as "cordial," but the potential lawsuit wasn't discussed.
"That was kind of over, brushed over a little bit," she said.
When asked if she thinks the president has read the law, Brewer only smiled.
In a written statement, the White House said Obama reiterated his concern over the law and how it could lead to a patchwork of different state immigration regulations that would interfere with the federal government's response.
"The president urged Gov. Brewer to be his partner in working in a bipartisan manner on comprehensive immigration reform to implement the type of smart, sensible, and effective solutions the American people expect and deserve from their federal government," the White House said.
Brewer said she assumes in two weeks, she'll know how many National Guard troops will be headed to Arizona.
"People from the staff are coming out to Arizona to brief us on what their projections are going to be in regards to the 1,200 National Guard and the $500 million that he has indicated that he's going to send down there. And we're going to see how that's going to get distributed. He assured us that the majority of resources will be coming to Arizona -- yet to be figured out," she said.
The governor said she is encouraged there will be "much better dialogue between the federal government and the state of Arizona" on border security and immigration reform.
"I hope that's not wishful thinking but positive thinking," she said.
Citing scheduling issues, Obama initially declined to meet with Brewer this week while she is in Washington for a Council of Governors meeting. But as criticism grew over Obama's seeming snub, he made time on his calendar.
While Obama is pushing for a multi-layered approach to immigration, Brewer is advocating for a policy that will secure the border first. On Thursday, neither side backed down from their approach.
"I feel very confident about what we've done in the past is the right thing to do," Brewer said. "We're protecting America. We need to secure our border."
White House spokesman Robert Gibbs said the best way to tackle illegal immigration is on the federal level. He added that Sen. John McCain was "very instrumental" in getting immigration overhaul legislation near passage in 2007.
"I doubt we'll get there without him doing what he did in those years," he said.