Arizona congressional candidate says he has cancer, will stay in race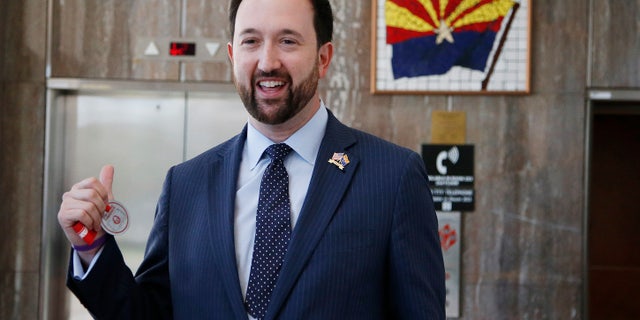 State House Rep. Adam Kwasman said Thursday he has a form of slow-growing blood cancer but has no plans to drop out of the race to represent Arizona's 1st Congressional District.
The 31-year-old Republican from Oro Valley said he was diagnosed with chronic lymphocytic leukemia in June 2013. He said he planned on keeping the condition private but is talking now because of rumors that he is ill.
"I felt that it could stay private, but rumors started to surface about me being sick, and I wanted to make sure that the story was from the source, not a distortion," Kwasman said. "And while I have cancer, I'm not sick, and that matters. People want to make sure their public officials are not sick."
Kwasman said the cancer was caught early and is entirely manageable, with no treatment required for about a decade.
At a state Capitol news conference, Kwasman was peppered with questions about the timing of the disclosure, which comes two weeks after early ballots were mailed out and 13 days before the Aug. 26 primary. But he pushed back, saying the disclosure would not help his congressional campaign.
"Frankly, this is not the most politically opportune thing for me," Kwasman said. "I do not think that telling people that you have cancer is the right way to go about doing things at all."
Kwasman is running in the Republican primary for the seat now held by Democratic Rep. Ann Kirkpatrick, who is seeking re-election. He faces Arizona House Speaker Andy Tobin, and rancher and businessman Gary Kiehne in the primary.
Kiehne's spokesman, Chris Baker, said he had not heard any rumors about Kwasman being ill and declined to question the timing.
"We were as surprised as anyone," Baker said. "I'm not going to question anyone's health, or whether or not they have cancer."
Tobin said Kwasman told him and some other lawmakers about his condition last year and that it wasn't an issue. His said his first thought when he heard about Thursday's announcement was one of concern.
"Truly, I was afraid it might be getting worse," Tobin said. As to any potential political timing of the announcement, "It just isn't my soul to think that people do that," he said. "It never crossed my mind."
Tobin, Kiehne and Kwasman are locked in a tight race to win the GOP nomination in the sprawling, horseshoe-shaped district, which runs from Flagstaff east to the New Mexico line and south before looping west to pick up the northern Tucson suburbs of Marana and Oro Valley and north into Pinal County.