Arizona congressional candidate changes name to Cesar Chavez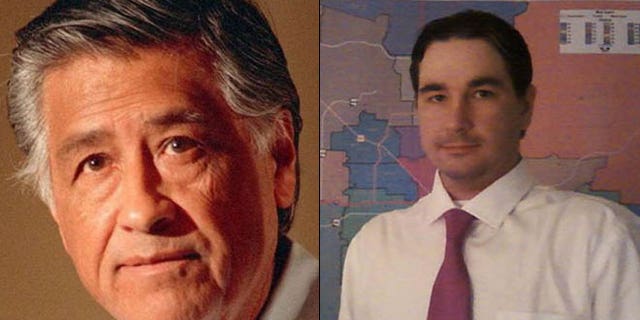 NEWYou can now listen to Fox News articles!
Scott Fistler wasn't drumming up the political recognition he thought he needed to win an election. The 35-year-old, who lists "The Sneetches" by Dr. Seuss as his favorite book, kept coming up short in his bid for public office.
The voters in Arizona just weren't feeling him. So Fistler changed his name -- to Cesar Chavez.
Though the famed labor leader has been dead for years, Fistler is running under the Chavez moniker for the 7th Congressional District seat in a community composed mostly of Hispanics.
If Chavez, the Democratic candidate, makes it onto the ballot, he would be in a six-way race for the seat left vacant by retiring U.S. Rep. Ed Pastor.
Fistler is fairly upfront about his strategy here. He's already run twice for office, unsuccessfully, as a Republican. He then changed parties, and his name -- after paying a $319 fee to the state late last year.
"It's almost as simple as saying Elvis Presley is running for president," Chavez told The Arizona Republic. "You wouldn't forget it, would you?"
He also told the paper he picked his new name because it was a popular one with voters.
"If you went out there running for office and your name was Bernie Madoff, you'd probably be screwed," he said.
His plan is oddly similar to the plot of the 1992 film "The Distinguished Gentleman," where Eddie Murphy's character wins a congressional election by changing his name to that of the dead incumbent.
But the political strategy of piggybacking on the reputation of a popular leader might not work like in the movies.
"Chavez is a hero of the labor market and appearing to steal his name will probably backfire," Bill Redding, a senior strategist at the Washington-based Campaign Workshop, told FoxNews.com.
Cesar Chavez – the labor figure – founded the National Farm Workers Association in 1962, which later became United Farm Workers. As a labor leader, Chavez championed for better treatment, pay and working conditions for field workers and is largely considered a hero in the Hispanic community. He died in 1993 in San Luis, Ariz.
Chavez would face a tough primary battle in August against Mary Rose Wilcox, a 30-year politician and also the first Latina to be elected to the Phoenix City Council. He'd also face state Rep. Ruben Gallego, who serves as assistant minority leader in the Arizona legislature.
Should Chavez the candidate win, he told The Arizona Republic he'd "just show up there and act presentable."
"It'd be kind of like the first day of kindergarten," he said.
But changing a name for a political leg up isn't a new idea.
Arizona Corporation Commissioner Bob Stump changed his parent-given name of Christopher Robert Stump to Bob Stump – the same name as the state's longtime Republican congressman.