Architect offers changes in Eisenhower Memorial design after family complaints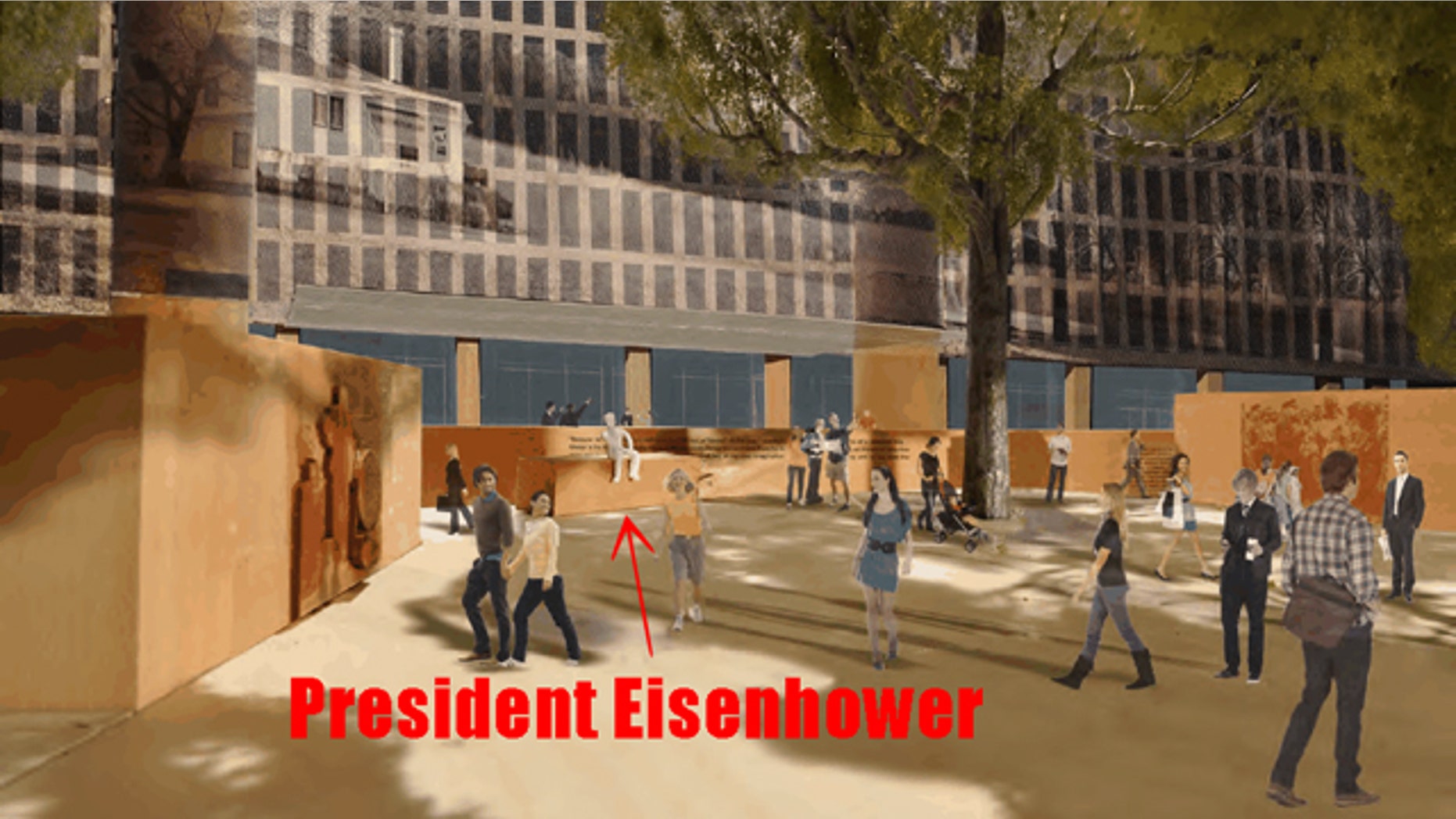 Architect Frank Gehry has proposed changes to the Dwight D. Eisenhower Memorial in Washington, following strong criticism from surviving family members and questions from top GOP House lawmakers.
The family had initially complained that the design focused too strongly on the late president's humble Kansas roots, as opposed to his accomplishments as a president and military commander.
While members of the Eisenhower Memorial Commission have voiced approval for the changes, they don't necessarily address one of the family's complaints -- a life-size sculpture of a young Eisenhower would remain at the center of the memorial despite the family's earlier objections.
But the memorial plan would feature other likenesses of the former president. At the center of the park, Gehry is replacing large images in stone reliefs with statues standing about 9 feet tall, showing Ike as a World War II hero and as president.
The estimated $100 million memorial would be built on the National Mall.
The statues would depict Gen. Eisenhower with the 101st Airborne Divison of soldiers before the D-Day invasion of Normandy, France, in World War II.
Eisenhower as president would be depicted with his hand on a globe, inspired by a Yousuf Karsh photograph titled "The Elder Statesman."
"After careful consideration, I believe that the sculptures bring the story to life in a more powerful and accessible way than the bas reliefs were able to do," Gehry wrote, reversing his early rejection of adding statues to the memorial.
Perhaps the strongest and most compelling opposition came in March from granddaughter Susan Eisenhower when she testified before Congress.
"President Eisenhower's contribution to this nation is not the central theme to this design," she said to the House Natural Resources Subcommittee on National Parks, Forests and Public Lands.
She said the design instead portrays the late president as a "dreamy boy."
In addition, Rep. Darrell Issa, R-Calif., chairman of the House Oversight and Government Reform Committee, asked the commission to send to him copies of all submitted architectural designs concerning the memorial and "a detailed description of the process leading to acceptance of the Frank Gehry submission, including a breakdown of any and all votes taken pertaining to any submission."
The memorial commission did not formally vote on the changes Tuesday, saving that for a later date. All the members who were present, though, voiced their approval.
The Associated Press contributed to this report.