Americans stuck in Yemen file suit demanding State Department, military rescue them
NEWYou can now listen to Fox News articles!
WASHINGTON – Claiming the Obama administration turned its back on them, 41 Americans stranded in war-torn Yemen filed a federal lawsuit Thursday against the State Department and Defense Department for not evacuating them -- as fighting intensifies and U.S. allies launch airstrikes.
The lawsuit, filed in U.S. District Court in Washington, D.C., seeks to compel the government to use "all resources" possible to rescue the stranded Americans. The plaintiffs range in age from just a few weeks old to senior citizens.
"Despite the clear danger to Americans in Yemen – and the death of at least one American – the Obama administration has not yet taken any substantive steps to help citizens or permanent residents reach safety," the lawsuit claims.
The suit was filed on the plaintiffs' behalf by The American-Arab Anti-Discrimination Committee and the Council on American-Islamic Relations.
Though the exact number of Americans stuck in Yemen is unknown, hundreds of people have expressed concern about loved ones in Yemen through a website set up to track and help them, Jenifer Wicks, a lawyer for CAIR, told reporters Thursday.
The political crisis in Yemen has escalated in recent months, with the country's capital taken over by the Iran-backed Shiite rebel group known as the Houthis.
Yemen's president Abed Rabbo Mansour Hadi has fled the country. The U.S. embassy, meanwhile, closed its doors, leaving many Americans without a way to get home. At the same time, a Saudi-led Arab coalition is launching airstrikes against the rebels in the country, an effort supported by the U.S. government.
The suit filed Thursday is not the first warning from advocacy groups about Americans trapped in Yemen.
Last week, the groups behind the lawsuit launched the website www.stuckinyemen.com to provide assistance to Americans, or the friends and families of Americans, trying to escape Yemen.
"We honestly do not understand why the government would not help," CAIR Director Nihad Awad said. Awad pointed to other countries, like India, China and Turkey, which have used their resources to rescue their citizens.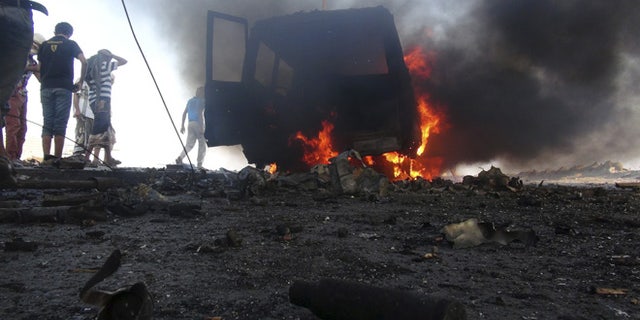 India, for example, is leading the rescue of trapped foreigners in Yemen, successfully evacuating more than 550 people from 32 countries, including a dozen Americans and three Pakistanis, through a combined air, sea and rail effort.
Reports indicate the U.S. embassy advised American nationals trapped in Yemen's capital of Sanaa to seek out help from other countries. It's a move Abed Ayoub, policy director of the Arab-American Anti-Discrimination Committee, doesn't agree with. He says this should be the responsibility of the American government.
"It is our duty to get them out," he said. "You can't ship this responsibility."
Ayoub summed up a recent conference call he had with the State Department: "We can't do anything. Good luck."
Asked Wednesday, in anticipation of the lawsuit, whether a federal court even had the ability to mandate an evacuation, State Department spokeswoman Marie Harf said she didn't know. She did not comment further on the case and, at the time, said she wasn't aware of it.
On Thursday, Jeff Rathke, another State Department spokesman, said the department is "aware of some American citizens who remain in Yemen" and that protecting them is a "top priority."
As stated in the lawsuit, at least one American has been killed in the fighting -- California resident Jamal al-Labani, killed in a mortar strike last month.
Ayoub said if the government doesn't become more pro-active, the ADC is prepared to file more lawsuits, as it did against top Cabinet officials for failing to protect American citizens in Lebanon in 2006. The ADC pulled its case when a ceasefire was declared.
The suit urges the U.S. to use "all resources at their disposal" including "deploying military ships, vessels and airplanes and/or contracting with private commercial ship liners and airplanes" to evacuate U.S. citizens from Yemen and safely return them to America.
If that doesn't work, it might be up to Americans to rescue themselves.
On Tuesday, the San Francisco Chronicle reported that Mokhtar Alkhanshali, a 26-year-old Bay Area businessesman who got stuck in Yemen, escaped by motorboat before finding a flight home.
"Yemeni Americans have been effectively abandoned in Yemen," Alkhanshali told the Chronicle, when safely back on American soil. "No one helped me come here. I'm happy to be back, but at the same time I feel saddened by the way I came back."