Americans for Prosperity hits Landrieu with Iraq vet ObamaCare victim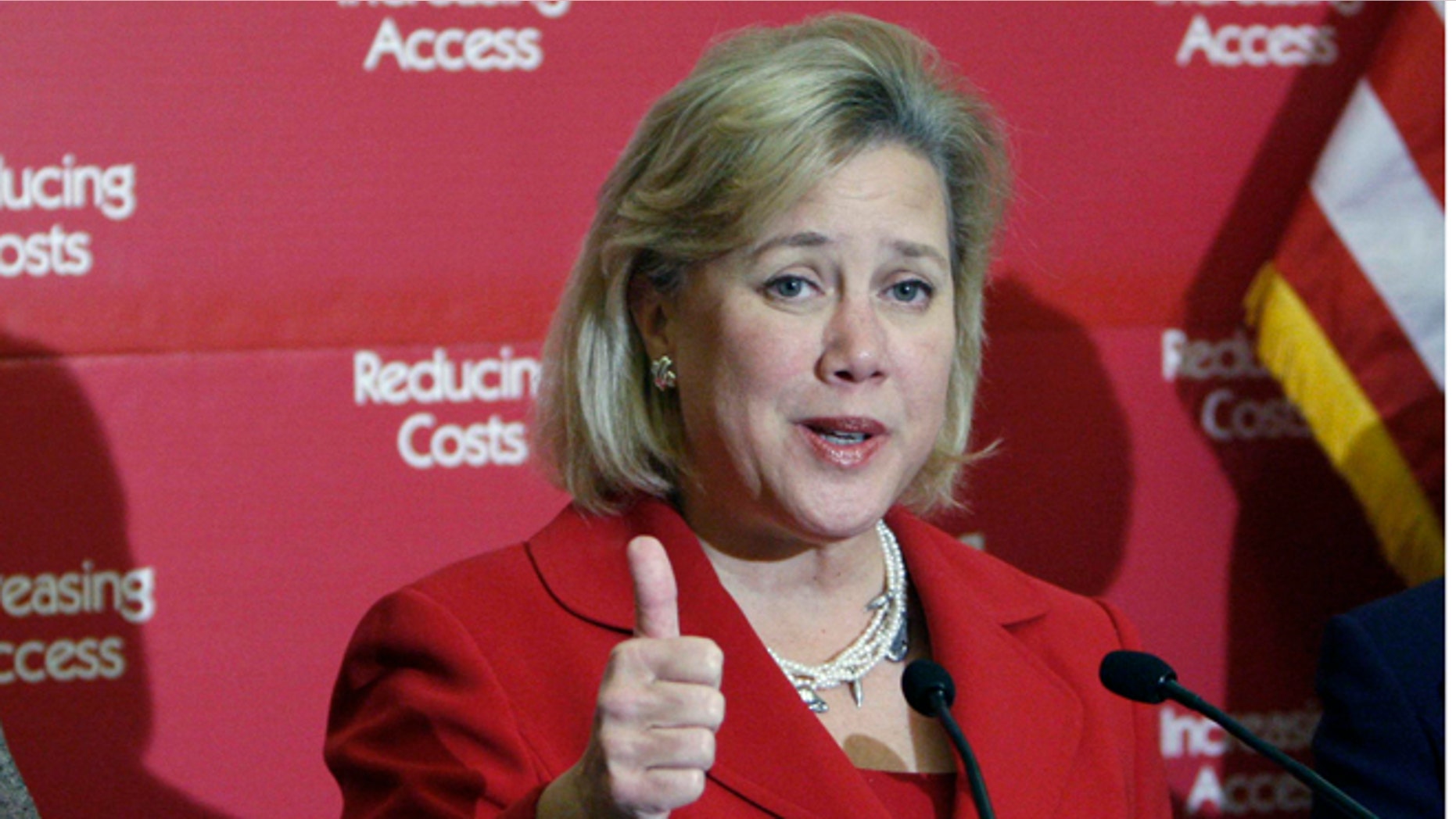 **Want FOX News First in your inbox every day? Sign up here.**
Buzz Cut:
• First in Fox News First: Americans for Prosperity hits Landrieu with Iraq vet ObamaCare victim
• Paul cites 'thuggishness' in Chicago shooting epidemic
• Power Play: Wild ride in Georgia
• A PSA for the bros
FIRST IN FOX NEWS FIRST: AMERICANS FOR PROSPERITY HITS LANDRIEU WITH IRAQ VET OBAMACARE VICTIM
Later today, conservative group Americans for Prosperity will launch a multi-million dollar ad campaign against Sen. Mary Landrieu, D-La, in which Marine veteran Christopher Schiff blames her for the disruption of his family's health insurance. The ad will hit airwaves in Louisiana this afternoon, and features only Schiff speaking to the camera from what appears to be his home.
The script - "I did two tours in Iraq. Because of my service I was able to get a health care plan that worked for me. So I get a letter from my insurance company that said my insurance costs were going way up because of ObamaCare. And oh, by the way, you should be happy about it. Mary Landrieu said that ObamaCare is going to make things better. Better? Not for people like me. I don't think Mary Landrieu is looking out for my best interests or the people in Louisiana.  Tell Mary Landrieu, ObamaCare is hurting Louisiana families."
[Landrieu Tuesday toWaPo: "This race will be won not on the president's record, but on my record…The Affordable Care Act won't be the centerpiece of my campaign. The centerpiece will be my leadership and ability to deliver for the people of my state, no matter who the president is."]
The Boonstra affect? - The ad is similar to a spot that premiered in February and helped upend the Michigan Senate race. That ad, featuring cancer patient Julie Boonstra attacking Rep. Gary Peters, D-Mich., for his support of the law, set off a firestorm. While Democrats attacked Boonstra and worked to make the Koch brothers into central figures, the spots seemed to have helped likely Republican Senate nominee Terri Lynn Land get into contention and maybe even pull into the lead. Americans for Prosperity is planning an even larger ad barrage against Landrieu, an entrenched incumbent who still leads Republican frontrunner Rep. Bill Cassidy in Pelican State polls.
The background on Schiff's claim from AFP - "Christopher had a plan from Assurant Health/Time Insurance Company backed by the USAA. Because of Obamacare, he lost the plan that he chose and liked. That plan was cancelled because of the affordable care act, and his monthly insurance premiums for a similar Obamacare compliant plan increased."
IRS COMPLAINS OF TIGHT BUDGETS, PAYS BIG BONUSES TO PROBLEM EMPLOYEES
Fox News: "IRS employees who had been disciplined for tax and conduct issues were nonetheless rewarded with monetary awards or time off, according to a watchdog report released Tuesday. The report by the Treasury Inspector General for Tax Administration found that while for the most part the reward program for IRS workers complied with federal regulations, employees who had themselves failed to pay their federal taxes and had discipline problems were also rewarded… The watchdog found that in the period from October 1, 2010 to December 31, 2012 over 2,800 employees who had been disciplined for conduct problems, including issues with federal tax compliance, had received over $2.8 million in monetary awards and over 27,000 hours in time-off awards.
Heckuva job on that launch - Washington Examiner: "Despite controversial delays in Obamacare and costly problems with its healthcare.gov website, most officials at the Centers for Medicare and Medicaid Services were paid more last year than the year before, newly released data show. …The total cost of the CMS payroll data released to the Examiner increased to more than $76 million, compared to $69 million in 2012."
WITH YOUR SECOND CUP OF COFFEE...
Like a good bottle of wine, research shows personalities get mellower with age. WSJ looks at why behavior traits naturally occur and how to deal with those slow changes. "From the ages of 20 to 65, people report increases in positive traits, such as conscientiousness, and decreases in negative traits, such as neuroticism. Most people tend to become more agreeable, more responsible, more emotionally stable—in other words, their personalities improve."
[Ed. note: We used to call it wisdom. But if learning your lessons and growing richer in mercy and kindness over the years looks better packed as a psychological study, that's cool too.]
Got a TIP from the RIGHT or LEFT? Email FoxNewsFirst@FOXNEWS.COM
POLL CHECK
Real Clear Politics Averages
Obama Job Approval: Approve – 44.7 percent//Disapprove – 50.8 percent
Direction of Country: Right Direction – 31 percent//Wrong Track – 61.3 percent
Generic Congressional Ballot:  Democrats – 41.8 percent// Republicans 40.2 percent
HILLARY ON WARREN'S TURF TODAY
Democratic 2016 frontrunner Hillary Clinton is set to speak to a women's empowerment group today in Boston, hometown to Sen. Elizabeth Warren, D-Mass. Clinton will then campaign in Connecticut for a town-hall style event at the University of Connecticut.
Ummmm…. - Washington Free Beacon: "State Department spokeswoman Jen Psaki was unable to cite one accomplishment from former Secretary of State Hillary Clinton's 2010 Quadrennial Diplomacy and Development Review (QDDR) Tuesday in a press conference" Watch video here.
Bubba backs Rangel – NY Daily News: "Former President Bill Clinton is endorsing Rep. Charles Rangel, [D-N.Y.,] for re-election, giving the embattled Harlem lawmaker crucial support as he tries to fend off a stiff primary challenge. Clinton's endorsement will be announced Wednesday in a press release. Clinton also has agreed to record robocalls for Rangel and lend his name to e-mail fundraising appeals for the congressman."]
[USA Today has the list of cities invited to bid for the 2016 Democratic National Convention: Chicago, Cleveland, New York, Indianapolis, Pittsburgh, Columbus, Atlanta, Detroit, Las Vegas, Miami, Nashville, Orlando, Philadelphia, Phoenix and Salt Lake City.]

KELLY FILE: PAUL CITES 'THUGGISHNESS' IN CHICAGO SHOOTING EPIDEMIC 
Sen. Rand Paul, R-Ky., answered calls from Chicago Mayor Rahm Emanuel and others on the left for increased gun control in the wake of an Easter Weekend outbreak of violence in the city that left eight dead and 44 wounded. Paul, in Chicago to promote his call for school choice for children in blighted neighborhoods, told Megyn Kelly that gun control efforts were misguided, citing a "sickness of spirit" as the cause. "There is also just a thuggishness that's out of control that no longer knows right from wrong," Paul said. "It's something maybe beyond government. It's spiritual. People need to be taught right and wrong, there needs to be an influence in their lives and a police presence. It's not as simple as banning guns. They have tried in D.C. and Chicago and it hasn't worked." Watch the interview from "The Kelly File."

Paul answers Dole on inexperience charge - Former Senate Majority Leader Bob Dole is revisiting his old stomping grounds in Kansas, meeting with supporters, posing for pictures and showing that at 90 he's still ready to hit the trail. Along the way, he's again voicing criticism of the current condition of the Republican Party and chiding its potential 2016 field. Though he praised former Florida Gov. Jeb Bush and New Jersey Gov. Chris Christie, Dole told the Wichita Eagle "A number of the younger members, first-termers like Rand Paul, (Marco) Rubio and that extreme-right-wing guy - Ted Cruz? All running for president now. I don't think they've got enough experience yet." Paul told reporters: "I absolutely disagree with that because I think in some ways, when you have people who are career politicians, they've been beaten down by the system and are so part of the system that they can't see all the problems of the system."

ROMNEY COMES TO MCDONNELL'S DEFENSE
WaPo: "Mitt Romney, the 2012 Republican presidential nominee, has made a personal donation of $10,000 to former Virginia governor Robert F. McDonnell's legal defense fund, a Romney aide confirmed Tuesday. McDonnell and his wife, [Maureen McDonnell], were indicted in January on federal charges of bribery and fraud involving their relationship with a prominent Virginia businessman and campaign donor. The McDonnells are scheduled to face trial in July."
TEA PARTY CANDIDATE SNAGS WIN IN FLORIDA RACE
AP: "Curt Clawson has won a Republican primary in a special election that was called after the district's congressman resigned in January after being arrested for buying cocaine. With 96 percent of precincts counted, Clawson had 38 percent of the vote in Tuesday's four-way race, ahead of Lizbeth Benacquisto, who had 26 percent. Paige Kreegel had 25 percent and Michael Dreikorn had 11 percent. The 54-year-old former CEO of an aluminum wheel company will face Democrat April Freeman in the June 24 general election in the heavily Republican district, which includes parts of Lee and Collier counties. The winner will fill the seat left vacant by Trey Radel, who pleaded guilty to cocaine charges. A total of $2.1 million was spent on the race by outside groups, largely on attack ads."
[Before tackling ObamaCare, Curt Clawson challenges President Barak Obama to a three-point basketball shootout."]

POWER PLAY: WILD RIDE IN GEORGIA
In just 90 seconds, Chris Stirewalt takes viewers down to the Peach State to slice up the race to replace retiring Sen. Saxby Chambliss, R-Ga.  Democrats see a pick-up opportunity with a moderate Michelle Nunn, daughter of the former powerful Sen. Sam Nunn. Republicans still have a long way to go to pick a nominee. Former Reebok CEO David Perdue, the cousin of former Gov. Sonny Perdue, former Georgia Secretary of State Karen Handel and Rep. Jack Kingston, R-Ga. have emerged as frontrunners in the race, but don't count out, Rep. Paul Broun or Rep. Phil Gingrey hoping to secure the conservative nomination. Which two will survive the May 20 primary and advance to the August runoff? Watch video here.

CRUZ BACKS SASSE
Nebraska senate contender Ben Sasse has won the backing of Texas Sen. Ted Cruz. The Midland University president is locked in a tight battle with former state Treasurer Shane Osborn in the Republican primary to fill the seat of retiring Sen. Mike Johanns,  From the Sasse campaign statement: "I have gotten to know Ben Sasse, and while Nebraskans have good choices, Ben is the strongest conservative voice running for United States Senate," said Sen. Cruz.  "Ben will not be just another vote in the Senate – he will be a leader in the fight to stop the Obama agenda and repeal ObamaCare from day one.  We need strong reinforcements like him in the United States Senate." Cruz will join Sen. Mike Lee, R-Utah, former Gov. Sarah Palin, R-Alaska and former Gov. Kay Orr, R-Neb., to stump for Sasse in North Platte on Friday. The primary, already two weeks into early voting, is set for May 13.
UDALL AD ATTACKS GARDNER ON ABORTION
In a sure sign of trouble, Sen. Mark Udall, D-Colo., goes on the attack on abortion in in the first ad of his re-election bid. RCP: "[The] Colorado senator has gone straight for the negative in his opening spot, hitting his Republican opponent, Rep. Cory Gardner [R-Colo.], on his anti-abortion views and previous support for personhood legislation. Udall's choice to run a negative ad early in the campaign may signal the difficult path ahead of him…the spot also highlights the Democrats' strategy to retain seats in an unfavorable climate: characterize the opponent as extreme, especially when it comes to women's health issues."
Gardner responds - KDVR: "Gardner's campaign responded quickly, attacking Udall for going negative and alleging that the ad distorts Gardner's record. 'After nearly two decades in Washington, Senator Udall has decided to launch his reelection campaign with a negative, misleading attack ad because he has no record of accomplishments," Gardner campaign manager Chris Hansen said in a statement."
[America Rising's opposition research boss Joe Pounder observes that Udall once lamented those who would "divert attention to divisive social issues."]
NORTH CAROLINA SENATE GOP CANDIDATES DEBATE
Republican North Carolina Senate hopeful Greg Brannon targeted frontrunner state House speaker Thom Tills Tuesday night in the first debate among the field of GOP contenders vying to challenge vulnerable Democratic Sen. Kay Hagan. Brannon and Tillis jousted over immigration, ObamaCare and gun rights. In the exchange, Brannon tried to paint the state House speaker as weak, while Tillis sought to keep the focus on defeating Hagan.  Charlotte Observer reports, "Brannon cited the Constitution at least 15 times in the first dozen questions, while Tillis advocated a 'practical conservatism' that encouraged bipartisan cooperation." The two will face off in the second debate tonight in Raleigh. The primary election is just two weeks away.
BEVIN USES YOUNG DAUGHTER TO CALL MCCONNELL A LIAR
Courier Journal: "Matt Bevin relies on his young daughter, [Olivia Bevin], to call U.S. Sen. Mitch McConnell, [R-Ky.,] a liar in his latest television ad, which stars Bevin and his whole clan. 'Mitch McConnell is telling a bunch of lies about my dad. Don't be fooled," the remarkable ad opens with one of Bevin's nine children. The McConnell campaign shot back with a message on Twitter saying, 'I was waiting for 'My dad went to MIT!''  It's a reference to McConnell's allegation that Bevin lied on a LinkedIn page in which he claimed his education to be from the Massachusetts Institute of Technology. Bevin never attended MIT but took part in a program there that isn't formally recognized by the school. The campaign later deleted the tweet."
PERRY, CUOMO TO DEBATE ON POLICY ISSUES?
WaPo: "Rick Perry… [t]he longest-serving governor in Texas history has been touring the nation and appearing in ads trying to lure businesses to the Lone Star State. Now, in a new ad, he sets his sights on New York, but this time he's also inviting the state's governor, Andrew Cuomo (D), to a debate. 'A debate between the governors of two of the largest states in the country on policy issues such as taxes, government spending, education, regulations and legal reform would be beneficial to our states and our country as a whole.'"
[Watch Fox: Rick Perry will be on "Your World with Neil Cavuto" at 4 p.m. ET.]
PICK SIX: DEMS WILL LOSE ALASKA
Republicans are hoping to pick up an additional six seats to gain control of the Senate this November. Which Democrat-held seats will prove to be the most likely flips for the red team? The current consensus among Fox News First readers: Arkansas, Montana, Louisiana, South Dakota, North Carolina and West Virginia. Frontier State reader Susan Kennedy says "Mark Begich, our Democrat Senator here in Alaska is out. He barely won against our beloved Senator the late Ted Stevens, who was wrongfully accused and beaten up by the press.… Also had my insurance rates go from $700 to $1650 a month thanks to Begich bragging about being #60 to pass O-care."
Share your top six picks. Email them – just your top six, please – to FOXNEWSFIRST@FOXNEWS.COM or tweet @cstirewalt.
Begich takes to a sled to tout oil cred - Roll Call: "[Democratic] Alaska Sen. Mark Begich hops back on a snowmachine in his latest TV ad, cruising across a frozen Arctic Ocean to highlight his efforts over the last five years to win approval for oil drilling… 'I'm Mark Begich — I fought for five years to get the permits so we could drill under this ice…And we won…' Begich will face one of three Republicans vying for the nomination. Former state Natural Resources Commissioner Dan Sullivan is the frontrunner against Lt. Gov. Mead Treadwell and attorney Joe Miller, the party's nominee in 2010."
FIGHTING WORDS IN WEST VIRGINIA HOUSE RACE
Washington Examiner: "The leader of the feuding Hatfield family, who fears Obamacare will bankrupt the medical careers of his three children, is jumping into politics to help a West Virginia pharmacist win an open House seat to join the GOP effort to torpedo the president's trademark program…. Hatfield is surviving face of the 1800s Hatfield & McCoy feud and the most famous surrogate for Ken Reed, a center-right candidate from Berkeley Springs, W.Va. Reed is one of seven Republicans running to replace Rep. Shelley Moore Capito, who is running for the Senate."

McHALE PROMISES TO 'BASH EVERYONE' AT CORRESPONDENTS' DINNER
Two weeks before he entertains at the White House Correspondents' dinner, The Daily Caller previews the upcoming gig with Joel McHale. "I would say I'm more independent,' he reasons… 'My goal is to be absolutely fair on how I bash everyone…'"
ARE ENERGY COMPANIES THE NEW SLAVE MASTERS?
MSNBC host Chris Hayes now claims that he and others on the left who are fighting what they believe to be man-made global warming are the moral equivalent of the abolitionists who fought against slavery in the 19th century. Those who resist their efforts to curb carbon emissions? Well, they're like the defenders of slavery. "The leaders of slave power were fighting a movement of dispossession. The abolitionists told them that the property they owned must be forfeited, that all the wealth stored in the limbs and wombs of their property would be taken from them. Zeroed out.... [writer and activist Bill McKibben] leads us inexorably to the staggering conclusion that the work of the climate movement is to find a way to force the powers that be, from the government of Saudi Arabia to the board and shareholders of ExxonMobil, to leave 80 percent of the carbon they have claims on in the ground…" Hayes says that it is different in the sense that "Humans are humans; molecules are molecules" but says "the political economy of slavery and the political economy of fossil fuel" are alike.
[Ed. note: If you ever wonder why climate change activists are so intolerant of dissent these days, now you know. Does anybody know what the carbon footprint from John Brown's body is?]

A PSA FOR THE BROS
You there in the backwards baseball cap sending a selfie – pay heed. Britain's Country Life Magazine is offering its "Downtown Abbey"-esque musts and mustn'ts for the modern gentleman. Some are eternal: always be on time, be able to talk to anyone, don't walk out during a play, etc.  But other advice for the posh set is very 2014: do not tweet – ever, do not wear fuchsia trousers (the Nantucket reds so popular with American prepsters), own a cat or sport a pre-tied bow-tie. London's Telegraph has the full list including a terribly British bit of advice on, er, intimate relations.

AND NOW A WORD FROM CHARLES…
"The left is trying to institutionalize affirmative action to make it impossible for any legislature or any referendum ever to abolish it ever in the history of the country…An outrageous proposition that was rejected by the court…What happened [Tuesday] on affirmative action...will allow now a stable settlement as the country, very complex and diverse, works it out state by state, exactly as you want to do it in a democracy." –Charles Krauthammeron "Special Report with Bret Baier"
Chris Stirewalt is digital politics editor for Fox News. Want FOX News First in your inbox every day? Sign up here.