Alabama top justice tells judges not to issue gay marriage licenses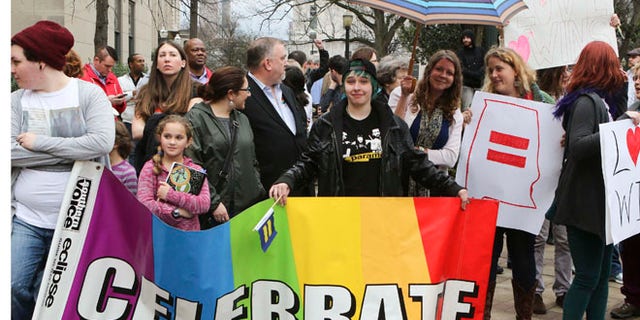 NEWYou can now listen to Fox News articles!
Alabama's top justice said Wednesday that state probate judges should not issue same-sex marriage licenses, despite the Supreme Court's landmark ruling legalizing gay marriage last year.
Alabama Supreme Court Chief Justice Roy Moore cited conflicting rulings and said until they are resolved, a prior directive from March telling judges to comply with the state's gay marriage ban would remain in effect.
He wrote: "Until further decision by the Alabama Supreme Court, the existing orders of the Alabama Supreme Court that Alabama probate judges have a ministerial duty not to issue any marriage license contrary to the Alabama Sanctity of Marriage Amendment or the Alabama Marriage Protection Act remain in full force and effect."
Moore issued a similar order last year. It's unclear what impact the decision will have in the state, where some officials are issuing the licenses and others are not.
Susan Watson, director of the ACLU of Alabama, called Moore's order "silly" and said it wouldn't change the fact that most Alabama judges are issuing marriage licenses to gay couples.
Moore said in Wednesday's decision that even though the U.S. Supreme Court invalidated anti-gay marriage laws – he cited laws in Michigan, Kentucky, Ohio, and Tennessee -- "confusion and uncertainty exist among the probate judges of this State as to the effect" on existing orders in Alabama.
He continued, "Many probate judges are issuing marriage licenses to same-sex couples in accordance with Obergefell (the Supreme Court case); others are issuing marriage licenses only to couples of the opposite gender or have ceased issuing all marriage licenses."
Moore said the broader issue remains before the Alabama Supreme Court, "which continues to deliberate on the matter."
The Associated Press contributed to this report.