Alabama rally: Trump campaigns in last-ditch effort for Senate candidate Luther Strange
President Trump rallied with his Alabama supporters on Friday evening for more than an hour in a last-ditch effort to push incumbent Sen. Luther Strange across the finish line in next week's tight Republican runoff.
During a campaign rally in Huntsville, the president said he appreciated how Strange agreed to vote for ObamaCare replacement legislation this summer without asking any favors from him.
"I called him up a week ago and I said, 'You know, I think you're down by a few points,'" Trump said. "But I'm going to come to Alabama and I'm going to make a speech for you on Friday night."
Trump, who endorsed Strange last month, is tremendously popular in Alabama, winning 62 percent of the vote in the state during the presidential race.
But Strange has been trailing his opponent, former Alabama Supreme Court Chief Justice Roy Moore, in recent public polls.
The president also used the rally to draw attention to a variety of other political issues, including Arizona Sen. John McCain's opposition to Republican ObamaCare overhaul bills, the nuclear threat from North Korea and the investigation into Russia's meddling in the election.
"That was totally unexpected thing -- terrible," Trump said of McCain's vote against ObamaCare repeal legislation.
He also referred to North Korean dictator Kim Jung Un as "Little Rocket Man."
"Rocket Man should have been handled a long time ago," Trump said.
REPUBLICANS SPAR IN ALABAMA SENATE DEBATE OVER TRUMP'S ENDORSEMENT
Speaking of the special counsel probe into possible Trump campaign ties with Russia, the president said: "And by the way folks, just in the case you're curious, no, Russia did not help me."
"I call it the Russian hoax, one of the great hoaxes," he said.
Trump also made an apparent reference to football player Colin Kaepernick, known for kneeling during the national anthem as a protest against police shootings of African-Americans.
"We're proud of our country," Trump said. "We respect our flag. Wouldn't you love to see one of these NFL owners, when somebody disrespects our flag, to say get that son of a bitch off the field, right now, out? He's fired."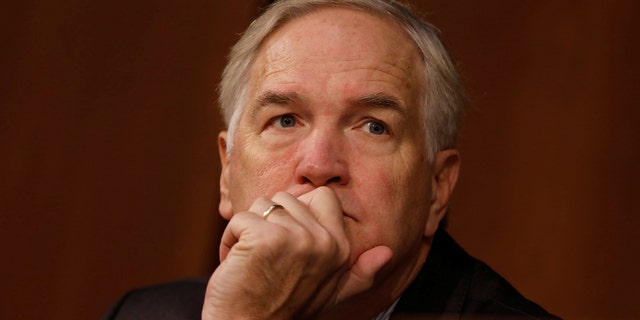 Trump argued during the rally that Strange would have an easier time than Moore winning the general election in Alabama if Strange secures the Republican nomination next week.
"That is why I'm here tonight to ask the good people of Alabama to send Luther Strange to the United States Senate, so he can defend your interests, fight for your values and always put America first," Trump said.
The Strange campaign is banking on the president's support to help him close the gap before Tuesday's vote. During a debate Thursday, Strange repeatedly emphasized Trump's endorsement, portraying himself as a loyal warrior in Washington for the president's agenda.
Introducing the president during Friday's rally, Strange donned a red "Make America Great Again" hat.
But the Alabama runoff has divided Trump from some of his usual allies, including former senior advisers Steve Bannon and Sebastian Gorka and former Alaska Gov. Sarah Palin, who are supporting Moore.
A few hours before Friday's rally, Ben Carson, the secretary of the Department of Housing and Urban Development, released a statement praising Moore and encouraging Alabamians to get out and vote.
BEN CARSON PRAISES ALABAMA SENATE CANDIDATE ROY MOORE IN APPARENT BREAK WITH TRUMP
"Judge Moore is a fine man of proven character and integrity, who I have come to respect over the years," Carson said. "I was delighted to hear he is running for the U.S. Senate. He is truly someone who reflects the Judeo-Christian values that were so important to the establishment of our country."
During Friday's rally, the president played to his crowd, expressing his love for the state, its people, college football and its former senator, Attorney General Jeff Sessions.
"I understand the people of Alabama," he said. "I feel like I'm from Alabama, frankly. Isn't a little weird when a guy who lives on Fifth Avenue, in the most beautiful apartments you've ever seen, comes to Alabama and Alabama loves that guy?"
Strange, the former attorney general in Alabama, was temporarily appointed to the seat in April after Sessions joined the Trump administration.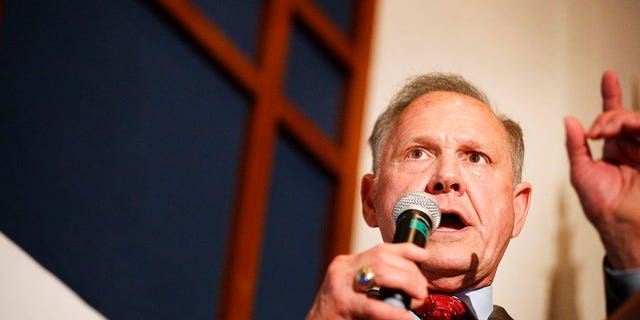 Moore, known in Alabama as the "Ten Commandments Judge," is a Christian conservative who is famous for having been removed twice from his position on Alabama's Supreme Court.
Vice President Mike Pence is scheduled to fly to Alabama on Monday
The winner of the GOP runoff will face Doug Jones, a former U.S. attorney under the Clinton administration who was endorsed by former Vice President Joe Biden. Biden has announced plans to campaign for Jones in Alabama in October.