Al Franken's resignation sought by prominent liberal groups, as new claims emerge
Influential liberal groups are calling for Sen. Al Franken to resign amid mounting claims of inappropriate sexual behavior which have stalled the Minnesota Democrat's rise in progressive circles along with any talk of a potential 2020 White House bid.
"We believe Lindsay Menz. We believe Leeann Tweeden. Senator @alfranken should be held accountable and he should resign," the progressive group Indivisible tweeted Monday, after a second Franken groping allegation surfaced.
The first claim against Franken emerged last week, when Tweeden, a Los Angeles radio host, said the senator forcibly kissed and groped her during a 2006 USO tour, before he was elected to the Senate.
She said Franken kissed her while rehearsing a sketch. And later on the tour, Franken was photographed with his hands over Tweeden's breasts, grinning at the camera, as she slept.
The second allegation was reported Monday. Menz told CNN that Franken grabbed her buttocks in 2010 when they posed together for a picture at a Minnesota state fair -- while Franken was a senator.
Franken's office reportedly said this past weekend that the two-term senator will not resign, as calls for him to step down first began to emerge.
Franken has repeatedly apologized to Tweeden. He also said he feels badly that Menz felt "disrespected" but that he does not remember the photograph being taken.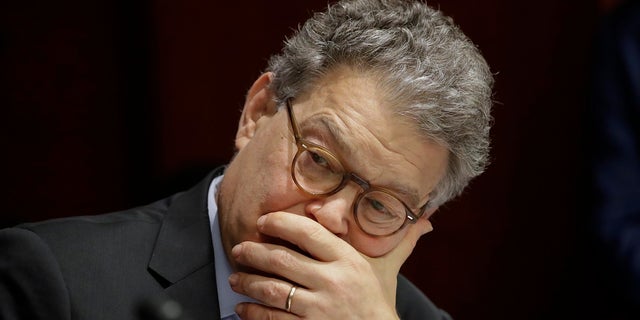 Justice Democrats, the group affiliated with liberal Vermont Sen. Bernie Sanders' 2016 White House bid, also is calling for Franken's resignation.
"It would be profoundly hypocritical for Democrats to stand by Franken in this moment," the group said in a statement. "We can't tolerate harassment or assault. We are calling for Franken to resign his seat."
The group has also started a petition drive to get Minnesota Democratic Gov. Mark Dayton to replace Franken with Minnesota Democratic Rep. Keith Ellison.
Franken has called for a Senate Ethics Committee investigation into the Tweeden allegations. But the liberal group last week called his overall response "unacceptable."
"Franken had the chance last week to take full responsibility for past sexual harassment, sexual assault and any other behavior that demeaned women," the group said. "He failed to do so. We believe that Sen. Franken should immediately resign."
Some former staffers and even former SNL female stars have come out with statements in support of Franken.
Meanwhile, more allegations of questionable conduct continue to emerge – The New York Post reported on pictures showing Franken appearing to grab Arianna Huffington on her breasts and buttocks, during a photo shoot for a magazine in 2000.
The Huffington Post co-founder reportedly denied Franken had crossed a line.
"The notion that there was anything inappropriate in this photo shoot is truly absurd," she told The Post.