Aid from Assad allies appears to be tipping balance in Syrian war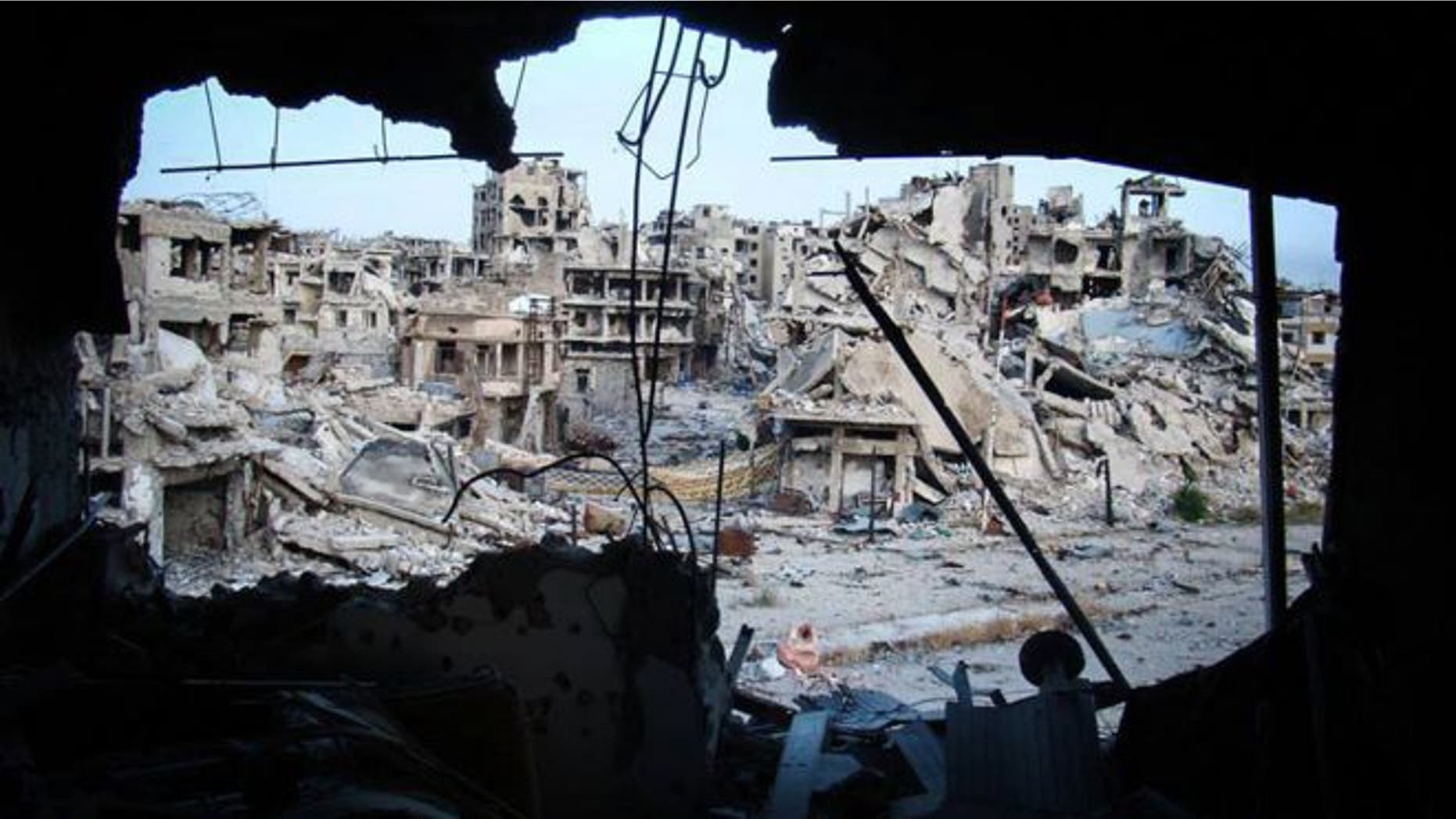 WASHINGTON – The leader of Syria's main opposition group warned Friday that rebel fighters had been weakened and demoralized after a string of recent tactical setbacks and that the aid Iran, Russia and Hezbollah are providing President Bashar al-Assad's army is quickly overpowering opposition forces.
George Sabra, acting head of the Western-backed Syrian National Coalition, told The Associated Press that the country was under occupation from foreign troops and urged the international community to act or risk the Syrian conflict spreading to other parts of the Middle East.
"Anything short of Assad's defeat would be a setback not only for Syrians, but also for America and Europe," David Schenker, director of the Washington Institute for Near East Policy, told FoxNews.com.
"The intervention of Hezbollah starts to transfer the problem into a sectarian conflict, a sectarian war between Sunnis and Shiites," Sabra said. "The problem will (spread) all over the Middle East, to Lebanon, to Turkey, to Iraq, to Jordan and maybe to the Gulf."
Many have called on the U.S. to up its efforts or offer diplomatic measures to a country that's seen more than 80,000 of its men, women and children killed in the last two years.
Schenker said diplomatic efforts by the European Union and the U.S. do little to show the rest of the world how important it is to get Assad, who has been accused of committing genocide against Syrians, out of power.
Meanwhile, Assad's allies - Russia, Iran and Hezbollah - have provided a steady stream of arms,ammunition and the trained military manpower his fighters need to beat back opposition forces. Hezbollah is providing troops, Iran is sending in military advisors and funding the war, while Russia is delivering advanced military weapons to Assad's forces.
All of the added help from Assad's allies appears to be tipping the scales in the war.
On Friday, Hezbollah continued its offensive and helped Assad's men take down two more towns. The militant fighting force is also largely responsible for capturing most of the villages and towns near the border with Lebanon.
Syrian state TV reported troops were chasing rebels in al-Buwaida. The Syrian Observatory for Human Rights said rebels attacked an air base and fired tank shells at its command building but failed to capture it.
Other sporadic clashes were reported in the southern Syrian region of Quneitra in the Golan Heights.
Friday's fights prompted the withdrawal of a major Austrian peacekeeping contingent that is part of a U.N. force that patrols the contested area and heightened fears in Israel that it could soon be dragged into the neighboring country's civil war.
On Wednesday, government forces dealt rebel fighters a big blow after retaking the strategic town of Qusair on the Lebanese border after a three-week offensive with help from hundreds of disciplined fighters from Hezbollah.
But not everyone thinks the situation is dire.
Joseph Holliday, a military analyst at the Washington-based Institute for the Study of War, is more optimistic, saying the fight is far from over. The former intelligence officer for the Army, who served in Iraq and Afghanistan, told USA Today that despite recent advances, forces fighting for Assad's regime are too limited to retake all of the rebel land.
Also on Friday, the United Nations launched a $5.1 billion humanitarian appeal – the largest amount it has ever asked for in aid from its donor nations. An initial request was made for $1.1 billion but later the amount was significantly increased.
The European Union pledged 400 million euros- or about $529 million.
The U.N. money would go to Syrians both inside and outside the country. Since the bloody civil war began in March 2011, more than 1.6 million residents have fled to neighboring countries. Another 4.3 million people have been uprooted from their homes. Those who have been able to stay are often left living in dilapidated buildings with limited access to clean drinking water, food and electricity.
"The funds we are appealing for are a matter of survival for suffering Syrians and they are essential for neighboring countries that are hosting refugees," U.N. High Commissioner for Refugees António Guterres said.