AFL-CIO, House Dems pledge to help Trump in push to rework NAFTA
House Democrats joined Big Labor on Tuesday in voicing support for Donald Trump's push to renegotiate NAFTA and other trade deals -- while also vowing to hold the incoming Republican president to that campaign promise.
"Trump said he wants to fight for trade deals that put American workers first, and so do we," said Oregon Rep. Peter DeFazio. "We are going to give very strong support for rewriting NAFTA. The momentum for a new direction is very, very clear and growing."
The Oregon congressman was joined by several other House Democrats and AFL-CIO President Richard Trumka in arguing that decades of unfair trade deals have eliminated millions of U.S. jobs.
The press conference on Capitol Hill, held at the start of the 115th Congress, offered a glimpse at an area where Trump and Democrats could find common ground.
Trump won the presidency in large part by appealing to disaffected Americans, including many across the Midwest who have lost good-paying manufacturing jobs and have been marginalized in the workforce. The Republican threatened to scrap NAFTA if Canada and Mexico do not come to the negotiating table.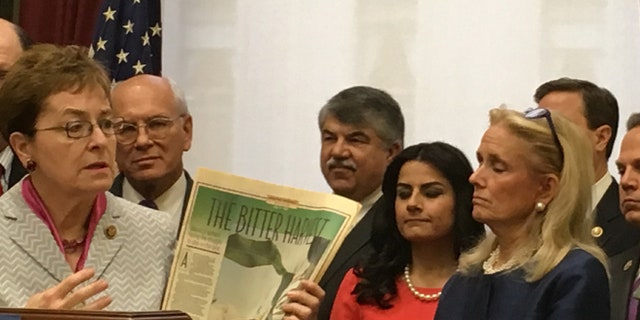 Trumka -- leader of the country's largest trade union group -- said Tuesday he told Trump after his upset victory in November that he'd be willing to work with him.
"Entire communities have lost their purpose and identity. And we have to fix that," said Trumka, whose union backed failed 2016 Democratic presidential nominee Hillary Clinton. "Working people are looking for a new way forward on trade ... and we have to begin today."
Trumka outlined what he called several "broad" changes to NAFTA that include tougher trade enforcement and reworking labor agreements but later acknowledged, "Frankly, every chapter should be improved."
At the same time, the House Democrats rolled out their 21 Century Bill of Rights, which they called "key principles" for rewriting a host of international trade deals including NAFTA, which Clinton's husband, President Bill Clinton, signed into law in the early-1990s.
Trumka and House Democrats also boasted that they have essentially defeated the Obama administration-driven Trans Pacific Partnership pact and called for Trump to put an official end to the deal, along with reworking NAFTA with Canada and Mexico in his first 100 days in office.
"TPP is dead," said Rep. Rosa DeLauro, of Connecticut.
However, she and others expressed concerns about working with Trump and about what he might do as president -- including whether he could get the GOP-controlled Congress and the so-called "free traders" among his Cabinet picks to go along with trade reform. And they raised concerns about whether his reworked deals would further protect U.S. workers and the environment.
"If he makes the workers' lives or the environment worse, he will have a serious price to pay," said DeLauro, who joined her fellow Democrats in calls to hold Trump "accountable."