Abortion Debate Returns to Capitol Hill as Lawmakers Weigh New Restrictions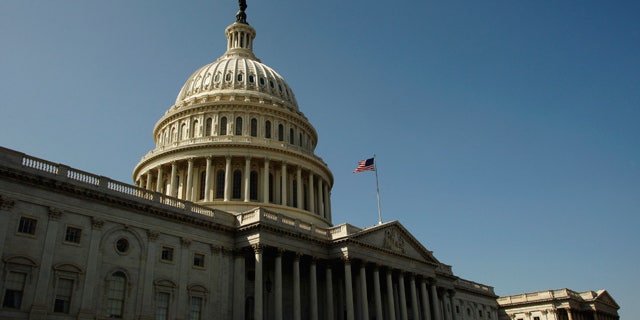 The frontlines of the abortion debate are moving back to Capitol Hill, as lawmakers push for action on several bills that would strengthen restrictions meant to prevent federal taxpayer dollars from funding the procedure.
Republicans are trying to juggle the abortion issue as they wage a separate, and more high-profile, battle in Congress over spending. Several prominent GOP lawmakers have proffered ambitious plans for cutting the federal budget ahead of a showdown vote over raising the national debt, a moment which could set the tone for their new House majority.
But the lawmakers are using their early days in power to simultaneously tackle an issue which was, for the most part, on the backburner during the campaign season. Abortion-rights groups have been hammering the sponsors of the proposed legislation, and that fight is sure to escalate with hearings coming up next week on at least two new anti-abortion bills.
"This debate is just getting started," NARAL Pro-Choice American President Nancy Keenan said in a statement.
One of the bills, N.J. Republican Rep. Chris Smith's "No Taxpayer Funding for Abortion Act," was the subject of searing criticism from NARAL and others over the past week.
That proposal would effectively make permanent a string of separate restrictions, including the so-called Hyde Amendment, which have to be renewed periodically by Congress. Abortion-rights groups oppose the bill but took very-public exception to a provision that said women who are the victims of "forcible rape" would be exempt from the law. Advocacy groups questioned whether a woman who was the victim of date rape or statutory rape -- in the case of a minor -- would fall outside that description.
After heavy media coverage, Smith backed off the "forcible rape" language Wednesday but stood by the bill as a whole. He accused critics of trying to distract attention and stoke a controversy to sideline the bill.
"Overwhelming majorities of Americans do not want their tax dollars used to pay for abortion," Smith said. "Some have twisted this language to undermine our efforts stop taxpayer funding for abortion."
The bill's critics were not appeased.
"The fact that it took weeks of public outrage before the new House leadership was shamed into giving up on its efforts to redefine rape to deny women access to abortion shows how out of touch they are with the values of the American people," said Planned Parenthood President Cecile Richards.
Smith's bill is scheduled for a hearing before the House Judiciary Committee Tuesday morning. The next day, the House Energy and Commerce Subcommittee on Health will hear Pennsylvania Republican Rep. Joe Pitts' "Protect Life Act."
That bill is aimed at making sure federal funds do not go toward abortions and abortion coverage under the new health care overhaul. Many Democrats say that's already the case, since under the law federal dollars can't be used for abortions and insurance plans that take in federal money are required to keep that money separate from any funding for abortion services.
The Pitts bill, though, would impose several extra restrictions, including a requirement that certain plans offer a version of coverage that does not include abortion coverage.
Separately, Rep. Mike Pence, R-Ind., is trying to push to the House floor a proposal that would end federal family planning grants for abortion providers -- a measure targeted at Planned Parenthood. A Pence aide told FoxNews.com the congressman is working with leadership and the relevant committees to make that happen.
Though the proposal was flying under the radar as of a week ago, it gained attention this past week after an anti-abortion group released a string of undercover videos similar to the ones that brought down ACORN. The group, Live Action, released footage showing local Planned Parenthood workers appearing to give advice to a couple posing as a pimp and prostitute on how to obtain services for underage sex workers. Live Action first released a video from a Perth Amboy, N.J., clinic, and followed it up with a video from Richmond, Va., and then more videos from three other Virginia clinics.
Smith, who is also one of 154 co-sponsors on Pence's bill, applauded the New Jersey attorney general for subsequently ordering a review of the Perth Amboy incident.
"This seems to be yet another reason to believe that Planned Parenthood is more interested in promoting its abortion business than it is in obeying laws that protect minors from sexual exploitation," Smith said in an e-mail to FoxNews.com.
Planned Parenthood fired the manager shown in the Perth Amboy video. But it accused Live Action of using "dirty tricks" to smear the organization.
"Falsely claiming sex trafficking to health professionals to advance a political agenda is an astoundingly cynical form of political activity," the group said in a statement. The organization announced more than a week ago that it was concerned visitors claiming to be involved in sex trafficking might be part of a "hoax." It claims to have alerted law enforcement to the visitors.
Accurate or not, the videos helped fuel a debate on the Hill that was already resurfacing. Rep. Michele Bachmann, R-Minn., said on her Facebook page that in light of the videos she would introduce her own bill to block funding. A number of pro-life groups are trying to organize in support of Pence's bill.
Rep. Steve King, R-Iowa, and dozens of other lawmakers also wrote a letter this week to Health and Human Services Secretary Kathleen Sebelius complaining that Planned Parenthood clinics in his state were using videoconferencing methods to dispense the abortion pill RU-486. King said in the letter that taxpayer dollars must not be used to support "telemed abortions."