'Abolish ICE' sees little support among Democrats despite left-wing push, poll finds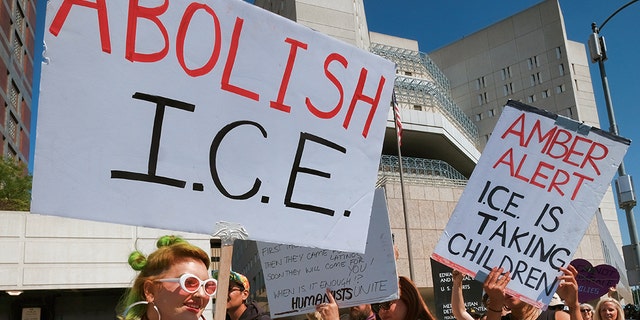 The latest rallying cry from the far left to abolish Immigration and Customs Enforcement (ICE) isn't a likely winner this election year, as a new poll finds only a quarter of Democrats support eliminating the agency supported by the Trump administration.
The findings demonstrate tension among Democrats about how to address the crisis at the border that intensified in June, as the White House came under fire over the separations of illegal-immigrant families.
But even as they don't want to fully dismantle ICE, 57 percent of Democrats view the agency negatively, including nearly three-fourths of those who describe themselves as liberal, according to the poll released Monday by The Associated Press-NORC Center for Public Affairs Research.
Last month, a Fox News Poll found that the call to abolish ICE was not trending among voters. The July poll showed that 41 percent of registered voters approved of how ICE was handling its job, while an identical 41 percent disapproved. The poll also discovered that, by a margin of more than 2 to 1, voters were against disbanding the agency — 42 percent opposing vs. 18 percent favoring.
Some potential 2020 Democratic presidential contenders, such as Sen. Kirsten Gillibrand of New York, backed getting rid of ICE in response to the separations. Massachusetts Sen. Elizabeth Warren said in June: "The president's deeply immoral actions have made it obvious we need to rebuild our immigration system from top to bottom, starting by replacing ICE with something that reflects our morality and that works."
Others, including Sen. Kamala Harris of California, urged a rethinking of the agency, but stopped short of calling for its abolition.
The push to abolish ICE became something of a litmus test among liberal Democrats this summer after self-declared socialist Alexandria Ocasio-Cortez unseated a 10-term party leader for a New York congressional seat in part by campaigning on the issue. But it hasn't proved a political winner in other races.
President Trump has seized on the Democratic criticism of ICE to paint the party as weak on immigration and national security.
The administration worked to reunite separated families after an international outcry, but the process is ongoing.
Overall, opinions about ICE are divided along partisan lines.
While a majority of Democrats view the agency negatively, Republicans largely have favorable views of ICE.
A full one-third of Americans have said they're too unfamiliar with the agency to form an opinion, according to the AP poll.
DEMOCRATS CALLING TO ABOLISH ICE INCLUDE GILLIBRAND, WARREN AND OTHERS
Dianne Stone, a 68-year-old retired bus driver from Charlotte, North Carolina, said ICE should be modified but not scrapped. After spending decades living in Southern California, she said ICE ought to be less of a law enforcement agency, and more dedicated to helping immigrants negotiate the border.
"Yes, there are more drugs and crime coming across the border than years ago. But you can't keep kids in cages," Stone said. "ICE can be part of a more sophisticated vetting process where you're keeping criminals out."
The public largely is critical of the administration's progress in reuniting families. Nearly 6 in 10 think the Trump administration is doing too little, though 8 percent say it's doing too much, and a third think it is doing enough, the AP poll showed.
Anna Lee Lish was appalled by the scenes of children separated from their parents at the border in June, but does not blame ICE for the problem.
"I thought it was horrific," said the 60-year-old social worker from Pocatello, Idaho. "ICE was just doing its job, following orders. But it's the policy of separating families that needs to change, not abandon ICE."
The partisan divide is dramatic: 85 percent of Democrats say the administration is doing too little to reunite children with their families, compared to 22 percent of Republicans in the AP poll. Still, that means nearly a quarter of Republicans feel the administration should be doing more.
Reviews of Trump's overall handling of immigration also are divided.
More than three-quarters of Republicans largely have favorable views of the president's immigration performance, while more than 90 percent of Democrats disapprove. Nearly two-thirds of independent voters said they don't approve of Trump's handling of the issue.
And while the Trump administration seeks to curb legal immigration, Americans are more likely to say they want to keep it at existing levels — 42 percent — than to want the number of immigrants let in to be increased — 29 percent — or decreased — 28 percent, the AP poll found.
The AP-NORC poll of 1,055 adults was conducted Aug. 16-20 using a sample drawn from NORC's probability-based AmeriSpeak panel, which is designed to be representative of the U.S. population. The margin of sampling error for all respondents is plus or minus 4.2 percentage points.
The Associated Press contributed to this report.