45 Days to Decide: Paladino Eyes Another Upset Over Cuomo in New York Governor's Race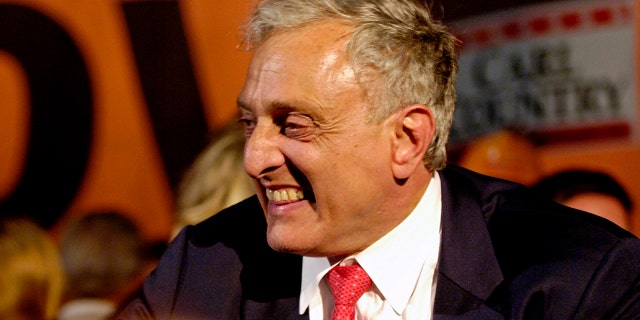 Critics have called him a "wacko," but admirers say he's a breath of fresh air.
When it comes to the polarizing Carl Paladino, one thing is clear: he's the Republican nominee for New York governor after his surprise victory Tuesday over establishment-backed Rick Lazio. And voters will now get a chance to decide whether they like the Tea Party favorite better than the well-funded and popular Democratic attorney general, Andrew Cuomo, son of storied former Gov. Mario Cuomo.
"Andrew Cuomo is the clear favorite. There is no doubt about that," Democratic pollster Doug Schoen told Fox News. "But that being said in a year when people are angry with the Democrats, angry about what has happened in Albany, anything could happen."
The same could be said of Paladino's campaign. Since launching last spring, Paladino, a wealthy Buffalo developer, has grabbed headlines with a series of blunt and at times intemperate comments.
He's acknowledged sending pornographic and racially charged e-mails to friends, including one showing President Obama and first lady Michelle Obama dressed as a pimp and prostitute. He's also compared Assembly Speaker Sheldon Silver to Hitler and has suggested housing welfare recipients in converted prisons where they can receive lessons in personal hygiene.
Politically incorrect and proud of it, Paladino says he only wants to serve one term. But for those four years, he says he'll "take a baseball bat to Albany," a metaphor he says for dragging state politics from the extreme left, cutting taxes 10 percent and cutting spending by 20 percent.
"Political correctness is out. It's done," he said. "We're finished. It's a way of hiding, and we're not hiding. We're going to have a very transparent government. It's going to be open. ... This isn't a tweak job. We're not going down there to just tweak a government."
His message has resonated with many, especially Tea Party followers. But Paladino is clear about his role in the grassroots conservative movement.
"I don't look at myself as a leader of the Tea Party movement, the 9/12s or the Patriots," he said. "I'm a member. That's it."
He takes campaign photos with his stocky dog "Duke," which bears a resemblance to the candidate, and he includes the pit-bullish companion when he rattles off his children's names and ages. Even his website is a bit startling as his image walks like a hologram toward the viewer, chatting.
Now, Paladino is sending out landfill-scented campaign materials that slam Democrats. "Something STINKS in Albany," the mailer says.
A garbage-scented campaign features the photos of seven Democrats, including six who have been investigated and two who have resigned in scandal within the last four years.
A Paladino spokesman said that the mailer is scented with a "landfill" odor.
The spokesman said the smell emanates from a material that will get worse the longer it is exposed, just like Albany.
The mailer doesn't name Cuomo, but Paladino has been trying to link him to the Democrats now in control of every statewide office and both chambers of the Legislature.
Jay Jacobs, chairman of the state Democratic party, which Cuomo controls, called Paladino a "wacko," and the committee has released a television ad criticizing him for misrepresenting his own long ties to Albany.
But some are concerned about this baseball-cap-wearing guy who can alternate between the steely stare of a cop on a beat to forcing back sobs as he talks of his son who died in a car accident a year ago. They say that although campaigns may be fun and games, governing is serious business.
"If he were ever to win, New York would no longer be a state of dysfunction, but a state of psychosis," said political scientist Doug Muzzio, a professor at Baruch College. "Paladino has more baggage than a cross country Greyhound bus."
But Paladino appears to be taking an untraveled road in New York, the straight-talking, impolitic route of former Minnesota Gov. Jesse Ventura in Minnesota and current New Jersey Gov. Chris Christie.
Cuomo has far more campaign cash on hand than Paladino, as well as wide support and a bushel of headlines from four years as attorney general.
"I think Mr. Paladino will enjoy a completely different level of scrutiny than he has experienced to this point," said Nelson Warfield, a national Republican strategist who has worked extensively in New York. Warfield said those e-mails most call sexist, racist and "off color" will return in the general election, but under the terms "bestiality" and "pornography."
"He ran a very effective campaign, and I give him credit," Warfield said. "He was able to hijack the Tea Party sentiment, and he pulled it off without a flaw."
Cuomo, with far more money and political savvy than Lazio, will be more effective against Paladino if Cuomo chooses to engage rather than let Paladino self-destruct, Warfield said.