The Salvation Army at Christmas: A true servant's heart shines bright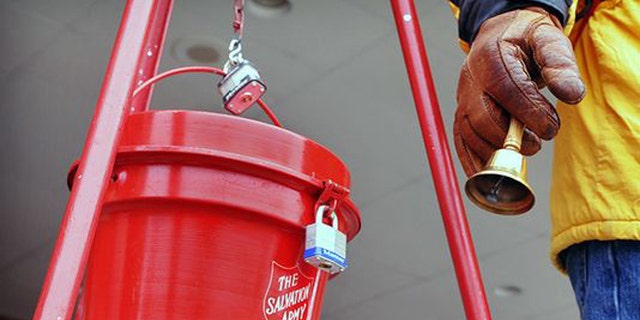 This past Sunday night I was watching the NFL football game between the Dallas Cowboys and the visiting Tampa Bay Buccaneers. Dallas Cowboys running back Ezekiel Elliott, after scoring a touchdown, jumped into an oversized Salvation Army "red kettle" on national television. Scrooge-like NFL rules gave Dallas a penalty, but his gesture demonstrated a great message to the millions who appreciate the Salvation Army and all it stands for.
You hear the bell ringing and you look and see the Salvation Army's famous "red kettle" and you know it's getting close to Christmas. First started in 1891 in San Francisco, the "Red Kettle Christmas Campaign" is the Salvation Army's biggest and most visible fundraising program to help the needy and hungry in the name of Christ at Christmas and throughout the year. It's also a great way for individuals and groups to volunteer and get involved to spread the Christmas spirit.
Another familiar Salvation Army program is its Angel Tree Program, which specifically provides clothes and toys for children at Christmas. Other programs and services available throughout the year include the Transitional Housing Program, help to the homeless, Salvation Army Family Stores, Adult Rehabilitation Centers, and Camp Happy Land for disadvantaged youth.
The Salvation Army has also been "unsung heroes" on the front lines of countless disasters over the years. This year the Salvation Army was on the ground in Haiti for Hurricane Matthew relief, providing food, water and shelter to thousands. They were also on the ground in North Carolina and South Carolina, providing multiple disaster response units to serve those affected by Hurricane Matthew. Earlier this year in August, they were on the ground in Southeast Louisiana providing relief to those affected by severe flooding in 25 parishes. And more recently, they were on the ground in East Tennessee to provide basic needs, and emotional and spiritual care to wildfire survivors.
When the storms of life come and someone has hit rock bottom and feels like they have no hope, the Salvation Army is there. It is not just the person in need's physical health they care about. The Salvation Army also cares about their spiritual health. This year, many American families are hurting at Christmas.
Fortunately, this week thousands of these families in need are showing up at Salvation Army distribution centers all across the United States to receive Christmas gifts for their children and food baskets for their families.
William Booth, the Methodist minister and founder of the Salvation Army, viewed church as a "sinner's hospital." While elites of London looked down on him in the 1860s, Booth would reach out to alcoholics, prostitutes and drug addicts, and take them to church. His mission expanded to help out those who are less fortunate and truly in need of life's basic necessities. Over 150 years later, the Salvation Army is still fulfilling that vision.
The actual amount of real help provided to Americans in need by the Salvation Army is staggering. In fact, the Salvation Army assists more than 33 million Americans throughout the year and over 6 million of those during the Christmas season alone. To get this done, the Salvation Army spends over $3BN every year helping people, with over 82 cents of every dollar spent going to program services. As the late Peter Drucker said, "No one even comes close to it in respect to clarity of mission, ability to innovate, measurable results, dedication and putting money to maximum use." Indeed, it is the role model for faith based and charitable organizations.
Salvation Army volunteers will tell you that nothing gives them greater joy than to see past recipients of the Salvation Army's assistance return to now help others in need. Several years ago, while bell ringing with my kids outside of Washington, D.C., a mom with two children came up to the "red kettle" and made a donation.
She then looked at me and said, "A couple of years ago, I lost my job and we didn't have heat and it was winter. The Salvation Army helped me and my children. I am glad that I can now help somebody else."
Then there's a story of a mother and daughter, who several years ago were helped by the Salvation Army's Angel Tree Program, later returning and providing gifts and clothing for twelve families at Christmas. These stories are endless. This is something that no federal government program can accomplish.
One thing I've always liked most about the Salvation Army is its humility and non-judgmental nature. Rather than wearing religion on their sleeve, they just focus on doing the Lord's work.
In this day and age, there are many who just "talk the talk." It is truly uplifting to see an organization like the Salvation Army that actually "walks the walk" and helps show the world the Light that shone in Bethlehem some 2,000 years ago is just as bright today as it was then.