Rick Sanchez: Brian Williams should also apologize to the victims of Katrina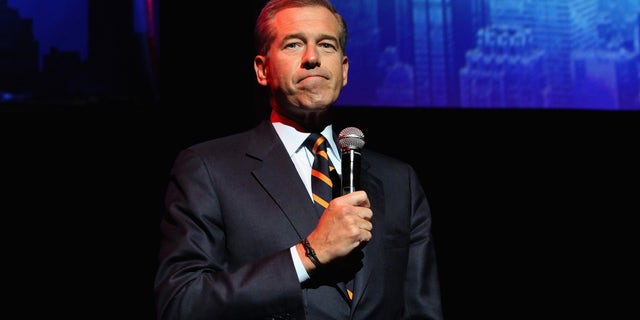 NEWYou can now listen to Fox News articles!
It certainly appears that NBC anchorman Brian Williams is spinning a yarn when he claims to have seen a body "float by face down" in the French Quarter. The story is roundly refuted by almost everyone familiar with the area's geography.
That is not to say there weren't dead bodies in and around New Orleans in the aftermath of Katrina. While on assignment there, CNN producer Michael Heard and I saw many bodies floating and otherwise, but none anywhere near the French Quarter. We also don't remember talking to any colleagues who reported drowning deaths or bodies floating near the French Quarter.
He utters his tales with an almost hyper exaggerated sense of narcissism that seems to reflect an outward disregard for the plight of Katrina's survivors.
Most New Orleans residents familiar with the geography around the Ritz Hotel where Williams and his staff were staying say that while there was some water in the area it never rose above, at most, two feet.
Then there's retired New Orleans Police Captain Harry Mendoza's reaction to William's comment. Asked to respond by the New Orleans Advocate, Mendoza said he led a team that used front-end loaders to clear Canal Street of palm trees and wires after the storm.
"There weren't any bodies out there. The only water they had in the Quarter at all was probably at Iberville and Burgundy," a low area around the backside of the hotel, "but nothing you couldn't drive through. Nothing anybody would have drowned in, unless you physically tried to drown."
Not only is Williams account of a dead body floating by his hotel being questioned, so too is his seemingly embellished description of everything else that took place around him during those desperate days for the survivors of Hurricane Katrina.
He utters his tales with an almost hyper exaggerated sense of narcissism that seems to reflect an outward disregard for the plight of Katrina's survivors.
"I beat that storm," Williams declared emphatically as if to suggest some type of superhuman talent when what he's actually stating is that he, like the rest of us, was sent there to cover the storm. For the record, nobody beat Katrina!
Also in question now is William's story about being stricken with dysentery after drinking floodwater. Again, from my own experience spending days and days along with many of my CNN colleagues splashing in chest-deep floodwaters often for hours on end, I don't recall anyone including myself coming down with an actual case of dysentery. However, I do remember thinking at the time that the exaggerated warnings and false reports about it by network brass in New York who had most likely never covered a storm were not only laughable, but also likely to become a self-fulfilling prophecy that some young reporter would cling to.
Enter Brian Williams: "I accidentally ingested some of the floodwater. I became very sick with dysentery," he told Tom Brokaw after returning from New Orleans.
Yet when asked about William's claim, the doctor who oversaw health concerns in that part of New Orleans says there wasn't even a single case of dysentery reported.
Dr. Brobson Lutz is a former city health director who manned the EMS trailer that was set up on Dumaine Street, exactly one block from where Williams was staying. In what is a great piece of news gathering by the New Orleans Advocate, he tells them that he's a fan of Williams, but could not back the claim.
"I saw a lot of people with cuts and bruises and such, but I don't recall a single, solitary case of gastroenteritis during Katrina or in the whole month afterward," Lutz said.
Then there's the part of Williams story that is not only wrong, but also possibly offensive. He doesn't only buy into the media's false narrative about mayhem and lawlessness in the days after Hurricane Katrina, he owns it unabashedly.
Don't expect to see a lot of coverage on this part of the Williams's narrative from most members of the media. They're not known to criticize that which they too are guilty of, but it's still equally inexcusable.
By now, most of the newsgathering that took place post Katrina regarding lawlessness, marauding gangs, killings, rapes and savagery have been debunked and shown for what it really was — not newsgathering, but rather rumor gathering.
The New Orleans Times Picayune, the Washington Post and the New York Times have all since filed stories calling the dehumanizing reports, which seemed intent on labeling the victims of Katrina as beasts, less than accurate. However, it's the report by FAIR, Fairness and Accuracy in Reporting that most accurately dispels Williams' at least mildly ethnocentric exaggerations.
In their report, Demonizing the Victims of Katrina, FAIR concludes that "most mainstream media accounts, exaggerated and mischaracterized 'looting,' conflating a legally justifiable search for necessities with wanton violence."
Enter, once again, Brian Williams: "I saw fear, I saw death, I saw depravity, I saw firearms being brandished, I saw looting."
And it gets even worse when he adds what is now being lampooned in social media as his 'me, me, me' accounts. "We had to have men with guns behind me one night because I was the only source of light downtown," and "we were told not to drink our bottled water in front of people because we could get killed for it."
Of course no story would be complete without Williams placing himself right in the middle of the now debunked savagery and lawlessness.
"Our hotel was overrun with gangs, I was rescued from the stairwell of a five star hotel," Williams explained.
Putting much of this together, we are left with as yet many unsubstantiated claims of an attack in a five star hotel by gang members where FEMA and even police officers were apparently staying; survivors willing to kill an anchorman for his water bottle, a case of dysentery that leaves health officials scratching their heads and a dead body floating by on a street that hardly flooded.
And then again, there are those self-aggrandizing words sprinkled throughout: "I beat the storm" and "I was the only source of light," language that seems to conflict with both truth and his credibility as a dispassionate conveyer of information.
I, like many viewers both inside and outside the news business, have always found Williams to be likable and generally believable, but there appears to be work left undone before NBC and Brian Williams can put this episode behind them in terms of both explanations and apologies.
Taking himself off the air for two days is simply not enough to answer questions about what else he may have exaggerated or lied about. What we may need are at least two days of explanations. Oh, and at least one more round of apologies, which should begin with an apology to the victims of Katrina.