This is the third Father's Day that I have celebrated since my father passed away, and I still miss him. He sacrificed everything for me, my brothers and my mother. Nothing was ever handed to him. He was the first from a family of farmers and factory workers to go to college. He coached his four sons in sports and commuted 80 miles to work so that we could live in a nicer area and get a good education. He taught us the value of hard work and to help the less fortunate. If the story ended there, his legacy would have been his family – how we live our lives and raise our children.
But somewhere in the middle of that story he got Parkinson's and then developed dementia.
For 25 years, he fought a terrible disease. Like so many spouses of people with chronic diseases like Parkinson's, Alzheimer's, ALS and many more, my mother went from wife to caregiver. I watched as our father went from an active husband, father, grandfather to a man who sat, looking out the window. Even the caregivers who visited the house lamented that he needed something to do besides watch TV and just sit.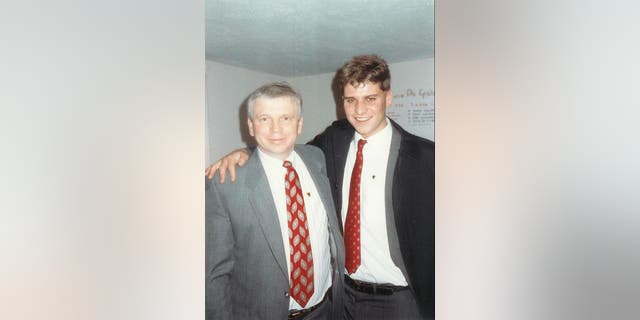 My father provided so much for his family, and now the roles were reversed. There had to be something – some activity, some game or tool that would bring him a little joy to break up the monotony of the day. I would find it, one way or another.
I wasn't the first to do that Google search, and I won't be the last. There was nothing there that met his needs and interests. There were plenty of devices to help with medical issues. Plenty of suggestions like joining a support group or playing cards. But there was nothing to help with social isolation, no advice on how to help him play cards if he did not recognize what a King or Queen was. And support groups were not there at 3 AM when dad was having a bad night and wandering.
Every day, we hear news of advancements for the medical conditions that afflict millions. New research is giving hope that we might someday wipe out these terrible diseases. Sadly, today, we are treating the diseases, but not the people that have them. We are forgetting about folks like my father who was sitting in a chair doing nothing, the man who sacrificed so much for his family, the man who ran companies and created jobs to help others take care of their families. He did not choose to be diagnosed with Parkinson's at 44. His plans were to retire travel with mom, visit kids and grandkids and enjoy the fruits of his labors. It didn't turn out that way.
Life happened, the diseases progressed and eventually he and my mother needed help breaking down the walls of social isolation. To the best of my ability, they got that help.
It is only after he passed, though, that the lessons he taught me in life really began to show. It is only after he passed that the real legacy of a humble, quiet man from Akron started to take root.
His legacy, the one he earned from a 25-year fight with a deadly disease, continues to grow and is built on a foundation of this wisdom: Enjoy your life no matter what is happening, help the ones you love, the less fortunate, the sick and never give up.
But there's much more to my father's legacy – which he will never know about.
In trying to keep him engaged and active, my kids and I one day made him a crude "activity board." He responded so well, that word spread and some other caregivers we knew took notice and wanted their own.
That activity board led to the founding of my company, R.O.S. Therapy Systems, named after my father, Roger O. Silknitter, which led to a comprehensive Activity System, which led to training, and series of how-to books, which led to smiles and peace of mind for thousands of caregivers throughout America and the ones they love.
To my father, whose legacy lives on in helping other seniors and family caregivers across this land, I say, Happy Father's Day, Pop, I miss you. For everyone else, I say Happy Father's Day with a request that you commit to one activity per day, no matter what it is, for the person you care for. See the life changing difference – the simple joy -- an activity can make.