Thong jeans, stuffing pants, and more of the worst fashion moments of 2017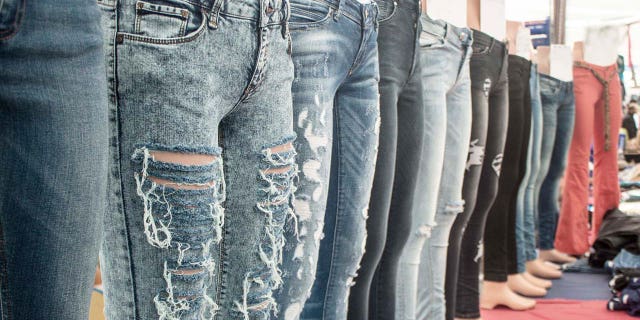 2017 was a year of suprises, and the fashion world followed suit. Some trends, like the rise of "athleisurewear" and the return of ruffles, were welcome additions. But other fashions left us shuddering, especially after models began sporting them on the runway, or style-stars started embracing them with open arms.
Check out this year's roundup of the absolute worst fashion fads of 2017, and cross your fingers that they won't sneak into the New Year, either.
#1. Man rompers
Making their debut just in time for summer 2017, man rompers were the male fashion trend no one was expecting. Even still, more than a few brave souls sported them through the warmer months. There's even a collection of Christmas and Hanukkah-inspired man rompers for the holiday party season.
#2. The $10,000 pizza bikini
For one day only, pizza chain Villa Italian Kitchen sold a two-piece swimsuit made entirely of real dough, cheese, sauce and pepperoni in what they dubbed "the world's most mouthwatering bikini." It was also probably one of the most expensive, too, at $10,000.
THE ONE THING MEGHAN MARKLE NEVER TRAVELS WITHOUT
#3. "Underboob"
Sure, this concept has been around for a bit, but the bold trend really picked up steam this year. Favored by starlets and models who dared to bare, the risque look arrived in late August and hasn't left red carpets since.
#4. Pajamas as daywear
Cleverly repurposing loungewear as outerwear, the "pajamas as daywear" trend brazenly arrived in early 2017, wearing a smart, silken robe. The comfy-sleek look gained traction with celebrities like Gigi Hadid, Zendaya Coleman and Rachel Platten.
#5. One-piece President Trump swimsuits
This $50, head-turning swimsuit featuring a larger-than-life screen-print of POTUS is in fact manufactured by the same company that created the hairy-chest one piece swimsuit — no surprise there.
#6. The "dad bod" fanny pack
At the peak of "dad bod" hype, this versatile pouch showed up as a perfect place to store beer — and kinda gross us out.
MODELS STRIP DOWN IN TIMES SQUARE TO PROMOTE BODY-POSITIVITY
#7. Dry cleaning dresses
While most people tend to remove their dry cleaning bag from their garments before stepping out into the world, Moschino thought more "inside the bag" with this $730 see-through frock.
FOLLOW US ON FACEBOOK FOR MORE FOX LIFESTYLE NEWS
#8. Thanksgiving stuffing pants
Because Thanksgiving dinner is no time to wear jeans, Stove Top Stuffing served up a pair of stuffing-printed pants just for the occasion.
#9. Dad sneakers
Seemingly overnight, thick soled, chunky, "Seinfeld"-esque kicks became the must-have footwear of fall.
#10. Double jeans, muddy jeans, detachable jeans, jeans with clear knees, but worst of all, thong jeans
After a highly publicized debut at Tokyo Fashion Week, the infamous thong-jean look spawned its own Halloween costume.