Want A Smoke? Unfortunately For Health-Conscious Latinos, The Barrio Is The Place To Go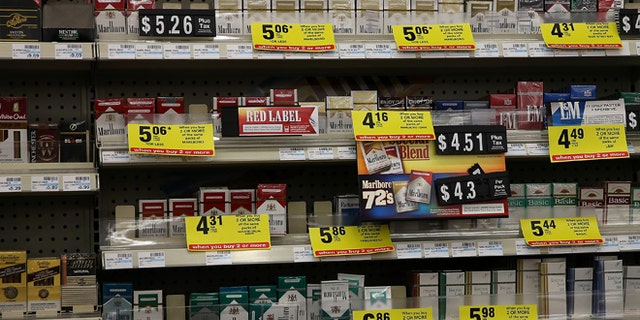 Want to buy a pack of cigarettes? Head to just about any corner in the barrio.
An in-depth geographic study conducted by researchers at Rutgers and Montclair State universities in New Jersey which looked into tobacco availability and demographics in Passaic County, N.J., has found that pharmacies are likelier to sell tobacco products in poor and Latino communities. Especially Latino.
The study, published in the journal GIScience & Remote Sensing, was conducted by Rutgers associate professor of social work, Andrew Peterson, among others, and it is the first in the country to combine census data, commercial licenses, and "newly emerging spatial data analytical methods" to determine just how accessible tobacco products were in any given locale.
It was a bit of a head-scratcher that pharmacies, of all places, would lead the way in tobacco sales.
"Pharmacies are a critical component of the health care system and their role is contradicted by the sale of cigarettes," Peterson said, according to a Rutgers news release. "It is against the ethics of pharmacists to sell a product that is among the top preventable causes of death in the world."
Nevertheless, according to Peterson, "most community pharmacies have continued to sell these potentially addictive products despite recommendations and resolutions of their professional organizations," especially in poor neighborhoods.
"It is the economically disadvantaged neighborhoods," the authors wrote, "that are targeted by pharmacies to sell addictive products, and the Latinos seem to be especially targeted in those neighborhoods."
Possibly not coincidentally, the team found that smoking rates are often lower in communities where there is less access to tobacco products.
"Cost is an important predictor of substance abuse," pointed out Cory Morton, a postdoctoral student who co-authored the study.
The demographics of Passaic County are stark, with more than a third of its population being Hispanic, according to the 2010 census, but concentrated in the poorer, more urban southeast corner of the county, including the cities of Patterson, Passaic and Clifton.
The northwestern side of the state, which is far less urban, has communities that are more affluent and where Latinos comprise 5 percent or less of the population.
In February, those who advocate against pharmacies selling tobacco got some good news. CVS Caremark, one of the largest chain of pharmacies in the country, announced that it would stop selling cigarettes come October, a decision that will cost the company an estimated $2 billion.
"They are making a business decision to bet on the future of the health care industry rather than the future of the tobacco industry," Peterson said.
Follow us on twitter.com/foxnewslatino
Like us at facebook.com/foxnewslatino