Video of teen with genetic disorder scoring last-minute basket goes viral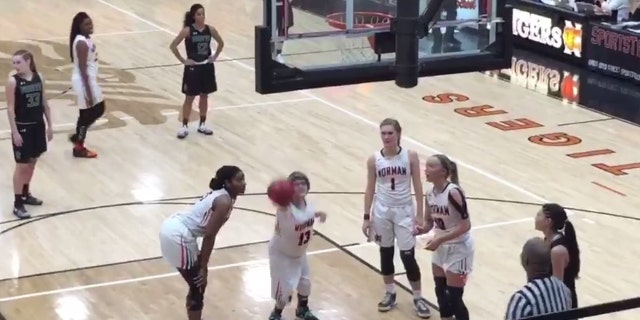 NEWYou can now listen to Fox News articles!
Friday night's basketball match-up between two Oklahoma high schools was destined to be a memorable game for the home team's seniors, but one star stole the show when she checked in during the game's final minute and sunk her first basket of the season. Lainy Fredrickson, who has Prader-Willi syndrome, a developmental genetic disorder, quickly gained online fame for her contribution to Norman High School's win.
It is Fredrickson's rookie season with the Lady Tigers, but not her first foray into sports, as she is a Special Olympics veteran, News9.com reported. When her coach called for her to sub into the game with the clock winding down, she knew she had to get to the hoop. With the crowd chanting her name, Fredrickson hugged her coach and, with the help of some teammates, made her way toward the basket where she sunk a two-point attempt. Michael Vanderburg, a middle school teacher in the district, caught the special moment on camera and posted it online, where it has gotten nearly one million views.
"When Coach (Michael) Neal approached us about Lainy being on the team, that in itself was an honor," Mona Frederickson, the hoopster's mother, told News9.com. "The girls love her. She loves basketball, and it's been a wonderful experience."
Her stardom even landed the Fredrickson family court-side at the Harlem Globetrotters game on Saturday, News9.com reported. Frederickson told News9.com that she's enjoying all the attention "because I'm famous." She's now focused on competing in the state Special Olympics in May.
Prader-Willi syndrome is a complex genetic condition that causes weak muscle tone, feeding difficulties, poor growth and delayed development. Often children with the condition develop an insatiable appetite that can lead to obesity and chronic overeating, according to the National Institutes of Health. The disorder is estimated to affect 1 in 10,000 to 30,000 people worldwide.