Video of mom seeing baby hear for first time goes viral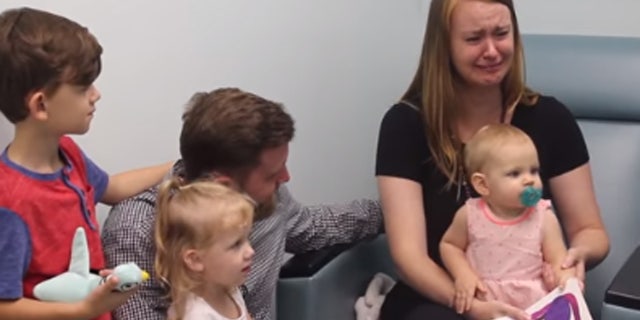 The video of a Texas mom's reaction when her 1-year-old daughter hears a sound for the first time went viral over the weekend.
Anna Esler, the mother of Ayla, could be seen holding the child on her lap at the Cook Children's Ear, Nose and Throat hospital when the baby starts to wiggle and reach for her right ear. Another person's voice could be heard in the background saying, "Yeah, you heard it."
Anna looked down at her baby and begins to sob.
"I thought she would probably cry and scream when her CIs were activated—and she did do that later when it became overwhelming—but to see her hearing sound and enjoying it was just incredible," she told the hospital.
The surgery was performed by Dr. Kristen Honsinger, who works at the hospital's otolaryngology team.
The family told the hospital that there are challenges in the future for Ayla, including catching up to her peers and actually being taught how to hear.
"She's already responding positively—sometimes she turns to sounds (which she had never done before), she dances to music, she's starting to calm down when we sing to her if she's upset. We really couldn't be more thankful for the new opportunities our little girl has thanks to everyone in her life," the mom said.