Texas man bitten by shark has flesh-eating bacteria related to attack
A man who was bitten by a shark while swimming at a Texas beach earlier this month said he's now being treated for flesh-eating bacteria related to the shark bite.
WARNING: Graphic image below
Blaine Shelton was admitted to the hospital again this week after he was attacked on Aug. 9 while swimming near Boliver Island's Crystal Beach. The 42-year-old was about 200 yards from the shore when the shark sunk its teeth into his thigh, just above his knee.
Shelton told KHOU11 on Tuesday that after he was released from the hospital last week, he began experiencing extreme pain around his shark bite wound.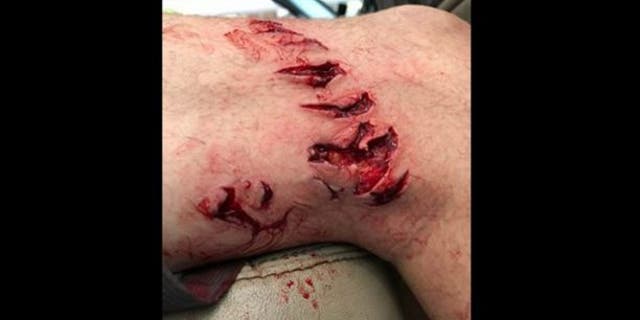 "You see all that dried stuff right there? That's what was dying," Shelton told the news station, referencing the tissue the flesh-eating bacteria has taken around his infected wound.
"Thank God they're helping me with the pain because the other day when I came in I could hardly walk in here," he said.
WARNING GRAPHIC IMAGE: SHARK BITES TEXAS BEACHGOER, WHO IS RUSHED TO HOSPITAL
He added that he's always heard there was "bacteria in the water," but never took the warning seriously — until now.
"But to tell you the truth, if you've got a scratch on your arm or your leg, I wouldn't get in that water," Shelton said. "And if you do, bring some alcohol with you to clean it the second you get out. It's nothing to play with."
Shelton wrote on his GoFundMe page on Wednesday that he was back at the hospital and "in good hands" with the doctors on staff. He posted a selfie of himself Thursday from the hospital bed.
The construction worker recalled seeing a fin in the water the day of the attack and realizing it wasn't any friendly fish.
"I already saw the fin, and I knew it wasn't a porpoise," Shelton told the station. "So I turn around to get out of there, and that's when he grabbed me by the leg."
Shelton said he's expecting his medical bills to top $100,000 by the end of the ordeal and is raising money to pay for the rising costs.