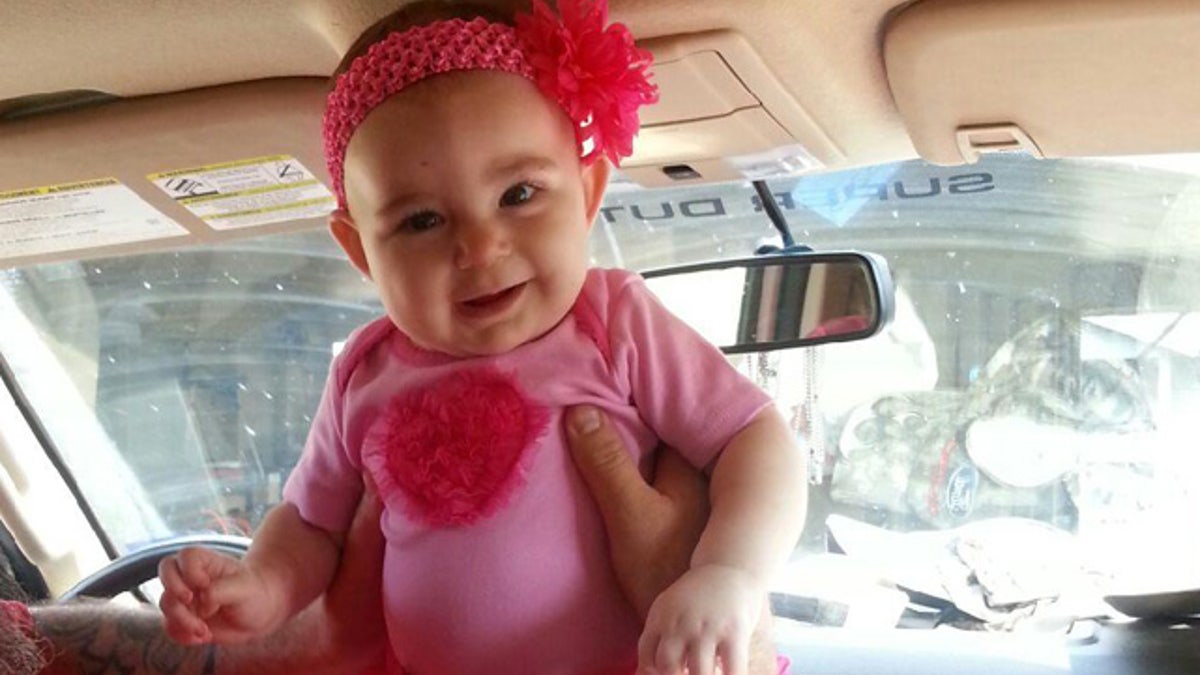 The family of Savannah Snodgrass -- a 7-month old Texas girl who was stricken with a brain tumor -- cried "tears of joy" Tuesday upon hearing the growth was benign following emergency surgery at Texas Children's Hospital in Houston.
The delicate surgery performed by a team of specialists on July 11 came after the girl's health insurance company reversed a decision that had denied her surgery at her family's preferred hospital.
"It's amazing," the baby's mother, Tessa Snodgrass, of Georgetown, Texas, told FoxNews.com.
"We have tears of joy. We are so thrilled," said Snodgrass, who credited the "power of prayer."
Doctors at the renowned pediatric hospital told the family Tuesday the girl's entire tumor was successfully removed during the six-hour surgery and that the growth was non-cancerous, according to Snodgrass.
The growth was first detected in March when Savannah, then 4 months old, began having seizures. The tumor was troubling to physicians because it was located on the left temporal lobe of Savannah's brain and had grown in size.
"There is some risk for re-growth and continued epilepsy, but this is the best news we could hear," said Snodgrass, who added that Savannah will likely need to undergo regular MRI tests until she is 20 years old.
Following a FoxNews.com report, the insurance company Superior HealthPlan reversed its decision not to pay the acclaimed Texas Children's Hospital for the emergency surgery, claiming the doctors there were out-of-network providers. Savannah's parents fought back, saying the same doctors had been treating the little girl for months, monitoring the tumor and preparing to remove it.
Snodgrass claims Superior HealthPlan had been covering Savannah's care all along -- including pre-approval for another MRI to be conducted on Monday. But the company initially refused to pay for Savannah's brain surgery, stating in a June 27 letter that Texas Children's Hospital is an out-of-network provider and referring her instead to a surgical facility in Austin, about an hour south of Georgetown.
Superior HealthPlan changed its decision, saying on the day of Savannah's surgery that it will cover the operation at Texas Children's "for continuity reasons."
"Our No. 1 priority has been to deliver the best health outcome for this child, as it is for all of our members," the company said in a July 11 statement. "Superior is happy to have identified a solution that ensures that this child receives continued care from the provider established prior to their enrollment with Superior. We will continue to assist this family in making sure they receive the care they need.
"While we have complete confidence that our in-network providers have the expertise and resources to give all of our members the individual care they need, we approach every member's care individually. The importance of maintaining continuity of care, combined with the complex and timely concerns of the family were critical to this decision," the statement said.
Friends and relatives of the Snodgrass family had created a Facebook page, called "Savannah's Soldiers," to rally support for the surgery after it was initially denied by Superier HealthPlan. Now, the site serves as a message board for well-wishers and updates on the girl's condition.
"We are back on our way to Georgetown with some awesome news!" Tessa Snodgrass wrote in her latest post. "Thank you all for walking with us in this journey and praying for our sweet baby!"