Ohio girl sets up kissing booth with family dog to raise money for cancer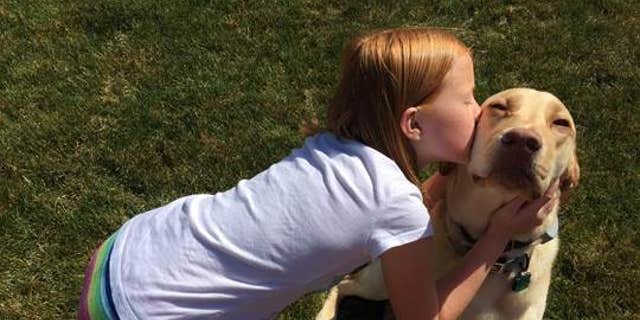 NEWYou can now listen to Fox News articles!
An 8-year-old Ohio girl is doing her part to help raise money for cancer research by setting up a kissing booth with her pooch, Marley. Addi Gehres, of Grove City, lost her grandmother to cancer just two months after she was born.
"She may not remember her grandmother, but she knows how much she loved her and everything she wanted to do for her -- to see how it impacts others is just something that is beyond words for us parents," Keith Gehres told WKBN.
The Gehres have participated in Pelotonia, a non-profit biking fundraiser, for the past six years, and have also set up garage sales to raise money for the cause, WKBN reported. At their most recent sale, Addi gathered her yellow lab Marley and set up shop.
"My favorite thing about Marley is he'll lay on your feet when you're cold," Addi told WKBN.
The family said Marley has yet to meet a stranger, and since Addi doesn't mind sharing him with others if it means raising money for a good cause.
"I think it's good to help people because their families must be very worried about them and they want them to get better," Addi told WKBN.
Addi and Marley have raised $500 so far.