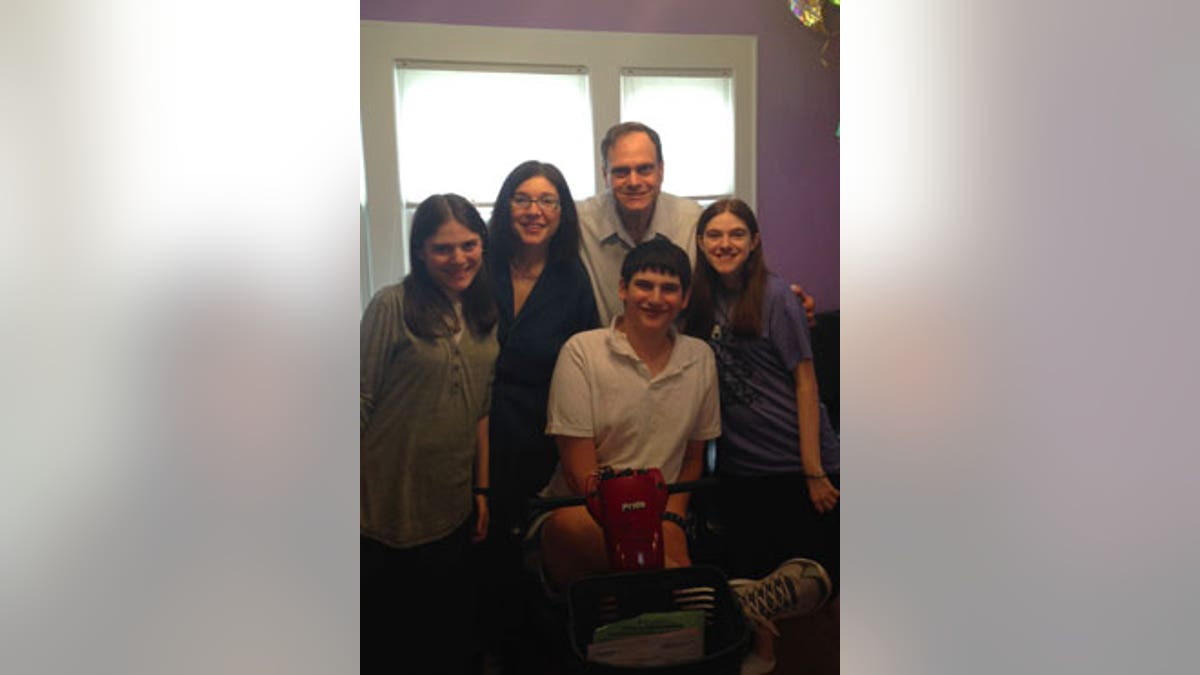 In elementary school, Rivka Herzfeld usually placed last during races in gym class, but she never thought much about her physical ability until her senior year of high school, when she was at a dance and fell while wearing high heels.
"When I tried to get myself up, I had trouble, and I thought, 'Oh, my gosh. Whatever is ailing my siblings is ailing me too,'" Rivka Herzfeld, 23, told FoxNews.com.
Rivka is one of four siblings in the Teaneck, N.J. family who is battling a mystery illness that causes muscle deterioration and is progressively robbing her of the ability to walk. First was Rivka's 22-year-old sister, Tziporah, then her 18-year-old brother, Tzvi, next herself, and finally her 15-year-old sister, Racheli. While the Herzfeld daughters walk cautiously, struggling with everyday tasks and not venturing far from home without assistance, Tzvi's condition has progressed the most rapidly, preventing him from walking entirely.
Multiple surgeries, genetic tests and renovations to make their home more handicap-accessible have left the family with at least $100,000 of debt, said Esther Herzfeld, the matriarch of the Herzfeld family. While neurodegenerative diseases can be genetic and affect multiple siblings in a given family, numerous tests conducted over the past 10 years haven't shed light on what the disease is— but only what it isn't— making the Herzfelds' case remarkable, experts say.
Until this year, the Herzfelds have kept their family's medical struggles private, finding solidarity among the congregation at their synagogue and not filing for state aid. But their story inadvertently became national news after Esther entered a contest to win a handicap-accessible van in May and told colleagues at the Ma'ayanot Yeshiva High School for Girls, where she teaches English. The effort ended up going viral on her students' social media accounts, prompting a handful of them to jump-start online campaigns to help fund the family's continuous medical expenses.
"Teaneck is a small town, and our rabbi called to tell us his phone was ringing off the hook— people were calling to ask how they can help," Esther Herzfeld told FoxNews.com.
"They were all seemingly healthy."
The Herzfeld siblings each stayed in the NICU after birth, but they were developmentally normal and healthy. Before each child developed his or her condition, Rivka and Tziporah were second-degree black belts, Tzvi and Rivka were proficient climbers, and they all enjoyed swimming and diving.
"They were all just fine, and normal and fine, and seemingly healthy," Esther said.
At age 11, Tziporah was the first sibling to present symptoms. Esther and her husband, Arthur, who is on disability for an undisclosed reason, always thought their daughter was a little clumsy, but they knew something was amiss after they found out she had been tripping and falling during gym class.
A pediatric neurologist diagnosed Tziporah with a condition consistent with Charcot-Marie Tooth Disease (CMT). According to the National Institutes of Health (NIH), CMT is a common group of inherited neurological disorders that affect peripheral nerves, which are located outside of the brain and spinal cord, and supply the muscles and sensory organs in the limbs. CMT is marked by a high-stepped gait with frequent tripping or falls, as well as foot deformities that result from weakness of small muscles in the feet. The NIH estimates that CMT affects about 1 in 2,500 people in the United States.
Each Herzfeld child has unique symptoms— Racheli and Rivka walk on their tiptoes, for example— but the shape of all of their feet is consistent with CMT, as is their general gait.
Starting about six years ago, Tzvi, Rivka and Racheli also saw their ability to easily walk slip away.
"In seventh grade, [Tzvi] started walking with a funny gait and would fall once in a while," Esther recalled. "He would say, 'It's OK, as long as I don't have what Tziporah has.' And just when he said that, I didn't put the two together basically, and then I said, 'Oh, my gosh.'"
In eighth grade, Tzvi began to walk on the sides of his feet. The following June, he went with Esther to Teaneck High School to register for classes and walked home. By September, he was in a wheelchair.
Doctors say CMT progresses more quickly in boys, but all of the Herzfeld children have tested negative for the disease. Tests have also proven inconclusive for other suspected neurodegenerative and mitochondrial conditions. One doctor pointed to an "inexplicable mutation," Esther said.
"They don't have the balance."
All of the Herzfeld children except for Rivka have undergone some sort of corrective surgery with limited success.
When she was 12, Tziporah had a muscle transfer, a procedure that involved harvesting healthy muscle from her legs then transferring it to areas where her muscles were weak. Doctors performed the procedure to correct drop foot, whereby she would walk toe to heel, and they predicted that her walking function would be restored to 95 percent normal. But instead, Tziporah felt weaker after the surgery, Esther said.
Tzvi had his Achilles tendon lengthened, a procedure that helped him for a few months when coupled with assistance from a physical therapist, but then he began walking on the sides of his feet again and curling up his feet. Racheli also had her Achilles tendon lengthened, which helped her walk flat instead of on her tiptoes, but then she somehow became knock-kneed. Doctors next put plates in her knees to help straighten them, but the plates began bothering her, so doctors removed them a year after the surgery.
Today, Rivka sees a physical therapist once every other week and an occupational therapist once a week.
The children's persisting problems with mobility affect every area of their lives, Esther said.
"Let's put it like this," Rivka Herzfeld said, "My social life is not daily. There are some 23-, 24-year-olds who have a daily social life and see their friends on a daily basis— either they're living with friends or roommates, but that would be irresponsible to my body. I wouldn't feel comfortable doing that. It would make things much more complicated than they already are."
Arthur and Esther must assist their children in getting up off the couch and into the car because they are weak in the hip girdle area. The Herzfeld sisters are more reserved but spend time with friends at home or at the movies, while Tzvi is the most outgoing and uses a motorized scooter to get around.
At school, Racheli uses a motorized scooter but otherwise walks cautiously. Rivka and Tziporah walk slowly without aid.
"Even when the kids are going to a movie, what if the movie is on the second floor of the theater and that theater doesn't have an elevator?" Esther said. "There are one or two theaters locally that have been very kind— [saying] if you let us know 24 hours in advance, we'll bring that movie down to the first floor. Things like parades and hanging out with clubs, which [Tziporah and Rivka] would be more prone to do, they don't do for fear of being knocked over or pushed over— they'll absolutely fall. They don't have the balance."
"We still can't pinpoint the problem."
Medical tests conducted in hopes of identifying an underlying cause for the Herzfelds' condition— a muscle biopsy for Racheli and 32 CMT blood tests for Tziporah, among them— have all returned inconclusive results and contributed to the Herzfelds' debt, Esther said.
Dr. Helio Pedro, section chief of genetics at Hackensack University Medical Center, in Hackensack, N.J., has been working with Rivka since August 2014, when he conducted her first round of genetic tests.
In May, Rivka submitted to an exome sequencing test, the most updated type of genetic test that looks at the entire genome, which is comprised of over 20,000 genes, and can cost upwards of $15,000. The test considers the individual in question, as well as his or her parents.
"Unfortunately, we do have families that have multiple children involved [in a genetic disease], and we do all the testing and we still can't pinpoint exactly what the problem is," Pedro told FoxNews.com. "It is a little bit concerning that we've done all this testing and still cannot really figure out what it is."
Pedro said he couldn't predict the underlying cause of the Herzfeld children's ailment as past genetic tests have proven unhelpful, but he said advances in genetics offer hope for an answer in the future.
"The one thing I have to keep in mind is we're looking at single genes, and whether there may be multiple genes interacting with each other," Pedro said. "That may be why we can't figure out what is going on— that may explain why there's some variability with some of the family members."
The Herzfelds expect results for Rivka's second round of genetic testing in August.
"We're chasing a moving target."
Rabbi Laurence Rothwachs, of the Herzfelds' synagogue, Congregation Beth Aaron, has been with the Herzfelds from the beginning, and has led private campaigns among the family's close circle of friends for efforts including installing a chair lift in their home and a ramp in the backyard. The ramp, which has been crucial for Tzvi due to his reliance on a motorized scooter and a wheelchair, was a nearly $40,000 project that Rothwachs and his congregation completed about five years ago.
"The contest for the van really sort of propelled this entire cause into public sphere in a way that was not really intentional on the part of the family," Rothwachs told FoxNews.com. "It was sort of a blessing in disguise. When it comes down to it, there's nothing that [Esther] would want other than the best for her kids, so there's a limit as to how much she can do and what she can do if we're secret about this thing."
So far, that increased media exposure has led to an independent donor stepping forward to pay for the family's handicap-accessible van after they lost the contest, which was hosted by the National Mobility Equipment Dealers Association (NMEDA), earlier this year. Esther said she expects the custom van, which cost $63,000, to arrive at their home in about six weeks.
To help pay for renovations to the Herzfeld home, Rothwachs worked with Bergen County United Way to establish a fund to organize the outpouring of donations from Esther's students' online fundraisers.
Rothwachs said his congregation's discretionary fund, as well as money from the Bergen County United Way, paid for the family's backup generator, which is crucial for a family like the Herzfelds in the event of a power outage.
Next, at the bare minimum, the Herzfelds' bathroom and kitchen counters are too high for the children to reach, as are light switches. Also on the family's wish list is a new transport chair and custom-made couches.
"[These are] things we don't even think about," Rothwachs said. "In a home that has been constructed with complete handicap accessibility these things are standard, but right now we're chasing a moving target and trying to get ahead of it. But over time, we'll see if we have enough capital to push this forward in a serious way."
"I would love if we can literally rebuild their home or move them to a new home," he added. "Anything less than that is going to do— it'll do because it has to do, but it would be less than ideal for them."
Rothwachs, who lives a block away from the Herzfelds, described the family as "extraordinary"— independent of the medical challenges they face.
"They happen to be really fine people with outstanding character, are hardworking, honest and [are] always looking for the best in every person and situation," he said. "When you take into consideration the extra challenges they face, it makes them heroic rather than really, really special."
"We try to do the best we can."
Esther said her family has been able to persevere due to their faith and friends, as well as maintaining hope that a cure for whatever is plaguing the children exists.
"I don't ask, 'Why did this happen to us and to our kids?'" Esther said. "That's an unanswerable question— that's a stupid question. I don't have time to bemoan my fate. I just have to find comfort to go on."
"I was once told by a rabbi who was teaching my son his bar mitzvah that there aren't any illnesses in the world that God created that he also didn't create the cure for," she added. "So I tell my children and I tell myself that the cure is out there, and we have to keep hoping and praying it will be discovered to help them."
And yet, what the Herzfeld children lack in physical strength and health, they more than make up academically, Esther said.
This summer, Rivka will graduate from Yeshiva University in New York City with a master's degree in Bible studies; Tziporah graduated this year from Yeshiva University with a bachelor's degree in sociology; Tzvi graduated from Teaneck High School and is preparing to attend Bergen Community College with the aim to attend Rutgers University and then law school; and Racheli is entering her sophomore year at Ma'ayanot Yeshiva High School for Girls and aspires to become a writer.
"There's a word in Hebrew— 'Tachlit'— it means 'with purpose' or 'purposeful, and so at some point it loses its purpose to be prideful," Rivka said.
"Life is hard for people; it's just ours seems to be more noticeably hard," she added. "We're trying to figure out what this is, and the best way we can [is to] live our lives as normally as possible. But also, there's a new definition of normal when you have a situation like this, and it's something that's hard to swallow, but at the same time we try to do it as best we can with as much grace as we can."