Multistate E. coli outbreak traced to romaine lettuce from Arizona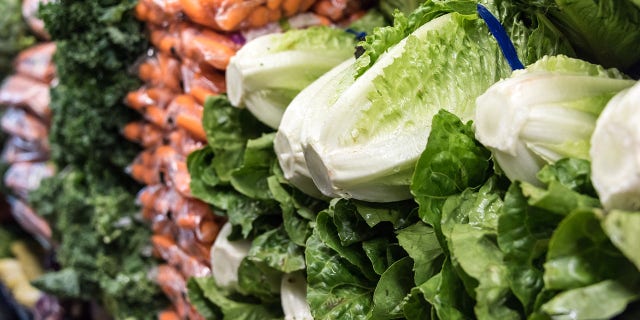 A multistate E. coli outbreak has sent at least 22 people to the hospital prompting health officials to advise consumers across the country to throw out any store-bought chopped romaine lettuce, including prepackaged salads and salad mixes. The outbreak has been traced to the Yuma, Ariz., growing region, but it is not yet pinned to a common grower, supplier, distributor or brand.
Since the outbreak began in late March, the Centers for Disease Control and Prevention (CDC) has tallied a total of 35 infections across 11 states, including three cases of kidney failure. While no deaths related to the outbreak have been reported, symptoms of E. coli can present as diarrhea, severe stomach cramps and vomiting. It can take up to 3 to 4 days for symptoms to appear, meaning more cases may be forthcoming.
NEARLY 207M EGGS RECALLED OVER SALMONELLA FEARS
The CDC is advising retailers and restaurants to stop selling chopped romaine lettuce from the Yuma region, which is home to the annual Lettuce Festival and bills itself as the "winter lettuce capital." The Produce Marketing Association, Arizona Leafy Greens Marketing Agreement, United Fresh and Western Growers released a statement on the outbreak, and reassured consumers that nearly all romaine lettuce now being harvested and shipped throughout the U.S. is from the California growing areas.
"The leafy greens community takes the responsibility for producing fresh produce very seriously," the statement said, in part, according to Food Safety News. "Leafy greens food-safety programs in both California and Arizona are the most rigorous in today's produce industry. Both programs include mandatory farm food safety practices, and frequent government audits to ensure those practices are being followed."
However, Consumer Reports is advising against consumers purchasing any romaine lettuce regardless of where it's grown while the outbreak is ongoing, including unbagged romaine or hearts of romaine.
CHILI GROWER DEFENDS WORLD'S HOTTEST PEPPER AFTER MAN WHO ATE ONE WAS HOSPITALIZED
"Consumer Reports is making this recommendation given the potentially fatal consequences of E. coli, the fact that there are still several unknowns about this outbreak, and that no type of romaine has been ruled definitively safe by government officials," said James E. Rogers, director of food safety research and testing at Consumer Reports. "While we are making this decision out of an abundance of caution, this warning is particularly important for vulnerable people like the elderly, pregnant women and young children."
Over the weekend, Pennsylvania-based Fresh Foods Manufacturing announced a voluntary recall of nearly 9,000 pounds of salad products. While none of the cases reported have been linked to Fresh Food products, the company said its concerned that its romaine supplier may have been involved in the outbreak.
The Associated Press contributed to this report.