Mom delivers baby inside amniotic sac en route to hospital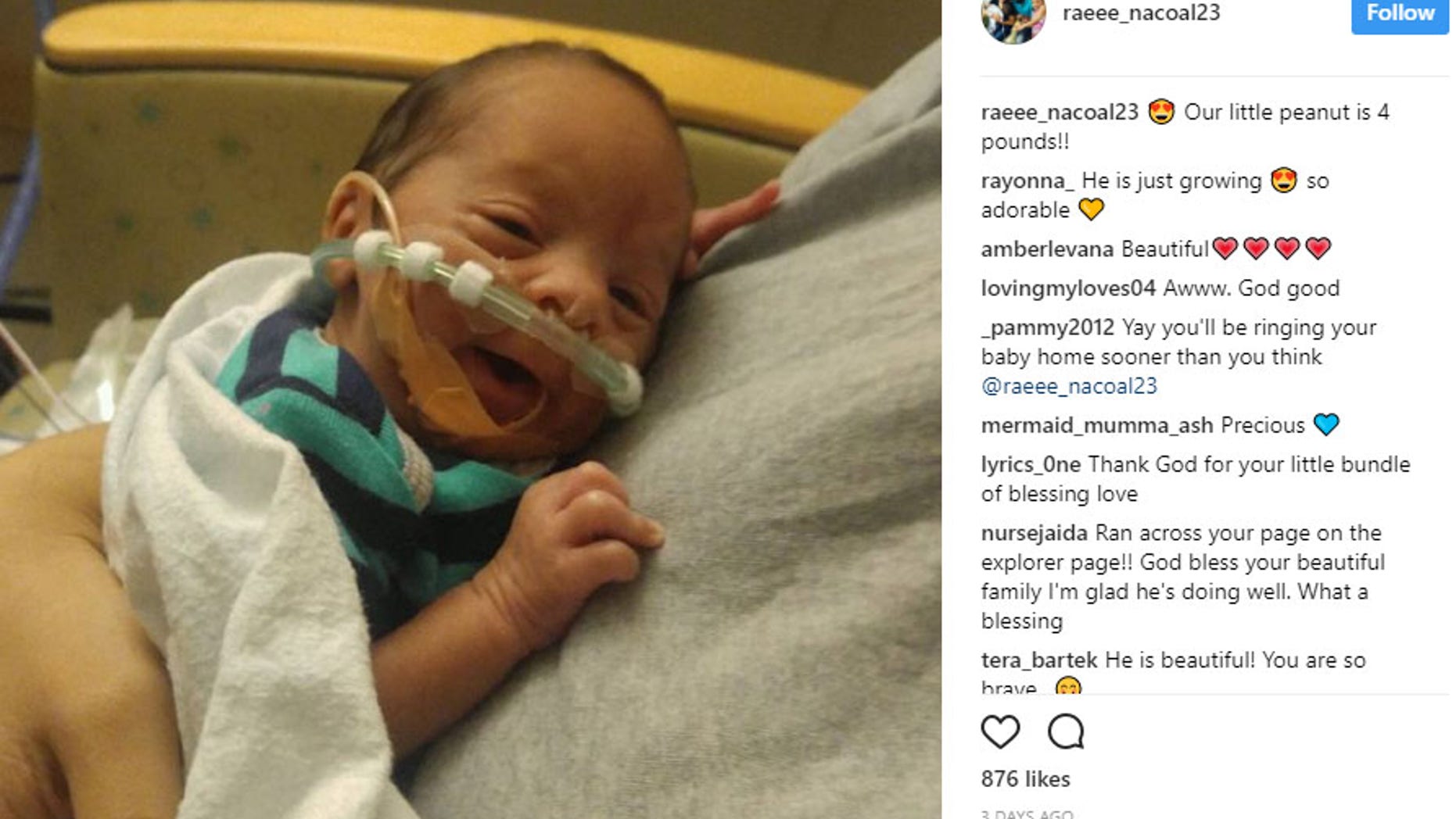 A Pennsylvania mother's birth photo of her premature baby that she delivered with the amniotic sack intact while on the way to the hospital has gone viral. Raelin Scurry wrote on Instagram that she began having contractions on Aug. 5 at around 10 a.m., but thought that they were Braxton Hicks because she was only 29 weeks pregnant.
"After about 45 minutes of consistent contractions that were increasing in intensity I decided I should probably go in," she posted, on Aug. 24.
Scurry and her fiancé Ean Vanstory, both 24, dropped her daughter off at her godmother's house and headed to the hospital, but her contractions continued to grow in intensity.
BABY BORN TO COUPLE STRANDED IN HOME DURING HARVEY
"Well the contractions continued to get closer together and more intense and before I knew it I knew it was time to push. I called 911 because I was so scared," she posted. "They couldn't understand me between the screams with contractions. So I handed the phone to my fiancé. I pulled my pants off and reached down, sure enough his head was right there. I pushed one time and my miracle baby was here."
Scurry wrote that when she finally looked down she noticed her son was still in the amniotic sac, which is referred to as en caul. The extremely rare event occurs in about 1 in every 80,000 births, and may include partial caul births, where only parts of the baby's body are still in the amniotic membrane.
Scurry said she told Vanstory to continue driving to the hospital even though the 911 dispatcher told them to pull over because she knew they would arrive before paramedics reached them.
"At first the baby was still and all I could do was pray he would be okay," she posted. "And then I rubbed his face with my thumb and he pulled his little hands and feet up to his face as if he understood my prayers and wanted to reassure us he was okay."
SHERIFF'S DEPUTY DONATES KIDNEY TO FELLOW OFFICER
About seven minutes later, they arrived at the hospital where staff took Ean "EJ" Jamal Vanstory Jr., who was born weighing just 3 lbs., 1 oz.
"He is doing wonderful all things considered all he went through I know he's going to be an awesome little man!" Scurry wrote. "He is truly a miracle baby. We are so blessed to be his parents."
A follow-up post on Aug. 29 said EJ had reached 4 lbs., 3.8 oz., and was starting to feed through his mouth. Scurry's initial post gained more than 5,000 likes, and was shared by the "Birth Without Fear" Facebook page, where it gained an additional 14,000 reactions, and was shared nearly 2,000 times.