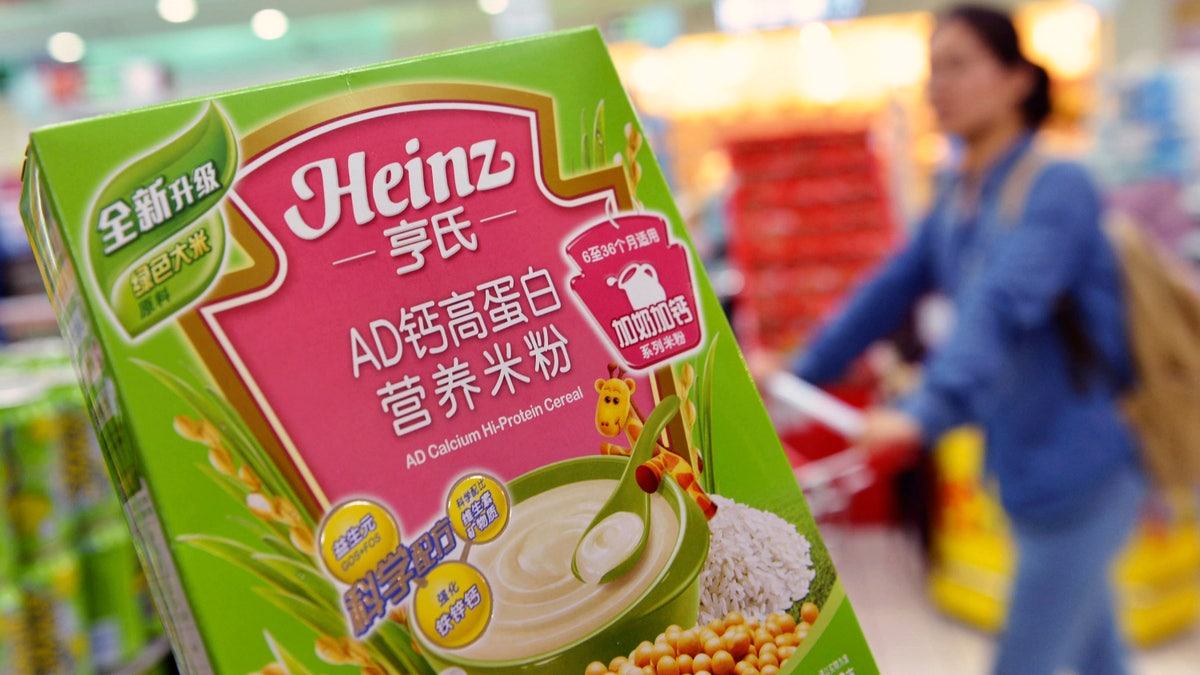 U.S. foodmaker H.J. Heinz Co said on Tuesday it will tighten controls over ingredients suppliers in China after it was forced to recall some infant food products from Chinese store shelves due to excess levels of lead.
The company, known globally for its ketchup and baked beans, made the annoucement as it sought to contain the potential damage to its reputation in a country where consumers are highly sensitive to food safety after a series of high-profile scares.
Heinz told Reuters on Monday that it had recalled four batches of its AD Calcium Hi-Protein Cereal for infants after a food watchdog in eastern China found levels of the toxic heavy metal above regulation standards.
Supply chains issues in China have come under increased scrutiny, with KFC-parent Yum Brands Inc, Wal-Mart Stores Inc and McDonald's Corp all recently facing food safety issues with suppliers.
Consumers in China are especially sensitive to baby products after powdered milk tainted with the industrial chemical melamine led to the deaths of at least six infants in 2008.
"I would think that Heinz is in a lot of trouble right now because parents are unforgiving of any quality control problems in baby and infant food products," said Shaun Rein, Shanghai-based managing director of China Market Research Group.
Heinz will draft stricter systems for regulating ingredient suppliers and improve traceability and food safety control measures along its supply chain, the U.S. company said in a post on its official Sina Weibo microblog on Tuesday.
Affected products had been sealed and would would be destroyed under regulator guidance, it added.
An official at the Food and Drug Administration (FDA) in Zhejiang province declined to give details on the levels of lead in the Heinz cereal, but said that it would release further information about the case in the coming days.
Standard levels for infant products should be below 0.2 milligrams per kg, according to a 2010 government report.
Heinz, which was bought out by Warren Buffett's Berkshire Hathaway Inc and private equity firm 3G Capital last year, said the recall was a precautionary measure.
The company added that the high lead level was caused "accidentally" by a supplier who had provided a skimmed soybean powder ingredient used in the batch of cereal.
"This relates to an isolated regional withdrawal in eastern China," company spokesman Michael Mullen said in emailed comments to Reuters. "Extensive testing confirmed that no other Heinz baby food varieties are affected."
Heinz did not respond to phone and email requests for further comment on Tuesday.
SOIL CONTAMINATION
The Zhejiang FDA has said the problem affected 1,472 boxes of cereal in the province and that Heinz had told the agency it would destroy another 153 boxes that are sealed in a warehouse in the southern city of Guangzhou.
Heinz said in its Weibo statement that it would compensate any consumers who had bought the affected product. The cereal is aimed at infants aged between six months and three years, according to the packaging.
It also apologised for inconvenience caused to consumers and moved to assure shoppers that the firm was committed to food quality and safety.
Foreign brands do well in China's baby food market, because parents are willing to pay a premium to guarantee quality and safety. The market, excluding infant milk formula, is worth around 8 billion yuan ($1.3 billion), according to a May report from Huidian Research.
However, food safety scares are relatively common in China with Yum, retailer Wal-Mart and French dairy Danone SA all taking a hit in the last year over food safety concerns.
Chinese parents are already highly sensitive to metal contamination in food, which is often linked to the country's high levels of soil and water pollution, one of the main ways metals gets into cereals and other crops.
Analysts said the presence of lead - widely known by parents to be harmful for children - would create a "scare factor" even if no people suffered adverse effects from the products. China has previously had issues of cadmium and lead metals in food.
Consumers took to China's Twitter-like microblog Weibo on Tuesday, questioning whether the recall was just the beginning of the issue, while others said they were concerned about long-term effects on their children.
Experts say exposure to lead is particularly dangerous for children, inhibiting intellectual and physical development. It can cause poor concentration, disruptive behaviour and even death when subjected to high levels.
A soil survey in April showed that nearly a fifth of China's farmland was contaminated by toxic heavy metals and chemicals, and that more than 33,000 sq km (12,740 sq miles) – an area the size of Belgium - were unfit for agricultural use.