Heartbreaking sonogram image depicts dying twin holding sister's hand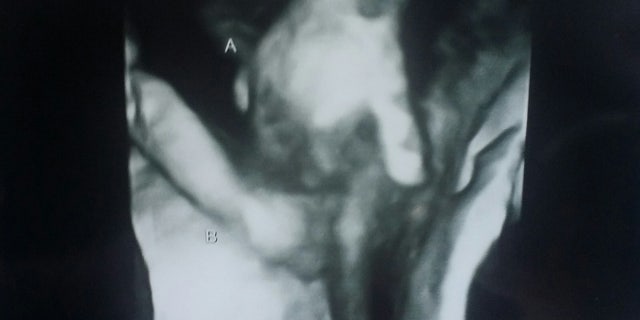 NEWYou can now listen to Fox News articles!
Doctors expect only one of Brittani McIntire's twins to survive, but the Kansas mom said she is grateful her baby won't pass away without someone holding his hand.
McIntire, of Hutchinson, Kansas is expecting fraternal twins: Mason and Madilyn, Fox 5 NY reported. While Madilyn is healthy and weighs 2 pounds, Mason weighs only 9 ounces, and has a hole in his heart and an abnormal brain.
Surgeons could operate on his heart, "but they wouldn't do heart surgery on him because of his brain," McIntire told Fox5NY.com.
A recent sonogram shows Madilyn holding Mason's hand in the womb— an image that offers the McIntires a sense of solace.
"We know that we have a piece of them together that will last forever and is special to have," Ian McIntire, the twins' father, told the news station.
Brittani said while she knows she is carrying Mason, she wished she could be closer to her son to be there for him.
"She's (Madilyn) the only one who can actually be there and holding onto him through it, so it's comforting to know that if he does pass, he won't be alone," she told Fox5NY.com.