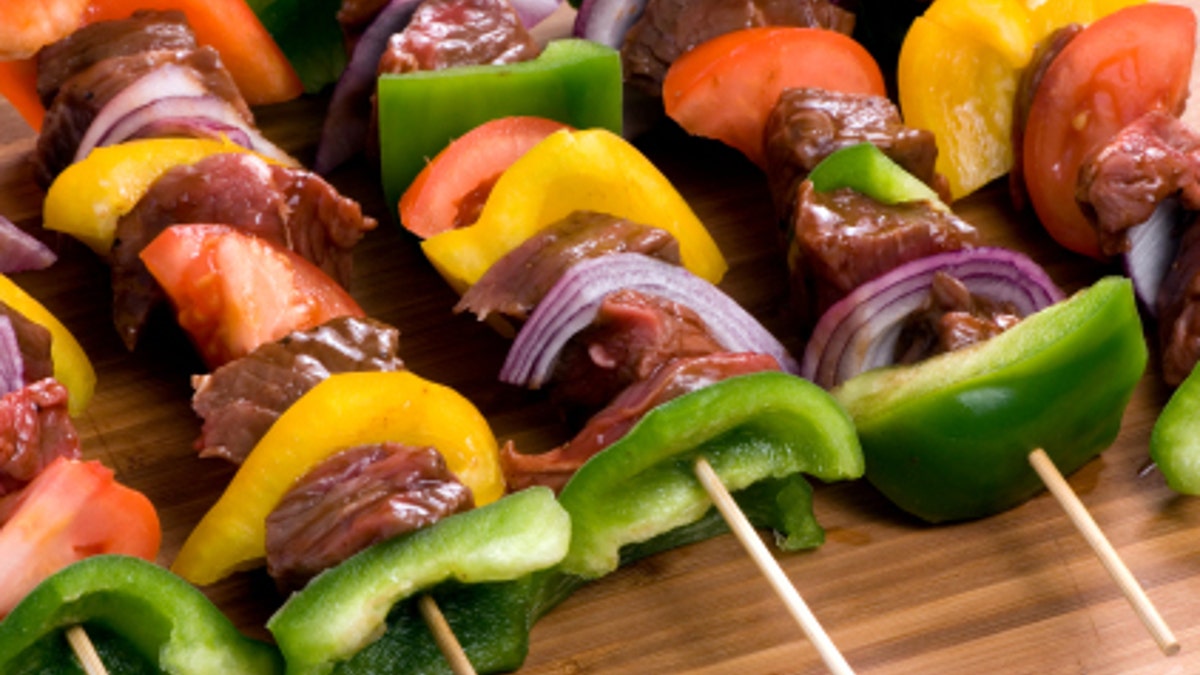 The temperature is rising -- and so is your primal urge to throw a hunk of bloody meat on a pile of hot coals.
Before you dive into barbecue season, take heed; gobbling sausages, hotdogs and hamburgers can wreck your waistline -- and clog your arteries in the process. If you want to stay slim and trim (or even lose the winter weight), you'll need to grill wisely, which is the healthy barbecuing way. It'll take a little more grilling expertise and some cooking know-how, but it'll be worth it.
Follow these simple tips and you'll be crowned a barbecue gourmet, the king of high-class and healthy barbecuing.
Grilled veggies
That's right, even vegetables are good on the grill and they rank high in the healthy barbecuing way. The high heat will cook them in a flash and impart a primitive char that'll appeal to your primeval side. Asparagus is probably the easiest vegetable with which to practice your healthy barbecuing. Drizzle with olive oil, season with salt and pepper and grill until tender. Vegetable shish kebabs can also be tasty.
Pick tough veggies, like zucchini, squash, bell peppers, and pearl onions. Most vegetables pack a strong antioxidant punch, are high in fiber and low in calories. And if they taste good roasted or pan-fried, they'll likely taste better on a grill -- with less fat. A few tips:
1. Go for flat shish kebab skewers -- your veggies won't swivel on the skewer and they'll cook evenly.
2. A little olive oil goes a long way. Sprinkle or mist your veggies with olive oil, don't soak them.
3. Simple dried herbs, like herbs de Provence or basil, can add nice flavor to your kabobs.
4. Try a simple marinade -- some lemon juice, olive oil and crushed garlic to taste.
Grilled fish
Fish contains lots of good omega-3 fatty acids, which have been shown to reduce the risk of high cholesterol, hypertension and heart disease. It's also mouth-watering when grilled to perfection. Salmon is probably your best bet to healthy barbecuing. Again, use a simple marinade of olive oil, crushed garlic and fresh herbs like thyme and rosemary. Let the fish soak up the flavors for at least two hours. Here's the trick with fish: Put it in a foil packet before you slap it on the grill. The packet will seal in the flavor and keep the fish from sticking to the grill, or worse, falling apart and into the coals. Most other delicate fish can be grilled this way without disaster. Tuna, however, is tough enough to take direct high-heat grill blasting.
Again, you'll want to marinade the tuna. Try a mixture of minced garlic cloves, peeled and minced ginger, soy sauce, sesame oil, chili flakes, salt, pepper, and chopped cilantro (see below). Let the tuna soak up the juice over night, then toss it directly over high heat, just a few minutes on each side.
3 garlic cloves, minced
3 inches of ginger root, peeled and minced
1/8 cup soy sauce
1/4 cup sesame oil
1/2 cup canola oil
2 tsps chili pepper flakes
1/2 tsp salt
1/4 tsp black pepper
3 tbsps chopped cilantro
_______________________________________________________________________________________________
More From AskMen.com:
9 High-Protein Snacks
Are Canned Foods Good for You?
Different Cuts of Meat ________________________________________________________________________________________________
You're probably familiar with our new grilling protocol: Marinades are key to tasty, healthy barbecuing. It's even true for lean red meats, like buffalo and pork (yeah, it's red even if it's advertised as "the other white meat"). Acidic marinades will make tough meats, like buffalo and lamb, tender and succulent. Tender cuts will do better with neutral marinades. We found the following marinade recipes at AskTheMeatMan.com, a great resource for basic grilling techniques. They'll work great with lean red meats.
Savory marinade
1/4 cup steak sauce (any kind)
2 tbsps brown sugar (packed)
2 tbsps lime juice
1/4 tsp ground red pepper
Teriyaki marinade
1/2 cup soy sauce
1 clove garlic, minced
2 tbsps brown sugar
1/2 tsp ground ginger
2 tbsps Worcestershire sauce
1 tbsp lemon juice
Grill Guy
The days of greasy bratwurst and discount hotdogs are behind us. Today's true grill masters sear high-quality meats and veggies to perfection because it's not only healthy, it's also delicious. Follow a few simple steps -- buy choice meats, marinade it for a few hours at least -- and your barbecue will almost always turn out great.