Grieving family hears daughter's heart live on in toddler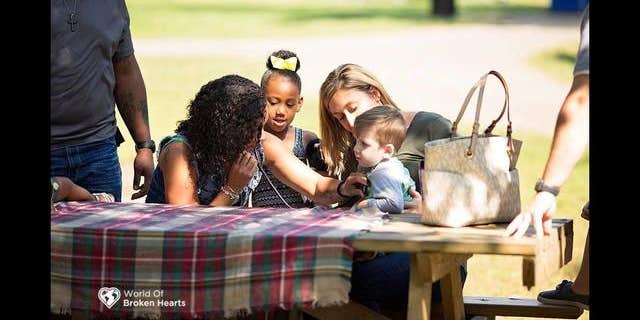 The devastated family of a girl who died of bacterial meningitis in 2016 were able to hear their daughter's donated heart beating once again after meeting the boy who received it.
The girl's family, whose last name was not disclosed, said they knew organ donation was the path they wanted for their child, Fox 2 Nashville reported.
"Alaiya was such a giving child that we knew it was the right thing to do," Alaiya's mother, Lacey, told World of Broken Hearts. "We knew that she would be saving others' lives."
RUNNER AND GRIEVING FATHER UNITED BY BEATING HEART TAKE ON MARATHON
Her heart went to a then-10-month-old boy named Mason, whose mother Angela reached out to Lacey in Dec. 2016. She thanked the family for giving Mason a "chance at life," and vowed that Mason's would be fulfilling, Fox 2 Nashville reported.
While Lacey held out hope to meet Mason and his family, their first meeting didn't occur until last week, when the boy was in Nashville for a doctor's appointment.
"Seeing Mason for the first time, we instantly felt a connection," Lacey told the news outlet. "Seeing for ourselves how happy and energetic Mason is was a relief. It showed us how 'perfect' Alaiya's heart was for him."
Lacey said the meeting was both heartwarming and bittersweet.
1M UNVACCINATED VENEZUELAN KIDS VUNERABLE IN MEASLES OUTBREAK, DOCTORS WARN
"We are so glad Mason is doing well, but as parents, we would give anything to have our baby back," she said. "We definitely saw Alaiya in him yesterday and we are so happy our families met."
Angela said she believes her son had a sense of how important the people he met are to their family, as he warmed up to them quickly.
"[It was] almost as if he's known them for ages," Angela told Fox 2 Nashville. "I am a firm believer that a parent's love is forever woven into our hearts, and there's no doubt that the heart that betas inside of Mason knows the familiarity of Brandon and Lacey."