Florida couple weds in hospital days before wife's cancer death
NEWYou can now listen to Fox News articles!
A Florida woman's wish to marry her childhood best friend came true hours before her tragic death earlier this month, and now her husband is on a mission to complete the rest of the items that she had on her bucket list.
Nina Marino, 19, and Joey Williams, 21, exchanged "I do's" on Sept. 3 at St. Joseph's Children Hospital, Fox 35 Orlando reported.
The hours leading up to their vows were hectic, as the plans were made for Sept. 4, but doctors feared Marino wouldn't survive the night. There was a scramble to find a photographer when the couple's plans were shifted, but a photographer friend reached out to Nil Patel of Patel Creative who was able to capture the couple's special moments.
DYING BOY'S CHRISTMAS DECORATIONS ALLEGEDLY VANDALIZED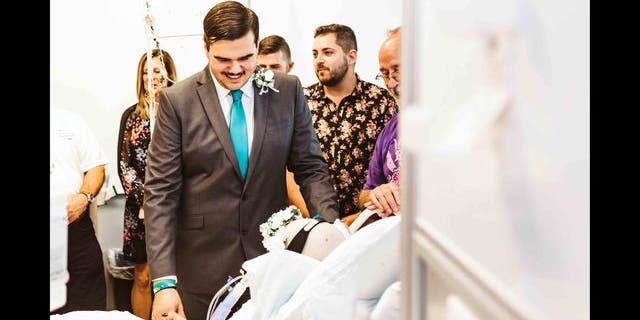 "I dropped everything, ran upstairs, took a shower, changed and grabbed my gear," Patel wrote on Love What Matters. "I bolted out the door to St. Joseph's Hospital. The ceremony was originally going to take place in the small chapel within the hospital, but unfortunately Nina was too frail to walk down the aisle. So, we had to set up the ceremony location directly in her room inside the Pediatric Intense Care Unit."
Patel shared that the couple had met as young children while attending the same camp together, and that their love had grown through the years. According to their Facebook page, "The Chronic Travelers," Marino had been diagnosed with undifferentiated pleomorphic sarcoma.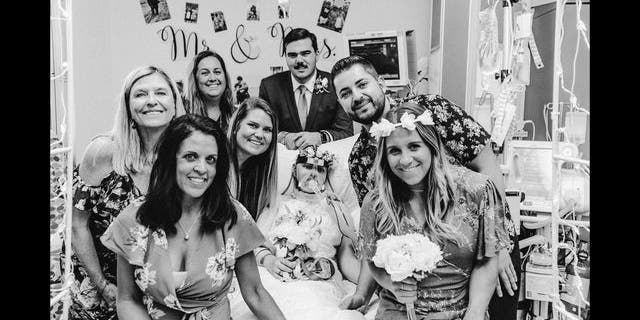 In a post dedicated to his wife, Williams – who suffers from chronic heart issues – detailed the many adventures the couple had embarked on together, included multiple trips to Disney, trips to visit friends, picnics on a runway, days at the beach, and of course their wedding.
"All of these memories that I will never forget and that make me so happy," he wrote on Sept. 6. "But perhaps the most amazing memory of all is when we finally got to fulfill our dream of getting married. It may not have been what we had seen in our heads when we thought about our wedding, but it was perfect. You looked so beautiful in your dress, and the way your eyes lit up when I put the ring on your finger will stay with me forever."
Patel wrote that although Marino was unable to speak her vows, it took a simple look from her for Williams to understand her love.
4 LITTLE GIRLS WHO BEAT CANCER REUNITE AT HOSPITAL FOR TOUCHING PHOTO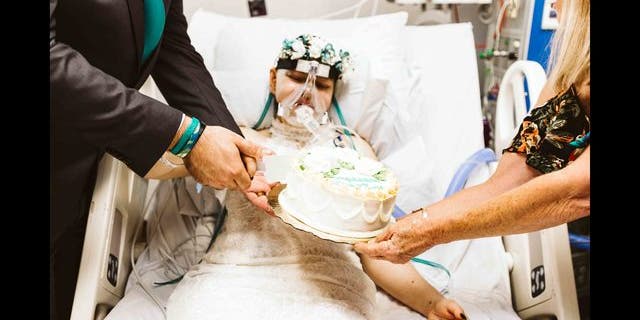 Previous posts had announced the couple's engagement on Aug. 13, followed by another in early September that told followers Marino had been admitted to the hospital again.
Patel said in her post on Love What Matters that her family and friends gathered on Sept. 3 to help decorate Marino's room with photos of the couple, and to help her dress in her gown. The couple wed in the presence of their parents and Marino's care team. An update on Patel's post announced that Marino had died on Sept. 6.
In his dedication post, Williams said his wife taught him about what love means, and how to love himself.
"I promise that I will never forget you and I will never stop love you," he wrote. "I promise that I will finish the thing you wanted to do that you didn't have the chance to do, I am going to cross every last thing off of that list that you made. I promise that I will continue what you started and advocate for chronic-complex young adults. I promise to love your family and friends because they have really shown how much they love you. I promise that one day I will have a tiny house and it will be perfect and just like we would always talk about, and even though you won't be there to help like we had planned, I'll still paint part of it teal."
Williams wrote that "the past 450 days of dating you have been some of the best days of my life, and the 2 days 15 hours and 23 minutes I had with you here as your husband were magical."