Facebook and Twitter Put the Social in Coping with Diseases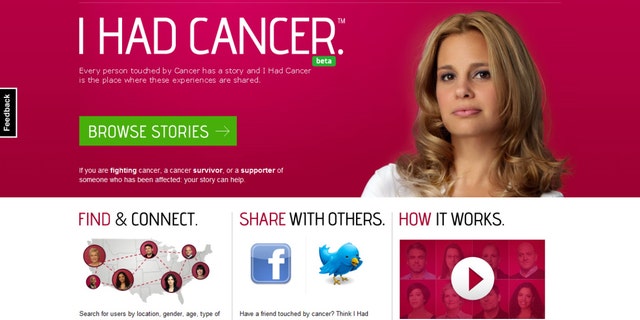 Social media is good for keeping up with friends, keeping yourself out in the open and staying in the loop.
But it is also being used to change the way we cope with and treat diseases.
Just ask Mailet Lopez, a 37-year-old Cuban-American and founder of "I Had Cancer", an online social support network for cancer patients and their family and friends.
"It's a place for people to connect and talk about what they're going through," Lopez said, "what it feels like when you're in the shower and your hair starts falling out, or how and when to tell your co-workers that you have this disease."
Lopez said she knew there was a need for such a site because three years ago when she was diagnosed with Stage II breast cancer, she struggled to find other young women in her situation who could tell her exactly what to expect.
"I had a wonderful family and great doctors, but none of them were able to provide the kind of support I really needed," she said. "I was already the co-founder of the web development agency, Squeaky Wheel Media, so I felt this was a void I could fill."
Lopez is not the first Latino social media health entrepreneur. Manny Hernandez, a 39-year-old Venezuelan immigrant, founded "Tu Diabetes" and its sister Spanish-language site "Es Tu Diabetes" in 2007, five years after being diagnosed with the disease.
Hernandez, who has a background in web development, said his experience in a face-to-face support group for diabetes patients using insulin pumps made him aware of the power of patients sharing personal information about their condition.
"I learned more in a single hour with that group than I had learned in a full year of using the pump on my own," he says.
Not long after, Hernandez read the book "The World is Flat," by Thomas Friedman and a passage about the idea of using social media for making the world a better place struck him.
"This is back when My Space was a big thing and Facebook was coming up and social media networks were just about hanging out and having fun," he said. "I thought the same concept could be applied to helping people with diabetes."
Today, TuDiabetes and Es Tu Diabetes have close to 36,000 subscribers. The members discuss everything from dating with diabetes to recipes for sugar-free cheesecake.
Some even end up a step ahead of their doctors.
Such was the case with a woman who was diagnosed with Type II but did not respond to treatment and discovered on her own through discussions on Tu Diabetes that what she might actually have was LADA, or Late Autoimmune Diabetes, a form of Type I that occurs in adulthood.
"Her doctor," Hernandez said, "was blown away."
That story would not surprise Dr. Victor Montori, medical director for the Mayo Clinic's Center for Social Media. Montori says that the days of doctors being in control of health information are long gone.
Indeed, today 61 percent of adults look online first for their health information, according to a 2010 article in the New England Journal of Medicine.
Montori thinks that change is a good thing, pointing out that social media allows patients and doctors to exchange information with people thousands of miles away — as he does when he tweets with physicians from his native Peru.
Still, Montori cautioned that there is a dark side to the movement.
"There's evidence that some personal blogs and online communities are run by companies that then turn around and provide access to other companies about the kinds of conversations that people are having."
That is one reason, he says, the Mayo Clinic recently decided to launch its Center for Social Media.
"We feel it's important to offer patients a legitimate trustworthy source of information."
To that end, the Mayo Clinic has its own channel on Youtube that features a range of health-related videos made for the general public. It also offers a twitter feed, @MayoClinic, that gives subscribers links to recent health research, inspiring stories, upcoming events and speakers.
In addition, Mayo has a Facebook page where visitors post about their visits to the clinic, ask about the cost of treatments and make pleas for help for everything from leukemia to migraines.
Despite all of these seemingly cutting-edge ways of communicating, Montori predicts that these sites will soon be usurped by new digital innovations.
"We still don't know exactly what the full potential of the social media represent for clinics and patients," he says. "These are the early winds."
Nancy Averett is a freelancer based in Ohio.
Follow us on twitter.com/foxnewslatino
Like us at facebook.com/foxnewslatino