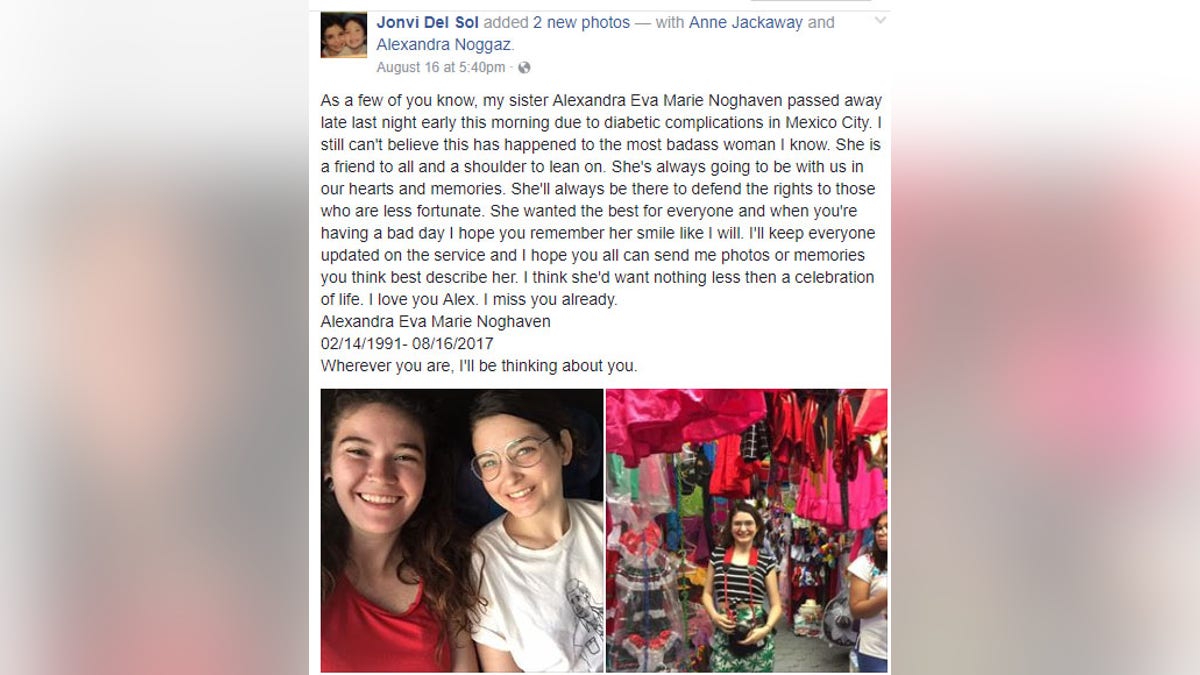 A 26-year-old woman who was told she would likely lose her eyesight within 10 years was on a trip to Mexico with her sister last week, when she came down with a bought of food poisoning and died. Alexandra Noghaven, who was diagnosed with Type 1 diabetes at age 9, had climbed pyramids and explored Frida Kahlo's home on their trip before tragedy struck, according to an obituary published in The Miami Herald.
"She spent her free time off traveling the world and seeing what would be lost to her," Anne Jackaway, Noghaven's mother, told the news outlet.
On Aug. 16, Noghaven and her sister, Genevieve "Jonvi" Del Sol were supposed to go to an archeological museum, but Jackaway received a call from the U.S. Embassy informing her of Noghaven's death. Her mother said the food poisoning triggered diabetic complications.
10-YEAR-OLD HELPS DELIVER BABY BROTHER, SAVE MOM'S LIFE
"That probably sent her blood sugars out of whack so she didn't realize her vulnerability falling asleep," Jackaway told The Miami Herald.
"I almost lost her at 9 when she was diagnosed," she said. "I had another 15 years with the most incredible intellect and compassionate heart I have ever known."
Noghaven worked at the U.S. Securities and Exchange Commission in Washington, and was a co-founder of the Miami literary reading series Ruf Reads, the news outlet reported. She was also a fierce advocate for social justice.
TERMINALLY ILL TEEN WANTS 100,000 CARDS FOR BIRTHDAY
Del Sol posted a moving photo tribute to her sister on Facebook the morning after her death.
"As a few of you know, my sister Alexandra Eva Marie Noghaven passed away late last night early this morning due to diabetic complications in Mexico City," Del Sol posted, in part, on Aug. 16. "I still can't believe this has happened to the most badass woman I know. She is a friend to all and a shoulder to lean on. She's always going to be with us in our hearts and memories. She'll always be there to defend the rights to those who are less fortunate."
A Facebook page called "Celebrating Alexandra Noghaven" was created in her honor.