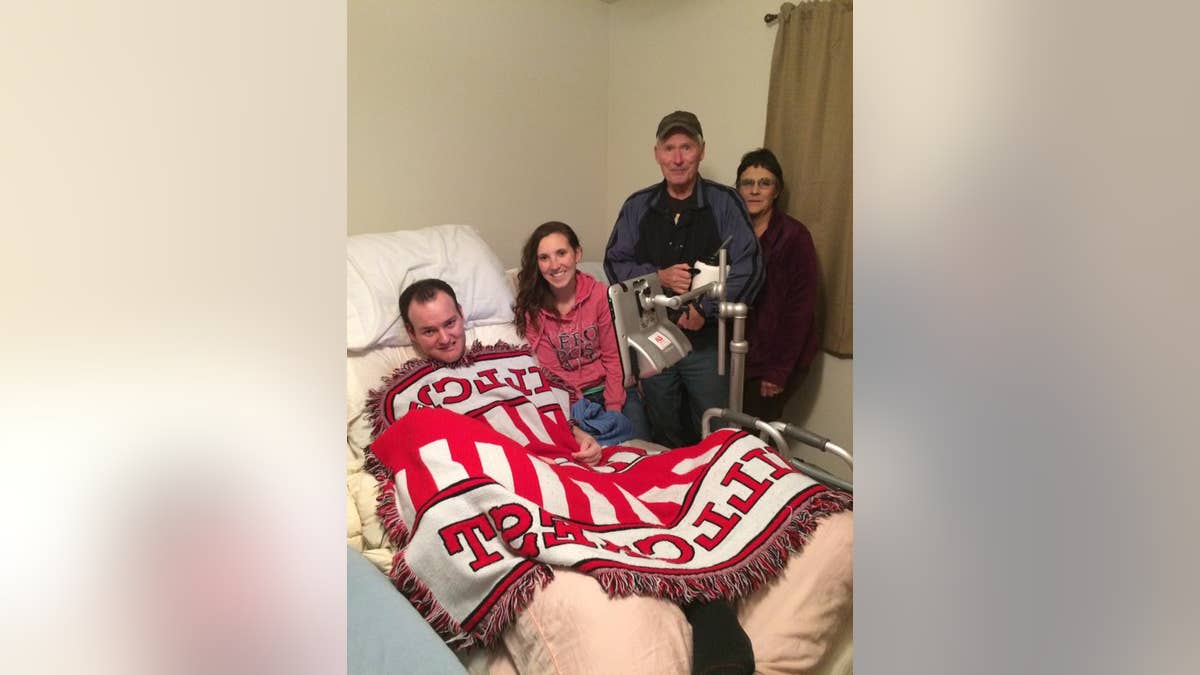 A young Idaho family grappling with their father's amyotrophic lateral sclerosis (ALS) diagnosis was recently given $10,000 from a "Secret Santa," which they said will help pay for medical bills and other unexpected costs. Wyatt Rees, who was diagnosed with ALS before his 33rd birthday in August, is now confined to a wheelchair and unable to walk or talk on his own, PEOPLE reported.
Rees, who shares four children ages 7, 5, 2 and 4 months with his wife Mindy, worked as a teacher before his diagnosis. Mindy now cares for him fulltime and they are relying on their savings, while their family members and friends regularly pitch in to help out.
"They all know how to help him, so we make it like a family effort," Mindy told PEOPLE. "I'll do anything for the person that I love, and if that means I have to sacrifice, it's not a sacrifice to me. I get to be with that person that I love, and take care of him."
'MAN FLU' IS REAL? RESEARCHER SAYS MEN TAKE LONGER TO RECOVER FROM VIRUSES, COLDS
The $10,000 comes as a part of an unidentified donor's goal to give away $200,000 to deserving residents in east Idaho. The person asked for EastIdahoNews.com's help in identifying families, and in turn the news station had people to nominate others they felt deserved the money. An unidentified friend nominated the Rees family.
"It's been a long struggle with a lot of uncertainty as the family has had to figure out what was happening and how to handle the new reality that Wyatt wasn't going to get better," the friend said, according to EastIdahoNews.com. "Mindy is a strong and happy person. She loves Wyatt and her family very much. They have four small children who could really use some extra care and love this Christmas. Mindy and Wyatt just celebrated their 11th anniversary and could also really use some happy times together."
As the family's story began circulating, others began stepping forward to ask how they could help. The family has since received an adaptive van that will help transport Rees to and from appointments.
KIDS CONTINUE TO DIE IN WINDOW BLIND ACCIDENTS DESPITE SAFETY WARNINGS
"We are so thankful for the Secret Santa gift and the outpouring of love we have received from everyone over the past few days," the family said in a statement. "We have been truly blessed. Wyatt's job has supported him since his diagnosis and the doctors have been incredible. There are so many more people deserving of financial assistance this Christmas and we would encourage anyone who wishes to donate money to us to look for someone else in need. We hope to pay this kindness forward one day and wish everyone a Merry Christmas."
The Rees family keeps supporters updated on the "Hope On The Horizon" Facebook page, as well as through a personal blog.