College pitcher with one arm an ace on the mound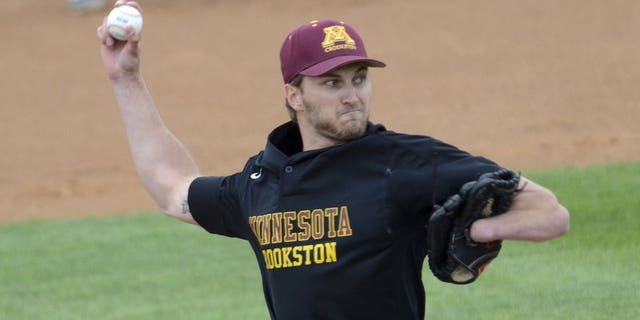 Crookston, Minn. – Parker Hanson's success could be measured by his 90-mph fastball, his nasty slider or his leadership, which helped vault his college baseball team into the playoffs. Or it could be marked by what he's missing.
Hanson was born without a left hand, but found a way to adapt at a young age so he could pitch, field, bat and play the game he loved. When University of Minnesota-Crookston coach Steve Gust went searching for recruits to help turn around one of the worst programs in NCAA Division II baseball, he found talent and toughness in Hanson.
"He's an inspirational story for an inspirational team," Gust said.
CHICK-FIL-A ENCOUNTER MOVES MOM OF SON WITH SPECIAL NEEDS TO POST TOUCHING THANK YOU NOTE
Hanson, 20, in his first year with the Golden Eagles, doesn't run away from being different. He sees baseball as a platform to further his goal of becoming a motivational speaker, and enjoys the numerous texts, emails and social media posts from people who say he has helped change their lives. He likes talking about his disability.
"I guess when I was younger, I was kind of a little shy and scared to let people know I had one hand," Hanson said. "As I got older, I felt there was no choice but to embrace it. You can either stay in a shell or act like you don't have one hand and try to hide from other people, or you can go out there and show people you are like everyone else."
A native of Hawley, in northwestern Minnesota, Hanson said he didn't realize he was different until one day in elementary school when a presentation featured a standout archer paralyzed from the waist down. Hanson came home and asked his mom if she knew he was handicapped. Then he went outside and played more baseball.
It was in sixth grade when Hanson did a history project on major league pitcher Jim Abbott, who was born without a right hand. Hanson said he later studied Abbott's mechanics, which has helped him throw, field and smoothly transfer his glove from his left arm to his right hand after a pitch. Hanson has not met Abbott, but got a Twitter message from him that read, "Find your dream and go after it with all you know."
SUPERHEROES SURPRISE 5-YEAR-OLD CANCER PATIENT
Hanson did the school project on Abbott the year after he was passed over for a travelling baseball team.
"He didn't have to do his project on Jim Abbott. He could have done it on anybody just to blend in," said Jennifer Tjaden, Hanson's sixth-grade teacher. "By him finding somebody he could use as a role model, it was such a good fit. Parker always said he wanted to be a professional baseball player."
Hanson said he received much of his competitive spirit from his mom, Barb, fueled by games of H-O-R-S-E in the driveway. Barb Hanson said her son started playing T-ball when he was 3 years old.
"I don't want to say I gave him any special encouragement to do baseball," Barb Hanson said. "I would never discourage him from doing anything. It was whatever his heart desired."
Gust, the Golden Eagles coach, landed Hanson after he played one year at Dakota County Technical College, a stint in which he started losing interest in the game. Gust, in his previous college coaching job, had passed on recruiting Hanson in high school, calling him "a little bit better than average." Last year, he saw a player who was still maturing and could help a team that just made the conference playoffs after winning three games combined the previous two seasons.
"He's a guy with a big heart who competes. And now he's got good stuff," Gust said. "I never look at him as having a disability. I look at him as one of the top pitchers on our squad and one of the top pitchers in our league."
HOSPITAL HEROES: KNITTERS MAKE THOUSANDS OF HATS FOR CHEMO PATIENTS
Despite a nagging wrist injury late in the season, Hanson (4-3, 4.93 ERA) has been one of the most reliable starting pitchers for the Golden Eagles and near the top in most statistical categories. A day before they needed a win in their final regular-season game to advance to the conference playoffs, Gust didn't think Hanson's wrist was strong enough for him to start.
Hanson strongly suggested he get the ball.
"Right before the game, there's no way we were going to lose," Gust said. "I thought, wow, he's ready to go, but is he too ready? Is he thinking with his heart and not his brain? He assured me there were no issues with his arm."
Gust thought he would be lucky to get three or four innings and 60 pitches out of Hanson. He went six innings and threw nearly 90 pitches, and Crookston beat Southwest Minnesota State 6-3 to advance to this week's Northern Sun Interscholastic Conference tourney.
"Parker kind of just did it all," teammate Matthew Dallas said.
Zach Frazier, Hanson's catcher, said he wouldn't label Hanson as cocky, but said he has "that little arrogance that all pitchers should have."
No team scares him, Frazier said.
"It's fun to catch him, it's fun to work with him, it's fun to have him on our team," Frazier said. "But mainly he's the guy we want in a must-win game. When Parker's on the mound, you like your chances."