California Spends Big On Anti-Psychotics For Prisoners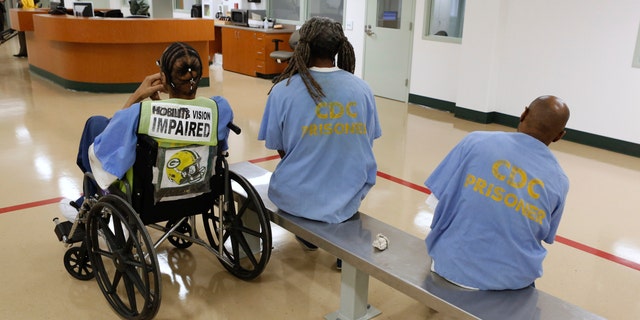 California's prison mental health system is far outspending other states on anti-psychotic drugs for inmates.
And while the spending was done under federal court oversight, the numbers are raising questions about whether patients are receiving proper treatment.
According to figures compiled by The Associated Press, while spending overall has been decreasing in recent years, anti-psychotics still account for nearly $1 of every $5 spent on pharmaceuticals purchased for the state prison system.
The state budget analyst and by the court-appointed authority in charge of buying prison pharmaceuticals have concluded that California's inmate mental health professionals appear to overmedicate their patients.
Nearly 20 percent of the $144.5 million California spent on all prison pharmaceuticals last year went for anti-psychotic drugs, according to the AP's figures, which were obtained through requests under the state Public Records Act.
Even a former top prison mental health administrator acknowledged that fear of lawsuits often drove the decisions about inmates' treatment.
"Why are all these people on meds? A lot of it, I think, we overprescribe on mental health. Anybody who comes in on mental health (referrals), we put on a psychotropic," said J. Clark Kelso, the federal court-appointed receiver who controls prison medical care.
Kelso raised an alarm with prison mental health officials internally three years ago when he identified what he thought was an extraordinary use of anti-psychotics, which in 2008 accounted for 34 percent of all prison pharmaceuticals spending. Spending on anti-psychotics has since fallen from about 26 percent of all prescription spending in 2009-2011 to 19 percent last year.
When he raised concerns, Kelso said he was told that "we have a substantial reliance on drug treatment programs, more so than in other states around the country."
The comparatively high use of the drugs in California is feeding a debate between doctors and the attorneys representing inmates over whether mentally ill prisoners receive too much medication or not enough. California's poor treatment of inmates with mental health problems prompted a federal court takeover of that operation and persuaded federal judges to order the prison population sharply reduced to improve prisoner care.
Gov. Jerry Brown's administration faces a Thursday deadline to tell the court what steps it will take to further ease prison overcrowding by year's end.
A federal judge recently decided to maintain court oversight of the mental health system, finding that the state continues to violate constitutional standards. More than 32,000 of California's nearly 133,000 inmates are receiving mental health treatment.
Psychotropic drugs include anti-psychotics, as well as sedatives, antidepressants, stimulants and tranquillizers. Anti-psychotics are generally used to treat schizophrenia and bipolar disorder.
California's use of the anti-psychotic medications stands out among the nation's large prison systems, according to comparison figures compiled by the AP.
New York's prison department spent about 17 percent of its prescription drug budget on all psychotropic drugs at the same time California was spending 26 percent of its budget on anti-psychotics alone.
Texas, which has a unique method of buying low-cost drugs, spent 6 percent of its prison pharmaceutical budget on psychotropic drugs, including anti-psychotics last year, while just 3 percent of Florida prisons' prescription drug spending is going for psychotropics this fiscal year.
In a report published last year, the independent Legislative Analyst's Office said California spent about $1,500 annually on psychiatric drugs for each inmate in a mental health program, compared to an average $610 a year per inmate in Florida, Georgia, New Jersey, Ohio and Pennsylvania..
Dr. Karen Higgins, the chief psychiatrist for the state corrections department, said about 64 percent of inmates diagnosed with serious mental illness are prescribed some form of psychotropic medication, a class that includes anti-psychotics.
"While we do not have data to support the assertion of over-prescribing as an indication of defensive medicine, it is a possibility that we must guard against with appropriate checks and balances," Higgins said in an emailed response to questions.
She said the department has set up drug-use guidelines and a list of preferred drugs that doctors and mental health workers can prescribe, as well as a computer program to help providers choose the right medication.
Based on reporting by The Associated Press.
Follow us on twitter.com/foxnewslatino
Like us at facebook.com/foxnewslatino