Breast Cancer Awareness Month: Don't forget the men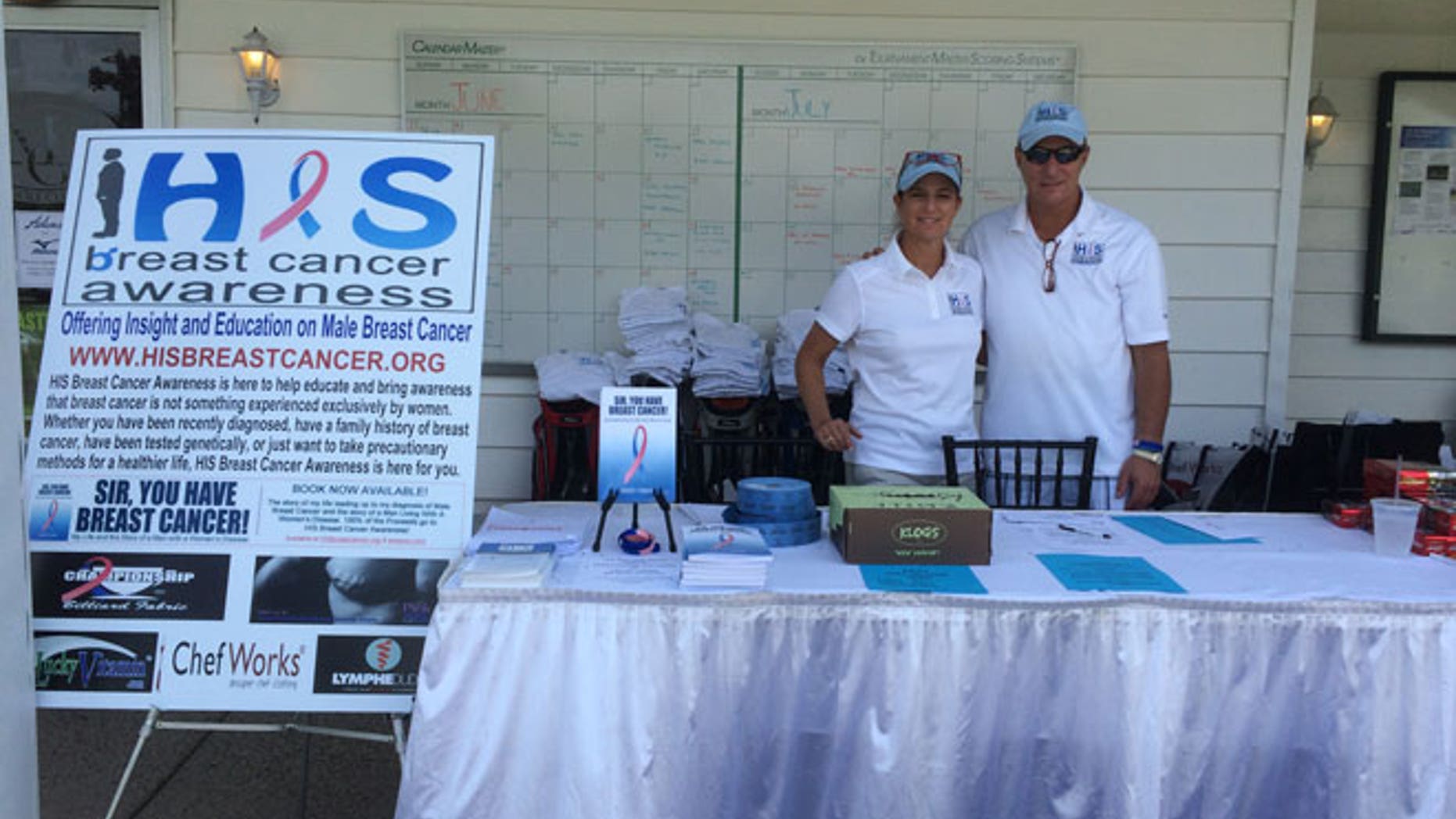 Harvey Singer was spending the day out with the guys.
"It wasn't until I saw an old friend and he gave me a big bear hug that I got this very noticeable pain that shot from my breast into my shoulder," Singer recounted. "I started poking around, and it didn't seem normal. I said, 'Okay, something's up.'"
The next day, his doctor diagnosed him with breast cancer.
"She took about ten seconds to put her hands on my chest and go, 'I'm sending you for a mammogram,'" Singer recalled. "And everything went a thousand miles per hour after that."
With Pink Ribbon fundraisers using bras and breasts to raise awareness, women get most of the attention during Breast Cancer Awareness Month each October. This makes sense because one in eight U.S. women will develop the disease in their lifetime, but men can get breast cancer, too.
About 1 percent of all breast cancers are diagnosed in men. An estimated 2,360 men will be diagnosed with breast cancer in the U.S. this year, and 430 men are predicted to die from it.
"Breast cancer is not exclusive to women," Emory University oncology fellow, Dr. Troy Shell said. "Men can certainly develop breast cancer and many men are not aware of that."
Men aren't immune to breast cancer
Because men typically ignore breast masses or enlargements, male breast cancer is often caught at later stages, making it more lethal. If diagnosed at early stages, the survival rate is nearly 100 percent. However, later-stage cancers have a five-year survival rate of only 72 percent. When cancer reaches stage four, and has spread to other parts of the body, the five-year survival rate drops to 20 percent.
This was the case for Joe Reid, who was diagnosed with stage four cancer in 2005. He knew he had a lump for about 10 months, but thought it was a weightlifting injury, recounted his wife, Cathy Reid. He lived a healthy lifestyle and had no family history of cancer. When his doctor found the cancer, it was already in his lymph nodes, bones and lungs. It eventually spread to his spinal cord and his brain. It took his life three years later.
"One of the first words from my husband after his diagnosis was 'How can I have something that is a woman's disease?'" said Reid, who has been spreading awareness about male breast cancer ever since her husband's diagnosis.
The reality is that men do have a small amount of breast tissue. The cells in this tissue can become cancerous and form a malignant tumor. The cancer can then spread to other areas of the body. One of the first places breast cancer spreads is to the lymph nodes. If the cancer spreads to the lymph nodes, there is a higher chance the cells could have entered the bloodstream and spread to other organs, making the treatment more complicated.
Who is at risk?
While any man can get breast cancer, there are certain risk factors associated with it.  These include age, poor diet, alcohol consumption, obesity, liver disease, radiation exposure and family history of breast cancer. Hormone levels can also affect the risk of breast cancer in men, particularly if men produce a significant amount of estrogen. Shell said that if a man faces any of these risks, it is important to discuss them with a doctor.
"Male breast cancer can be easily missed, so patients have to be their own advocate," Shell said. "If they feel something that isn't right, they need to let their physician know."
Shell said that besides these factors, a man is especially at risk if he carries the BRCA 2 gene. Men with this gene have a lifetime risk of 6 out of 100 for breast cancer. While less common, men can also have the BRCA 1 gene, which has a lifetime risk of 1 out of 100.
Shell said that particularly if a man has a strong family history of breast cancer, he needs to share that with his physician. If the risk is high, a man can see a genetic counselor to test for the BRCA 1 and 2 genes. Genetic testing is a one-time test and it usually takes just a couple of weeks to get the results.
Men should get screened for breast cancer, too
However, most men diagnosed with breast cancer do not have any risk factors. Director of breast and gynecologic cancer at the American Cancer Society, Debbie Saslow, said that every man should be aware of the possibility of breast cancer and know the signs and symptoms.
Currently, there are no standard monthly breast exams for men, but medical experts advise men to be familiar with their body and check themselves for any abnormalities.
"The easiest thing men can do is a monthly self-check," said Reid, who started a male breast cancer support group called Out of the Shadow of Pink after her husband's diagnosis. "If they're familiar with their bodies, they'll know when something that's there shouldn't be."
Because men only have a small amount of breast tissue, it is easier to notice a lump. If they feel a lump, discharge, changes in skin texture and tone or breast swelling, it could be a sign of breast cancer. If suspicious, a man should then get a mammogram.
Once diagnosed, treatment is typically the same for men as it is for women and depends on the stage of the cancer. The surgery is usually confined to mastectomies, which removes abnormal breast tissue. Men will typically undergo a total mastectomy, rather than a partial mastectomy, which is sometimes performed in women. If further treatment is necessary, which is usually the case in more advanced cancers, the patient can undergo chemotherapy or radiation.
Overcoming the stigma
Regardless of treatment, Singer, now a survivor, said that having breast cancer as a man is not easy emotionally. When he was diagnosed in 2008, he could not find any support groups for men.
"I spent many sleepless nights, especially while going through chemotherapy, looking online for information," Singer said. "I certainly didn't want to go sit in a room with a group of women. But there was nothing out there."
Since then, he and his sister, Vicki Singer Wolf, who also has battled breast cancer, started a support group called HIS Breast Cancer Awareness. The group provides support for men diagnosed with the disease. Singer said that while groups like this and Out of the Shadow of Pink, along with more publicity, are helping make male breast cancer more of a conversation, the stigma remains.
"Next week I'm going for my mammogram," Singer said. "When I go in there, it's going to be a room full of women, and they're going to give me a white gown and to try to squeeze my little chest into one of those mammogram machines. It's a very emotional time, and there's an embarrassment that goes with it."
But Singer said that it doesn't have to be that way. Once both men and women know male breast cancer can strike anybody, men can become more comfortable with the disease and gain more support.
"Guys are macho and don't want to tell their friends that they have breast cancer because the guys are going to start making jokes," Singer said. "My friends did, but then I said 'No, that's not the way it's going to be.'"
He continued: "It's going to be: I'm going to take off my shirt at the beach, and I'm going to walk around proudly, and I'm going to wait for somebody to say to me 'What happened to your chest?' And I'm going to tell them. I'm going to explain to them that when their husband, father or he himself goes to his annual physical, he should ask his doctor to check his breast."