Blood pressure drug recalled after probable cancer-causing ingredient detected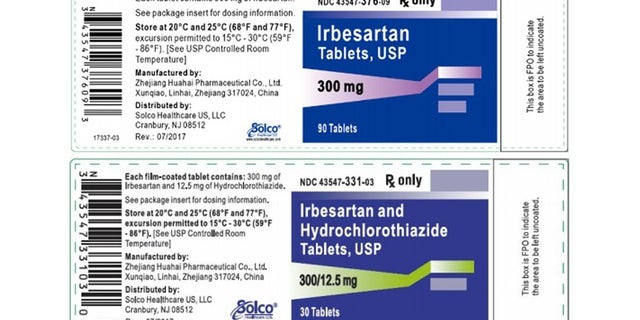 Another batch of blood pressure medication has been recalled after trace amounts of a probable carcinogen was detected in the product. Prinston Pharmaceutical Inc. issued the recall for one lot of Irbesartan and seven lots of Irbesartan HCTZ tablets, which are used to control high blood pressure and to treat heart failure.
AT WHAT TEMPERATURE CAN YOU GET FROSTBITE?
The company said the affected lots were the only ones found to have higher levels of N-nitrosodiethylamine (NDEA) than the FDA has approved for acceptable daily intake. According to the news release on the FDA's website, NDEA occurs naturally in certain foods, water, pollution and industrial processes but it has been classified as a probable human carcinogen.
WOMAN LINKS LYME DISEASE TO PET CAT SLEEPING ON BED
While the company said it had not received any reports of adverse effects due to the recall, patients prescribed the medications listed above are encouraged to contact their physician or pharmacist to discuss alternative treatment.
"Patients who are on Irbesartan should continue taking their medication until their pharmacist provides a replacement, or their doctor prescribes a different medication that treats the same condition as the risk of harm to a patient's health may be higher if the treatment is stopped immediately without any alternative," the news release said.
The medications were distributed nationwide, and distributors and customers are being contacted immediately to discontinue distribution of the specific lots being recalled and to notify their sub accounts.
CLICK HERE TO GET THE FOX NEWS APP
Ibesartan is being pulled weeks after Aurobindo Pharma Ltd recalled 80 lots of a blood pressure drug that was also found to have levels of NDEA that were found to be above the acceptable limit.