Births of drug-addicted babies in Mass. are triple national rate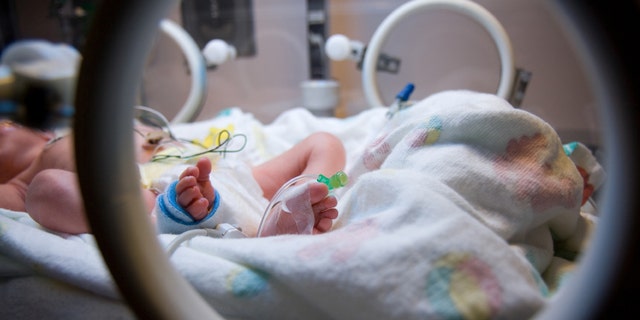 NEWYou can now listen to Fox News articles!
The number of babies born in Massachusetts with heroin and other opioids in their system is much higher than the national average, and far higher than the number tallied by state officials, according to new federal research.
More than 1,300 Massachusetts babies, or about 17.5 per 1,000 hospital births, were born with narcotics in their system in 2013 — more than triple the national rate of five babies out of every 1,000 births, according to a report.
The federal numbers are also higher than the state's count of 128 babies born with drug dependence in 2013.
The state's figures are based on cases reported to the Department of Children and Families, while the federal figures are based on reports by 42 Massachusetts hospitals.
If the numbers are incorrect, the problem cannot be properly addressed, said Dr. Elisha Wachman, a neonatologist at Boston Medical Center who specializes in treating addicted babies and is involved in an effort by Massachusetts hospitals to determine the prevalence of drug-exposed babies and to improve their care.
Reasons for the high rates of opiate abuse in New England range from overprescribing by doctors and drug dealers in major urban areas recognizing untapped markets to a lack of detox beds and treatment programs. Also, as oxycodone abuse has dropped, suppliers have increased the availability of low-cost heroin.
Dr. Alan Picarillo, chief of neonatology at UMass Memorial Healthcare and co-leader of the state hospital collaborative to improve care for drug-exposed babies, said the number of pregnant women in the region using prescription opiates is much higher than the rest of the country.