Amanda Bynes: Could social media worsen major mental illnesses?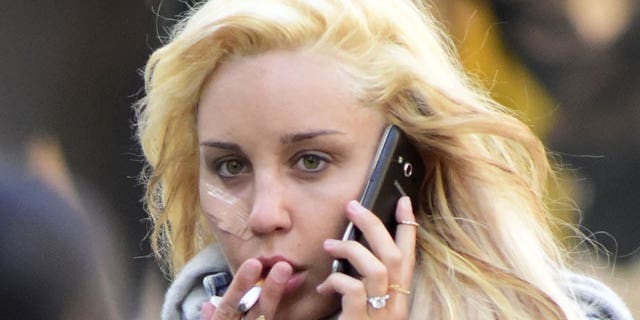 NEWYou can now listen to Fox News articles!
Amanda Bynes has now reportedly again been hospitalized against her will in a California psychiatric facility.
The child star, turned movie star, has had a very public battle with mental illness—public partly because, when seemingly ill, she Tweets repeatedly about things like "the microchip in her head," her father sexually abusing her (which she later recanted) and her desperate "need" for plastic surgery.
It is time to wonder whether social media itself can not only publicize the symptoms of those suffering with severe mental illness, but also inflame them. By giving a worldwide megaphone to those with disorders like bipolar disorder or schizoaffective disorder, sites like Twitter and Facebook may be creating a vicious cycle of disinhibited thoughts and actions (typical of such illnesses), leading to media coverage of those symptoms, leading to even more magnified symptoms.
A worthy arena for research would be whether this possible social media/psychiatric symptom multiplier effect, which could be operating in the cases of Amanda Bynes and Lindsay Lohan (who also took to social media while impaired with psychiatric symptoms), also operates in cases of mental illness for less noteworthy people.
Along with its benefits, (raising funds for charities occurs to me), we have strong data suggesting that Facebook, Twitter and YouTube can fuel pathological narcissism on the one hand, and feelings of social isolation and despondency, on the other.
It would be wise to determine whether such sites are especially hazardous to those with conditions like bipolar disorder who vent while impaired, receive unfiltered feedback (whether critical or encouraging more such venting) and then become either more grandiose or irritable (while manic), more despondent (while depressed) or more paranoid (while suffering with a condition like schizophrenia or schizoaffective disorder).
The question of whether social media can worsen major mental illnesses in those afflicted might also be relevant to those cases of suicide and homicide in which social media played a role. These cases include that of Elliott Rodger, the Santa Barbara killer who posted his narcissistic and paranoid thoughts on YouTube, teenager Adrian Alvaresz who recently took his life after posting his intentions on Facebook, as well as Derek Medina who allegedly shot his wife to death and posted a photo of her corpse on Facebook earlier this year.
I have written before that social media (despite its value as a communications tool) is the most dangerous drug our culture has ever known—mind-altering, addictive and epidemic.
Now, we should also wonder—and formally research—whether it is particularly dangerous for those who are suffering with serious mental illnesses.