5M Americans at higher risk of death from improper use of blood pressure meds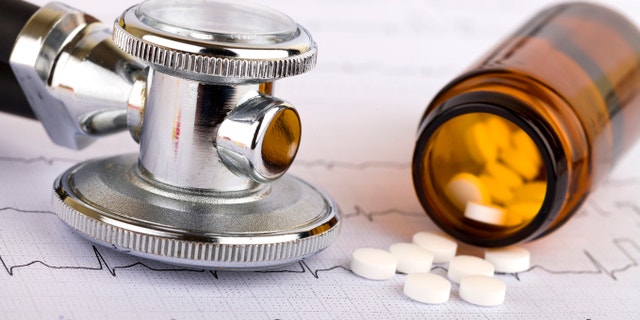 Seven out of every 10 Americans ages 65 and older have high blood pressure, but nearly half aren't taking their blood pressure medications correctly— and that's leaving them at a higher risk of heart disease, stroke, kidney disease and death, according to a Centers for Disease Control and Prevention (CDC) report released Tuesday. Improper use of blood pressure medication can mean skipping doses or stopping taking medication altogether.
"A simple action can avoid potentially deadly consequences: take your blood pressure medicine as prescribed," CDC director Dr. Tom Frieden said in a news release. "Health care providers can make treatment easier to help people keep their blood pressure controlled."
The study, published in the CDC's monthly report Vital Signs, analyzed data from more than 18.5 million people enrolled in Medicare Advantage or Original Medicare with Medicare Part D prescription drug coverage during 2014. Researchers found that about 5 million Americans ages 65 and older were not taking their blood pressure medications correctly. Researchers also looked at how blood pressure medication adherence rates varied among different geographical regions, racial and ethnic groups, income statuses and medication classes, according to the release.
They found that minorities were likelier to improperly use their blood pressure medication, which contributes to these groups' higher risk of heart attack, stroke, kidney disease and death. People in the South, Puerto Rico and the U.S. Virgin Islands had the highest overall rates of blood pressure medication misuse. According to the CDC report, North Dakota, Wisconsin and Minnesota had the highest rates of people who did not take their medication as directed.
Authors of the CDC report urged health care systems, including doctors, pharmacists, hospitals and insurers to encourage patients to adhere to medication directions. They also urged these professionals to educate patients about the importance of a healthy diet and exercise in lowering the risk of heart disease, kidney disease and stroke. Through the Medicare Star Ratings program, the federal government has encouraged prescription drug plans to improve adherence.
"While the Medicare prescription drug program has increased the affordability and accessibility of prescription drugs, more can be done to encourage Medicare beneficiaries to take their medications as directed," Sean Cavanaugh, CMS deputy administrator and director of the Center for Medicare, said in the release. "Medicare will continue to work with prescription drug plans to educate enrollees about the importance of taking their blood pressure medications as prescribed so that they can lower their risk for heart disease and stroke."