Pumpecapple Piecake: The turducken of cakes lives up to the hype
For the stressed out holiday host who can't decide on just one dessert to satisfy every guest, Houston's Three Brothers Bakery has one extreme solution.
The Pumpecapple Piecake (pronounced "Pump-eh-kapple") is known as the dessert version of the turducken-- a chicken stuffed into a duck all stuffed into a turkey. It's a multi-layer confection that involves three different pies baked into three different layers of cake-- all stacked together into a 12 inch treat that clocks in at 23 pounds.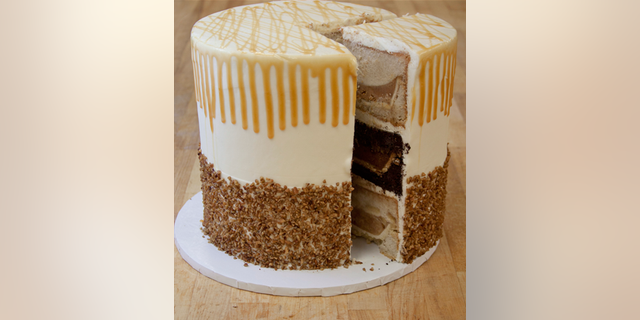 Fifth-generation bakery owner Bobby Jucker says his creation was born about four and a half years ago as a bit of a dare by a local food critic.
"The cake was a challenge made to us by Greg Morago, a food writer for the Houston Chronicle," Jucker told Chew on This. Morago had  tried a version of a Cherpumple-- a cherry, pumpkin, apple pie-cake-- that wasn't very good so Jucker set out to make something all from scratch using his award-winning pecan pie recipe.
First, Jucker bakes each of the pies, which are then baked into a layer of cake that compliments its flavor profile. The base of the cake is a homemade apple pie baked into a traditional spice cake. The middle layer is pecan pie in a fudgy chocolate cake. And the top layer is a pumpkin pie surrounded by a pumpkin-spiced cake. (Yes, November is still pumpkin spice season.)
The layers are covered with a cream cheese frosting and secured with wooden dowels to keep it from falling over. It's finished with chopped pecans at the base and a drizzle of caramel on top.
Since the cake gained national attention Janice, Jucker's wife, says there is usually a waiting list for the show stopping treat as the holiday season picks up.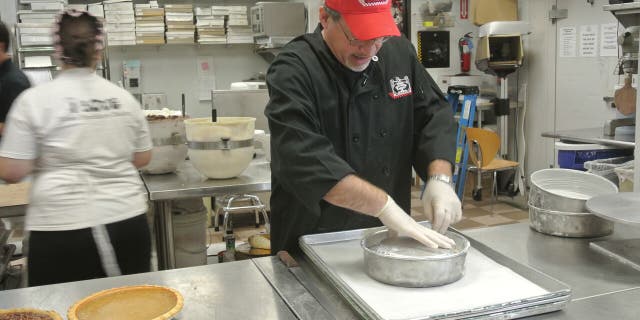 "At first we could only do about 300, which is actually 900 pies and 900 cakes all together…that's a lot of oven time during the busiest season of the year for a bakery!"
To circumvent the waitlist, Jucker says a couple customers have even offered to fly in on a private jet to pick up the cake in person.
But can each layer of this monster cake really live up to the hype?
Despite the gimmicky nature of a multilevel pie-stuffed cake, the genius of the Pumpecapple is that each part stays incredibly moist and tastes great on its own. The whole cake may intimidate the average home carver, but once you get a few slices going, it's surprisingly easy to cut out a distinct layer-- so if one of your guests hate apples, they can easily avoid them with a layer of chocolate-cake encrusted pecan pie.
"This is actually one of the best pumpkin pies I've ever had and I love how it just melts into spice cake—plus the frosting, yum," said one taster.
"It's obviously a lot of fun to look at but I wasn't expecting something so large to taste this good," said another taster who tried the apple pie layer. "The caramel with the cream cheese is so creamy but not super sweet."
Most tasters couldn't stop raving about pecan pie layer calling it "buttery goodness" and "heavenly."
"If you have a really big mouth you can kind of scoop it all in," says Jucker of those brave enough to try to cram in all six layers at once.
Three Brothers is a family owned and operated business that has been turning out breads, custom cakes and desserts for over 65 years. All of their products are kosher.
A full Pumpecapple cake will set you back $250 but this year the Juckers are offering a quarter wedge of cake for $75  (the wedge is available for local delivery or pickup only). The full size cake can feed about 80 of your nearest and dearest—or basically the whole neighborhood. It can be shipped to any of the 48 contiguous states but if you live outside of the delivery zone, their award-winning pecan pie ships worldwide.