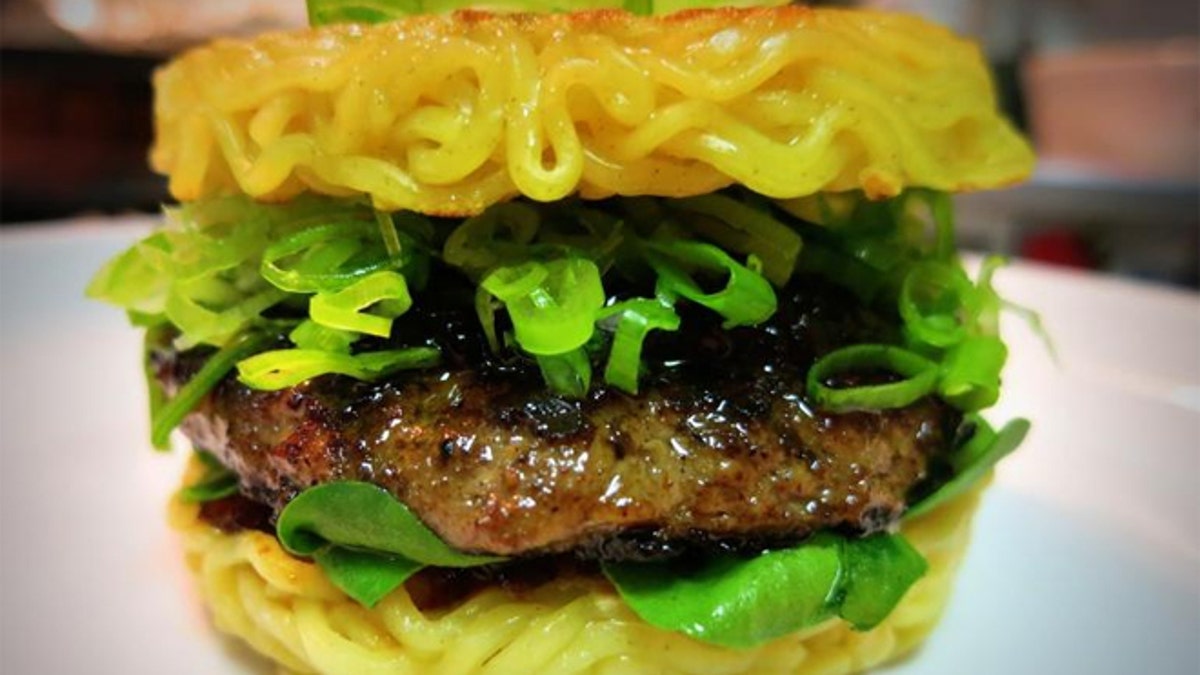 Could this be the next genuine food craze to spark insanely long lines and hoarding?
Being compared to the bewilderingly popular cronut, the ramen burger is USDA prime beef burger stuffed between two buns made of fried ramen, topped with "secret" shoyu sauce, flavor-infused arugula and scallions.
The burger, created by ramen enthusianst and blogger Keizo Shimamoto, 35, only made its debut at Brooklyn's Smorgasburg food fair less than two weeks ago, but already foodies have been fighting to get a bite.
Shimamoto told FoxNews.com he got the inspiration for the burger from a traditional Japanese dish that uses pork instead of beef.
"I think there is a reason why these are happening in the media capitals. The trends that happen outside of the media capitals aren't a national phenomena."
"I wanted do something with beef. I grew up loving ramen, and I grew up loving burgers," he said, adding that he only uses fresh ramen noodles from supplier Sun Noodle in New Jersey--not that instant stuff you buy in the supermarket.
"I cook the noddles and form the bun, and then when we put the burger together, we lightly pan fry it." He says he's perfected his technique for keeping the ramen together --a trade secret he's keeping close to the vest.
Shimamoto isn't your typical chef who appeared on the food scene. He's not classically trained and doesn't own a restaurant --at least yet --and has plans to sell his burger only on an ad hoc basic. But what Shimamoto understands is media.
The second generation Japanese American started a fairly popular blog among ramen circles, Go Ramen—and ultimately was able to quit his job as a computer programmer to move to Japan to study ramen with local chefs. While there, his passion for ramen was captured in a short film called "Ramen Dreams" that premiered at the 2012 NYC Food Film Festival in October that ended up winning Best Short.
Just a two months ago, Shimamoto moved to New York to try his hand at selling his burger--and the very first time became an instant success --with a little help from some bloggers.
Shimamoto debuted the Shoyu Ramen Burger at the Brooklyn Smorgasburg food festival on Aug. 3, where he quickly sold out of his 150 burgers at $8 apiece. The following weekend he was there again. Soon a long-cronut-wait-like line formed with about 500 people waiting in the rain to get a taste of the new burger. About 350 burgers were sold that day.
Eater NY posted photos of the line from Saturday morning.
With many comparing it to Dominique Ansel Bakery's mania-inducing cronut, Shimamoto's ramen burger has already garnered major mainstream media attention --including an appearance on "Good Morning America" --with the headline, "Move Over, Cronut!"
So how can 500 burgers sold out of a Brooklyn food truck in the course of two days be considered a full-blown food craze?
Michael Krondl, food historian and author of Sweet Invention: A History of Dessert says twittersphere is transforming the speed in which food trends take off. From Korean food trucks in Los Angeles to cronuts in New York, the fads are happening almost instantaneously where the media machines are located.
"I think there is a reason why these are happening in the media capitals," he said. "The trends that happen outside of the media capitals aren't a national phenomena."
Also sparking international attention--and a string of copycats--is that this type of food is both comfort and haute at the same time.
"There is an uptown/ downtown thing happening. The hipster foodies are attracted to it because it appeals to their infantile food tastes, but it has a sophisticated layer on top. It's very much hands of food. It's hip without being effete."
When asked about his burger's comparison to the cronut, Shimamoto says these hotly-sought-after items should be in put in the same camp because they both represent unique, quality products.
"I think it's a fair comparison," he said, adding, "The hype with the ramen burger is that it will allow me to show the world what ramen is."
But Krondl says that the ramen burger will likely be a flash on the grill.
"I can see a few spots in Portland and in Oakland having it. I just don't see TGI Fridays putting it on the menus."