Willie Robertson warns success doesn't happen overnight: 'Be patient and content'
NEW YORK – When "Duck Dynasty" debuted in 2012, the Robertson family skyrocketed into the national spotlight and their reality series became an overnight sensation. While it appeared to many fans that the Louisiana stars had quickly found success, the Robertsons had put decades of work into their family businesses before earning a profit.
"[Fans] may look at what we did and think, 'Wow, we want to have that too,' [and] people say, 'Willie, what's it like being an overnight sensation?' Well, dad started the business in 1972 so it was like 40-something years before we made [it on] television," Willie Robertson told Fox News.
The 46-year-old said it irks him when people assume his family's success came easily. When in actuality, Willie and his three brothers grew up "with not much money." He described to us living paycheck-to-paycheck for most of his childhood before his father's duck call business took off.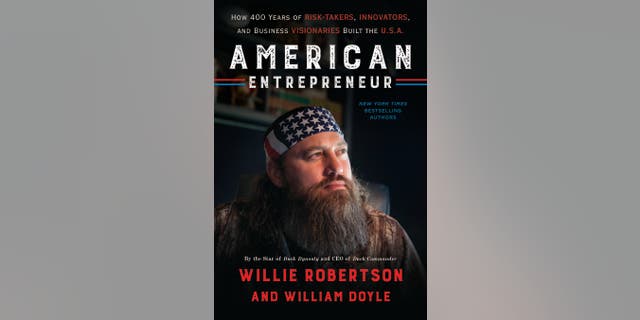 That's why the Duck Commander CEO decided to write his latest book, "American Entrepreneur," to detail his family's journey to financial success as well as highlight other successful businessmen and women's entrepreneurial journies in America.
"The reason I wanted to write a book about entrepreneurship was that that was a key factor of 'Duck Dynasty' and our story was how we made it in business with [the] very unique business of duck calls," Robertson said. "For me, my entrepreneurship started when I was young."
Robertson said growing up he tried a variety of businesses to earn extra cash — like selling bubblegum and running his own worm farm.
"I was always looking to how could we make money so I wanted to put that down and really write about all of these stories throughout American history about people who were successful at business in all different kinds of business and hopefully inspire people."
The CEO and reality star also offered advice for aspiring entrepreneurs.
"I think one of the critical things...is to really be patient and content. It doesn't happen overnight," he shared. "You have to be willing to [take a] risk and hopefully you get the reward [by] being patient, steady."
Robertson, who previously expressed his support for President Trump, said having a businessman in the White House has not inspired him to run for office.
"Me being in politics? Oh...I don't know. I don't think so," he said before adding, I don't know if I want to take the pay cut right now!"
"No, just joking! I like the idea of it but not right now. I've got a grandkid coming."
In addition to anxiously awaiting his daughter Rebecca's first child, Robertson is busy running his family's business and helping his kids get through high school, college and their other ventures. So when it comes to a "Duck Dynasty" reboot or spinoff, the star is hesitant.
"As far as a spinoff goes, everybody's kind of doing their own thing right now," he said. "It was awesome that we were all together [filming the show], but I don't know if I see us getting back together."