Viola Davis talks Meryl Streep comparisons: 'Pay me what I'm worth'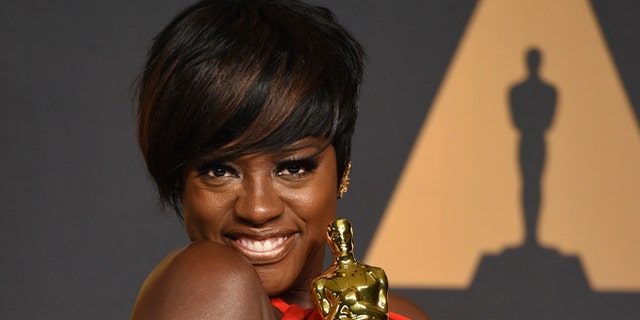 Viola Davis isn't playing around anymore.
The Oscar winner sat down with journalist Tina Brown for the Women in the World Salon event on Tuesday night in Los Angeles, where she shared her reaction to being called the "black Meryl Streep" -- and why she's no longer settling for less than what she's worth.
"I have a career that's probably comparable to Meryl Streep, Julianne Moore, Sigourney Weaver. They all came out of Yale, they came out of Juilliard, they came out of NYU. They had the same path as me, and yet I am nowhere near them," Davis said in a passionate response to black women's inequality in Hollywood. "Not as far as money, not as far as job opportunities, nowhere close to it."
Natalie Portman, Mila Kunis and Viola Davis Join Women's March Los Angeles' 2018 Line-Up
"People say, 'You're a black Meryl Streep … We love you. There is no one like you," she added. "OK, then if there's no one like me, you think I'm that, you pay me what I'm worth."
The 52-year-old star knows that women of color aren't offered the same substantial roles as white actresses, but she's hoping to be part of the solution.
"As an artist, I want to build the most complicated human being, but what I get is the third girl from the left," she shared, noting her limited screen time in 2008's "Doubt," for which she earned a Best Supporting Actress Oscar nomination. "It's gotten to the point [where] I'm no longer doing that. I'm not hustling for my worth. I'm worthy. When I came out of my mom's womb, I came in worthy."
"You'll have a Shailene Woodley, who's fabulous. And she may have had 37 magazine covers in one year -- 37! And then you'll have someone, a young actress of color who's on her same level of talent and everything, and she may get four. And there is sense in our culture that you have to be happy with that," Davis said.
Viola Davis Becomes First Black Actress to Earn 3 Oscar Nominations
"I always mention what Shonda Rhimes said when she got the Norman Lear Award a the Producers Guild Awards about two or three years ago," she continued. "She held it up and she said, 'I accept this award because I believe I deserve it. Because when I walk in the room I ask for what I want and I expect to get it. And that's why I believe I deserve this award. Because Norman Lear was a pioneer, and so am I.' And that's revolutionary as a woman, but it's doubly revolutionary as a woman of color, 'cause we have been riding the caboose of the train -- we really have. And it's time enough for that."
Davis opened up to ET about her relationship with Streep last year, declaring that while Hollywood might not always see her worth, the legendary actress does.
"What I love about Meryl is I always feel like she sees me," she said. "I never feel like the words she has for me are haphazard. I feel like they're very specific and they're well thought out and that makes me feel good. It makes me feel like she really is a friend, that she really takes me in."
EXCLUSIVE: Viola Davis Opens Up About Her Friendship With Meryl Streep: 'I Always Feel Like She Sees Me'