Valerie Bertinelli describes her new life as a Food Network star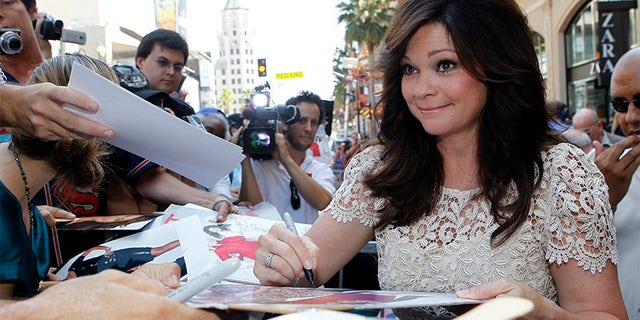 Valerie Bertinelli once charmed audiences as Barbara Cooper in the hit sitcom "One Day at a Time," but these days you will find the actress working in the kitchen.
The 57-year-old is a cookbook author and Food Network hostess. But despite her newfound success, Bertinelli admitted her new role offers a generous serving of difficulty.
"I'm trying to adjust to this life and how tempting everything is," Bertinelli told First for Women Thursday. "It's a struggle to try to take the weight off at my age, so I'm reevaluating what I'm putting in my body without cutting anything out or feeling guilty when I do indulge."
The former "Hot in Cleveland" star insisted she's been more at ease with her body, and she credited her confidence to tossing aside yo-yo dieting just to stay in Hollywood-ready shape.
"We have to be kinder to ourselves," explained Bertinelli. "It might be a lifelong journey, but I'm hoping I'll get to that point where no matter what the scale tells me, I feel love for this body that's been so good to me for 57 years."
There's also one other thing the ex-wife of rocker Eddie Van Halen relies on to feel good about herself.
"I think we need to find the humor in so much — especially now in the world," said Bertinelli. "Laughter is everything."
For the full issue with Valerie, pick up the latest issue of First for Women magazine on newsstands now.