Tone-deaf MSNBC slammed for bringing on Joy Reid to discuss Roseanne Barr's social media slur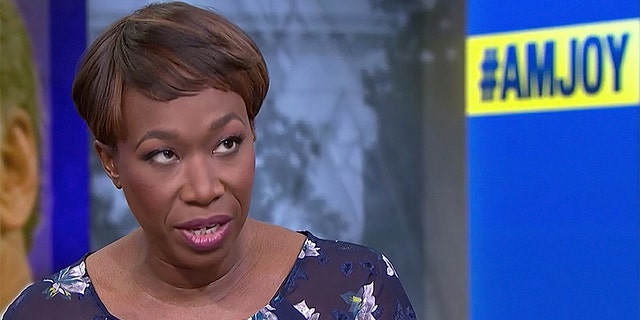 NEWYou can now listen to Fox News articles!
MSNBC provided viewers with one of the most tone-deaf moments in cable news history on Tuesday when Andrea Mitchell asked Joy Reid about a racist tweet that Roseanne Barr sent about former Obama aide Valerie Jarrett.
Last month, Reid famously kinda-sorta admitted to writing homophobic slurs that she'd previously insisted were the work of diabolical hackers.
On Tuesday, after Barr sent a racist tweet, Mitchell asked Reid – who is in Philadelphia to co-moderate a town hall event – about social media behavior in a moment that was captured by TheWrap's Jon Levine.
Mitchell asked, "What do you have to do on social media to get fired from a top rated show on an American broadcast network?"
Reid responded by pointing to the specific language of Barr's apology, noting that admitting the jab was about Jarrett's appearance was proof that the message was racist. "That was a very telling part of the apology," Reid said. "I'm not surprised, this is the kind of humor that Roseanne does."
Following the discovery of the homophobic slurs and intense speculation about her own future, the "AM Joy" host addressed that situation during the April 28 episode of her show that airs every Saturday and Sunday morning.
"I genuinely do not believe I wrote those hateful things," Reid told her viewers, adding, "The person I am now is not the person I was then."
Reid got emotional on the air and admitted it seemed unlikely she was hacked, but that she didn't recall making the offensive remarks, for which she apologized anyway. She also admitted to making several slurs on Twitter – which makes Tuesday's question by Mitchell especially ironic.
Reid was never punished for her homophobic tweets.
Media watchdogs were quick to notice the irony that Reid was used by MSNBC to offer her opinion on Barr.
Mediaite columnist Joseph Wulfhsohn wrote, "It's rich that she's talking about it with Joy Reid, of all people."
"What the hell does someone have to do to get fired from a network these days? To help me answer this question I'm bringing in Joy Reid & Brian Williams," Fox News contributor Stephen Miller joked.
Upon hearing that ABC had canceled "Roseanne," pundit Mark Simone wrote, "Looks like the only network Roseanne could work at now is MSNBC, they've had a host accused of racist posts, anti-gay posts, and anti-Muslim posts and don't cancel their show, if they apologize."
BuzzFeed's Steven Perlberg wrote, "As it happens, it's been one month and Joy Reid's hacker — the one who made her old anti-gay blog posts slightly more anti-gay and manipulated the Wayback Machine — remains at large. This morning I asked MSNBC for an update in the investigation, but haven't heard back."
MSNBC did not immediately respond to request for comment.