Tom Arnold calls Trump a 'racist,' 'knucklehead' and slams his supporters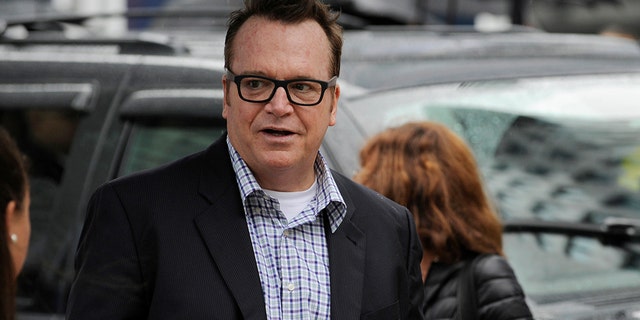 NEWYou can now listen to Fox News articles!
LOS ANGELES – An unnerved Tom Arnold took the stage at the Television Critics Association's Summer Press Tour on Thursday and did not hold back with his harsh criticism of President Trump while promoting his upcoming attempted Trump take-down series, "The Hunt for the Trump Tapes with Tom Arnold."
The 59-year-old called the president a racist and labeled him "that knucklehead" as he fumed over those that stand by the president declaring "f--- them."
Arnold is on a mission to obtain tapes featuring the outtakes and hours of footage from Trump's "Apprentice" days. His show will premiere on Viceland on Sept. 18.
"Donald Trump… I'm going to do this until he resigns. He is a crazy person. He is putting our country on the precipice of a war. I am working on this show right now with people who are much more talented and much more connected than I am… I am, for some reason, in a position to do something, and it's working.
"I am going to continue to do this until that guy resigns and the world is a little bit safer and it happens."
The eight-episode series follows Arnold as he searches for rumored recordings of President Trump that are said to be potentially damaging. For the show, the comedian also met with stars Arnold Schwarzenegger, Penn Jillette, Judd Apatow, and Rosie O'Donnell, as well as, former White House Communications Director, Anthony Scaramucci.
During an impassioned rant, Arnold claimed Trump has used the N-word and is "obviously a racist," adding that the president's take on the NFL is because "he doesn't like black guys."
At times, Arnold hardly paused to answer reporters' questions and continued with his own train of thoughts.
"I think white people are p---ies because it's always about making them feel better. When [ex-wife] Roseanne [Barr] did the thing with Valerie Jarrett… I was just like 'wait, whoa, that is racist. And there are black kids that have to deal with that every single day.' I think because of Trump, one good thing is it's time to F that. Fifty percent of the country knows he's racist… Black people know he's racist. I know he's racist."
Much of Arnold's passion and anger was directed at "Apprentice" showrunner Mark Burnett, who he noted has successful series such as "Shark Tank" and "The Bible" under his belt.
"I am going to keep hammering Mark Burnett until he shows America [the tapes]," he spewed. "He sits next to Donald Trump and gives him cover and he never says one word. People are at the border. They are getting their kids snatched from them. It's cruel… and Mark Burnett says he's a Christian."
Arnold said he watched Burnett's highly successful series "The Bible" while he was in rehab.
"Let me tell you what Mark Burnett could do… He did this Jesus mini-series. Jesus, he was a solid dude. He was a solid dude and he was not a fan of the rich guys. That's what Mark Burnett made and 100 million people have watched that… I could tell you what Mark Burnett could do tomorrow, he could go on [TV] and say 'people calm down, Donald Trump is not from Jesus.' …He could say one thing to calm these people down…"
Arnold also discussed Hillary Clinton.
"Have you ever known anyone to complain as much as he does that has everything? And by the way, the Hillary Clinton thing, when did it become OK to bully a 70-year-old woman all the time who lost the election?"
He claimed he's seen incriminating videos of the president.
"I've seen this 'Apprentice' outtakes reel," he insisted. "I've seen this before. I didn't think Donald Trump was going to be president when I saw it."
The actor and comedian said if he is able to obtain the tape of outtakes, he won't wait for the show to air to release it.
"If I got the tape… I wouldn't withhold it. If it's going to help our country, I wouldn't withhold it."
Arnold acknowledges he's had a past friendship with Trump. In the trailer for the series, he states, "I've known Donald Trump for nearly 30 years. He's the same kind of old-school dumbass that I am, but I don't think I should be president."
"We went to the Playboy mansion together once. I wasn't the creepy guy," he joked. "I did some business with him."
When asked by reporters why he thinks his ex-wife Barr is such an avid supporter of the president, Arnold refused to speculate.
"I don't know," he said twice. "We haven't been married for 24 years."
Arnold also said he doesn't know what Barr will think of his upcoming show.